Get a First Look at Betty's Brother in the New 'Riverdale' Trailer
He's tall, blond, and very cute.
---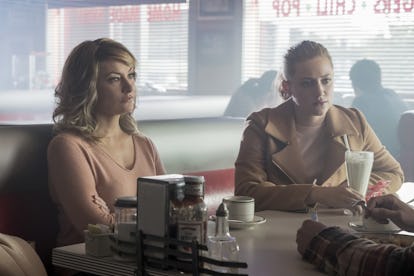 The CW
This week's midseason finale of Riverdale left us with several questions: Is that creepy janitor really the Black Hood? Will Veronica find out about Archie and Betty's kiss? Will Cheryl Blossom fulfill her destiny and become queen of the North Side? (OK, I made that last one up, but it's true: Cheryl Blossom deserves the world.) One mystery that's been lagging for several episodes, though, is the identity of Betty's long-lost brother. We learned about him in the first season finale, but the details were sparse. Who is he? What does he look like? And when the hell will we actually meet him?
Well, this new trailer for the next episode, which airs January 17, has the answers. It looks like we'll learn more about Chic, the only Cooper son, the second Riverdale returns next year. In the last few seconds of this teaser, Mama Alice says she wants to meet her son. And in the next frame, we see him: He's tall, blond, and very cute.
Chic is played by Hart Denton, a newcomer you might recognize from the Toni Collette film Fun Mom Dinner. Lili Reinhart has posted photos and videos of them goofing off on set, but this is the first time we've seen him in an official Riverdale capacity.
Check out the trailer for yourself, below:
If you remember from season one, Hal Cooper found out Alice was pregnant the night they were elected homecoming king and queen. Hal wanted her to have an abortion; she refused, and instead checked herself into Sisters of Quiet Mercy, where she gave birth to Chic and gave him up for adoption.
Knowing Riverdale, though, there's probably way more to the story—and we won't have to wait long to find it out.
Watch: Riverdale's Lili Reinhart Talks Boy Bands, Lizzie McGuire, And Other Pop Culture Obsessions