Black Widow Director Cate Shortland: Here's What You Need to Know About Her
The film is also being written by a woman.
---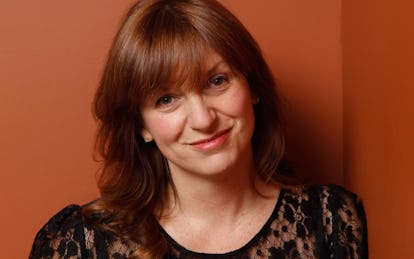 Matt Carr/Getty Images
Black Widow is shaping up to be Marvel's most feminist film yet. Despite the fact that the portrayal of the character in 2015's Avengers: Age of Ultron was problematic, the upcoming spin-off is taking a much different approach. For one, it will actually be directed by a woman: Cate Shortland.
Today, it was announced that Shortland, best known for the 2012 Nazi historical drama Lore, would be helming the production. That's due in part to Scarlett Johansson, the movie's star who hand-picked Shortland. Johansson advocated for Shortland because she appreciated the strength of the female lead of Lore that Shortland was in part responsible for, according to The Hollywood Reporter.
Shortland has talked before about how it was strong women who inspired her to make a career out of directing. When explaining why Australia has bred so many female directors (unlike America), she told IndieWire, "It happened because in the 70's, they set up a women's film cooperative, I think it was Jan Chapman, and, some other women… I've worked with Jan for the last 10 years and she's such a mentor because she's an incredibly gentle intelligent woman who champions female directors and female technicians. And that's how we've grown up, I'm not sure that there'd be many countries that have a similar legacy. That's why there are so many female directors."
The director ended up being chosen over 70 other candidates after a nearly one-year search, as The Hollywood Reporter notes. The list of prospectives reportedly came down to Shortland, Belle, A United Kingdom)'s Amma Asante, Novitiate's Maggie Betts, Galveston's Melanie Laurent and Boys Don't Cry's Kimberly Peirce.
Shortland, who's credited working with women to part of her success — telling IndieWire, "When women get together and support each other that really helps because that has been the history of our industry in Australia" — will be directing a script written by a woman: Jac Schaeffer, who is also working on the upcoming Nasty Women, starring Anne Hathaway, Rebel Wilson, and Alex Sharp.
Johansson, meanwhile, opened up about playing Black Widow to W back in 2015, saying "People were surprised that I wanted to play a comic book heroine. But I loved Iron Man, and I met with Marvel to see what was possible. I had done my research, and the Black Widow character resonated with me. She is dark and has faced death so many times that she has a deep perspective on the value of life. In the sequel, you learn more about the sadness in her past… Black Widow is a superhero, but she's also human. She's small, but she's strong. It's hard not to admire her. She packs a big punch." Come 2020 we'll see just how big.