Why Hugh Skinner Is the Most Charming Part of Mamma Mia! Here We Go Again
Come for the Cher moments, stay once you find yourself taken with young Colin Firth's delightful charm.
---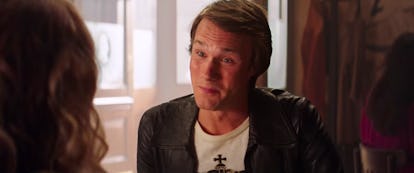 Mamma Mia! Here We Go Again/YouTube
Mamma Mia! Here We Go Again is a prequel-slash-sequel follow-up to Mamma Mia, which, if you can believe it, originally premiered in theaters 10 years ago this summer. This time around, the story of Sophie (Amanda Seyfried) looking for her biological father is tabled for a second, as she plans to re-open the hotel her late mother started and focuses on the story of how her mom met the three suitors that potentially fathered her in the first place. Moms and die-hard ABBA fans will probably love it (and will definitely love Andy Garcia as the debonair mystery man involved in the relaunch of the hotel), regardless of whether or not it classifies as a "good" movie. Of course, it's exciting to see Meryl Streep and Cher in the same movie musical, and that is certainly one of the biggest draws getting audiences into theaters, but do not overlook the splendid charm of Hugh Skinner in this film.
He's not the young version of Bill, the seafaring daredevil played by Josh Dylan (and originally played by Stellan Skarsgård), nor is he the dashing and deceitful Sam (Jeremy Irvine in this origin story, and Pierce Brosnan in the first installment). He's the younger version of Harry—or younger version of Colin Firth—that Donna (Lily James, playing the younger version of the role originated in the first film by Meryl Streep) meets first on her romp around Europe in the past.
And you have probably seen Skinner before—as the skittish boyfriend in Phoebe Waller-Bridge's underrated tragicomedy Fleabag, as Felix Clare in the BBC miniseries adaptation of Thomas Hardy's Tess of the D'Ubervilles, or even as a cartoonish version of Prince William (or Wills, as they call him) in two seasons of The Windsors, Britain's satirical sitcom answer to The Crown. Still not ringing any bells? He also had a cameo as Laura Dern's character's second-in-commend in Star Wars: The Last Jedi.
If one were to rank the men of Mamma Mia! Here We Go Again by hotness, Skinner would not be at the top of that list (that spot is reserved for Andy Garcia; there's no contest), but he makes up for that in wistful charm. Also, Donna meets Harry in Paris, which, if you ask most people, is a much more romantic location for a meet-cute than a boat (where she meets Bill) or some ramshackle house on the coast of Greece (the spot where she is discovered by Sam), and he gets the short end of the stick in the film's trailer, with much less screen time than his counterparts. Skinner may not look exactly like Colin Firth (none of these younger iterations looks like the older actor he is playing), but he nails the slightly dopey anxiousness that Firth weaves into the character, gives an "aww"-worthy performance up until the final "Super Trooper" number, and, for some reason, appears to be much more handsome when he's out of character than when he's playing Harry. If all of that does not convince you, just know that his delightfully corny rendition of "Waterloo" might have been unbearable if performed by someone else.
Related: Cher Is Releasing an ABBA Covers Album, Further Continuing Her Love Affair With Meryl Streep