Cher Is Releasing an ABBA Covers Album, Further Continuing Her Love Affair With Meryl Streep
The news comes after her return to acting in Mamma Mia! Here We Go Again, as Streep's glamorous, platinum-blonde mom.
---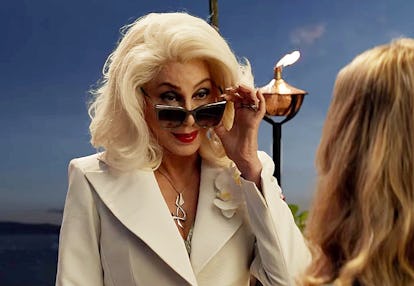 Courtesy of Universal Pictures
Three days before the release of Mamma Mia! Here We Go Again, in which she makes a platinum-blonde cameo as Meryl Streep's mom and Amanda Seyfried's glamorous grandma Ruby, Cher announced that she would soon be releasing her own ABBA covers album—one that, in fact, she's already made.
"After I did 'Fernando,' I thought it would really be fun to do an album of ABBA songs, so I did," she said in an appearance on the Today Show, referring to the song she sings in the film with, well, Fernando, played by Andy García. "It's not what you would think of when you think of ABBA, 'cause I did it in a different way," she added, without alluding to any sort of release date, though taking care to mention that she'd had some help from the movie's producer Judy Craymer. (No doubt in part because the first film exhausted pretty much all of ABBA's hits, meaning the producers had to dig for some of the band's deep cuts.)
That "big news," as the show dramatically announced it in all-caps golden letters, might not be the best for ABBA, seeing as it'll likely steal the thunder from the group's public reunion, complete with new releases, for the first time in 35 years. Cher didn't get into that, though she was more than happy to discuss the film, which marked her first return to acting in too many "elephant or dog years or something" for her to remember. (For the record, it's been seven.) The two-time Oscar winner decided to seize the opportunity, though, because she's been such a "huge fan" of the Broadway version of the musical, which she's seen three times and on occasion "danc[ed] in the aisles with everybody."
Apparently, she loves the film, too, both because it "shows women being in control of their life," and because filming it was "one of the most extraordinary adventures of [her] life." "Everyone was so gracious and they just loved me," she said, adding that "Meryl was hiding when I was doing 'Fernando.'"
Streep definitely came out of hiding, though, at the film's world premiere on Monday night, where she gave Cher a full-on kiss on the lips on the red carpet. Cher later returned the love via her platform: an emoji-filled tweet, along with a reply to a fan who tweeted a GIF of another of the pair's past kisses, in which she described Streep as "THE WOMAN I ADORE."
The pair actually appeared in another film together, Silkwood, in 1983—a fact that supports Cher's claim on the Today Show that she isn't reinventing herself; she's actually been "exactly the same person [she] was when [she] was, like, four years old." As she put it: "I was Cher, but people didn't know it."
Related: Cher's Review of The Cher Show Is the Most Cher Thing Ever
Cher's Style: From Sonny to Marc
In the early '60s, Cher and her husband and musical partner Sonny Bono were instant hits, and their fashion sense reflected their success. Here in 1967, the singer shows off her long black hair and signature bangs in a loose-fitting lace dress, accessorized by chunky rings and bare feet.
Photo by Arnaud de Rosnay / Courtesy of CNP Montrose.
Cher sports a white halter-top, bell-bottoms, and feathered hat while promoting her CBS variety show "The Sonny & Cher Comedy Show" in 1972. Photo by CBS Photo Archive / Getty Images.
In this now-iconic 1974 photo, Cher steals the show at an L.A. event with a wide felt hat and purple eye shadow, nails, and lips.
Photo by Michael Ochs Archives / Getty Images.
Having grown out her iconic bangs, Cher takes to a 1975 party at L.A.'s Greenhouse in a beaded halter-top, loose wide-leg pants, and long metallic nails.
Photo by Frye Vincent / Courtesy of CNP Montrose.
Marc Jacobs is not Cher's first designer romance. Beginning in 1967, Bob Mackie created some of the performer's most memorable looks (including a sheer dress at the 1974 Met Gala that Kim Kardashian cited as inspiration this year). Here, the singer and actress shows off one of his metallic designs in a 1978 photo shoot.
Photo by Harry Langdon / Getty Images.
Cher dons another Mackie creation at the 1986 Academy Awards.
Photo by Julian Wasser / Liason.
Even Cher's off-duty styles—like this glitzy jean-and-t-shirt combo in 1987—deserve applause.
Photo by Anthony Barboza / Getty Images.
The singer ups the ante for her 1999-2000 "Do You Believe?" tour, which coincided with her 22nd album, "Believe."
Photo by Peter Still / Redferns.
Though longtime collaborator Mackie was unable to design the costumes for the first leg of Cher's 2014 "Dressed to Kill" tour, that didn't stop the star from going over the top. Working with designer Hugh Durrant, the star created 14 looks, including this beaded jumpsuit, moto jacket, and oversized hair ensemble.
Photo by Kevin Mazur / WireImage.
Just as he did with Jessica Lange in 2014, Marc Jacobs courts his soon-to-be-campaign star at the 2015 Met Gala. And the rest, as they say, is history.
Photo by Sherly Rabbani and Josephine Solimene.