Cher Is Returning to Acting With Mamma Mia: Here We Go Again!
She's appearing in the "Mamma Mia" sequel.
---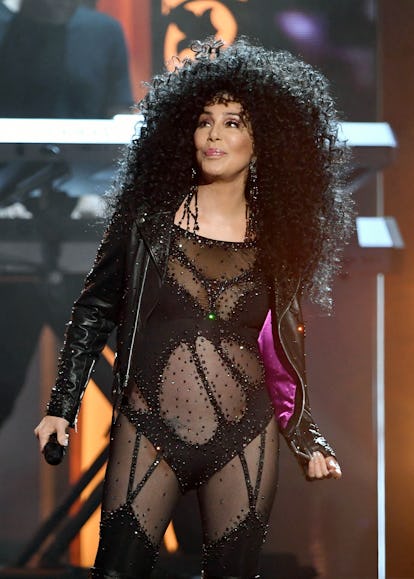 Ethan Miller/Getty Images
It's been seven years since Cher has graced the big screen — remember when she co-starred alongside Christina Aguilera in Burlesque? — but, now, it won't be much longer until she'll be making her return. The legendary performer has just confirmed that her next role will be one in Mamma Mia: Here We Go Again!. Cher casually tweeted the news to a fan, along with a birthday cake emoji, perhaps a reminder that the sequel will arrive ten years after the original. Little is known about Cher's character in the sequel, though her tweet came in response to a follower asking for clarification with a link to a story at Broadway World that reports she will be singing in the film.
What is known is that she'll be joined the film's original stars Meryl Streep, Pierce Brosnan, Colin Firth and Amanda Seyfried. Plus, Lily James will be starring as a young Donna, as the plot will shift between past and present, Variety reports. The film is slated for June 20, 2018.
Aside from Cher's acting and singing on-camera, perhaps the most exciting part of her return to acting is the potential for yet another memorable appearance at the Academy Awards. Recall the one from 1986, where she wore a Bob Mackie sequin gown with her midriff exposed and an elaborate headdress. "It was just crazy, but I was so in love with it," she said of the look, which she since described as her favorite ever to People. "It was this huge black feather Mohawk. I mean I love that outfit so much. It was so beautiful. If you saw that outfit in person it was just amazing… I think it's just because Bob [Mackie] and I just never have any fear and just do insane things."
Most recently, Cher sang in front of the camera for a new campaign for The Gap with rapper Future, which was all about inclusivity. "I love the idea of 'Meet Me in the Gap' because it's easy to have common ground if you are really open and curious to people from different cultures," Cher said in a statement. "I didn't know who Future was before this but I knew it would be so fun to work with someone who is completely unlike me, and who is young, really talented and striving." No doubt that experience should serve as a warmup for the next Mamma Mia.
Related: Netflix Got Cher to Record a New Song for a Cartoon Because Netflix Can Do Anything Now
Pink Gets Interviewed by a Cute Little Kid: