Netflix Got Cher to Record a New Song for a Cartoon Because Netflix Can Do Anything Now
"Ooga Boo" is technically her first dance bop in four years.
---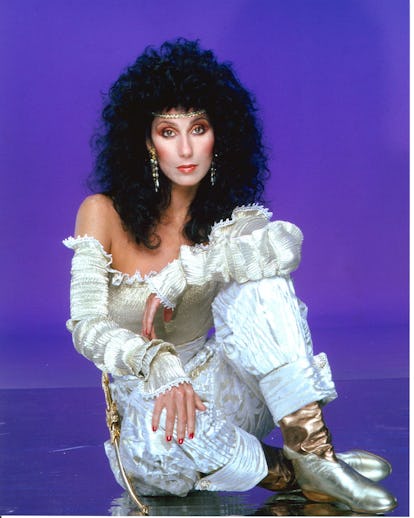 Harry Langdon/Getty Images
Netflix is still very much in its world conquering phase. It just straight up poached Shonda Rhimes from ABC, it's scooping up prestige indie films in a very earnest hunt to win an Oscar and it, obviously, continues to own the Emmys.
Now, for its latest feat, Netflix has convinced Cher, an artist who has released just one new album in the past 16 years, to record a brand new song for a children's cartoon show. We'd joke about Netflix now hunting for Grammys as well, but as it turns out the streaming service already has four Grammy nods under its belt (including for the Orange is the New Black theme song and the Stranger Things score).
Of course, this is not just any Cher song. She recorded it in character as "Chercophonie," an avant-garde rock diva alien who can only go out in public in disguise from their show Home: Adventures with Tip & Oh.
It is also of note that the song is called "Ooga Boo" and that there is also a corresponding video. While the premise of this is all very silly, Cher turns it into a genuine bop, because such is the power of Cher.
Cher seems to be particularly picky about what she's recorded in the last decade. There was an album in 2013 (Closer To The Truth), a contribution to the soundtrack of her 2010 film Burlesque ("You Haven't Seen The Last of Me," by the acclaimed Diane Warren), a contribution to the documentary Cries From Syria, a duet with her mother, and a couple of unreleased collaboration (with Lady Gaga and Wu-Tang Clan). She has not been particularly prolific, and this might be considered her first dance floor jam in at least four years.
Cher once told David Letterman that the reason she doesn't record much music anymore is because she keeps forgetting to get into the studio, but apparently all it took was the power of Netflix to remind her. Drag queens throughout the world clearly thank them.
In between blasting president Trump on Twitter, Cher has also promoted her part on the kid's show:
Related: A Cher Musical Is Officially Coming to Broadway
See What's Trending in W Video: