ABBA Is Publicly Reuniting for the First Time in 35 Years, with Two New Songs and a Holographic TV Special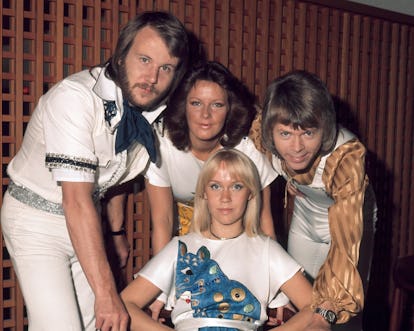 Jorgen Angel/Getty Images
Mamma Mia! Here we go again. ABBA, the Swedish masterminds behind timeless disco jams like "Dancing Queen" and "Waterloo," is getting back together. On Friday, the pop group announced via Instagram that they would be reuniting publicly for the first time in 35 years with two new songs and a holographic TV special.
"The decision to go ahead with the exciting ABBA avatar tour project had an unexpected consequence," wrote Agnetha Faltskog, Benny Andersson, Björn Ulvaeus, and Anni-Frid Lyngstad in a statement. "We all four felt that, after some 35 years, it could be fun to join forces again and go into the recording studio. So we did. And it was like time had stood still and that we only had been away on a short holiday. An extremely joyful experience!
"It resulted in two new songs and one of them 'I Still Have Faith In You' will be performed by our digital selves in a TV special produced by NBC and the BBC aimed for broadcasting in December. We may have come of age, but the song is new," ABBA continued, signing off from Stockholm. "And it feels good."
According to Rolling Stone, the "ABBA avatar tour project" in question is part of a virtual reality project, announced back in 2016, dreamed up by the pop group and American Idol creator Simon Fuller. At the time, The Guardian reported that the experience would be "a groundbreaking venture that will utilise [sic] the very latest in digital and virtual-reality [sic] technology…which will enable a new generation of fans to see, hear, and feel Abba in a way previously unimagined."
Just last week, ABBA's Björn Ulvaeus said that the avatars would be younger versions of the group, looking as they did in 1979. "It's the first time it's ever been done," he said, according to Agence France-Presse.
ABBA, which formed in 1972 before breaking up in 1982, has never reunited except for a private party in 2016, Deadline reported. Why, why did we ever let them go?