Why Are Politicians So Obsessed with Watching Musicals After Public Humiliations?
From Hillary Clinton after the election to James Comey after Trump's dismissal, political figures seem to only lick their wounds by going to see big Broadway musicals, the great political unifier of our time.
---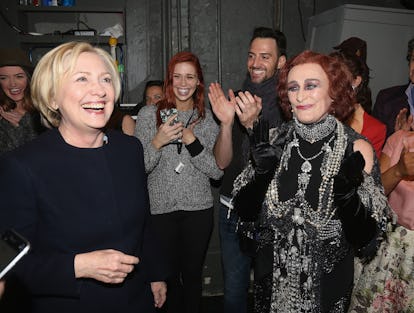 Bruce Glikas
Regardless of their party, politicians love to see Broadway shows. The Obamas adored them, Hillary Clinton binge watches them, Ivanka Trump went with Justin Trudeau to see one, and deposed FBI Director James Comey ran, in defeat, to do the same. It seems that whenever a politician wins, they celebrate by seeing a Broadway musical. If they lose or get fired, they try to recover by, well, seeing a Broadway musical. What is it about seeing chorus boys and girls and divas belting out a tune that so appeals to these hardened bureaucrats?
For one, it's a cathartic way for politicos to be public and private at the same time. They're welcomed and noticed and ballyhooed at the theater, but then, for two hours, they can sit and relax, not having to worry about the fate of mankind—or their careers. After all, cell phones must be turned off the whole time!
Singing and dancing seem to be the great political unifier of our time, for everyone from theater aficionados, tourists, and people who decide earth-shaking things about our nation's future. Fortunately, there are more than a few musicals about politics (Hamilton, 1776, Fiorello!), so Capitol Hill types can at least see singing along and dancing to topics they're personally familiar with.
David Goldyn, a producer on Broadway's Honeymoon in Vegas musical and producer of off-Broadway's Daddy Issues, sums it up thusly: "When politicians are stuck in the muck and mire of party gridlock and presidential insanity, it is refreshing to go to a show where things are resolved for better or worse by the end of an evening. We all go the theatre to escape, to be enlightened, and to be seen."
He added, not without irony: With all the palace intrigue at the White House, the drama over Melania and Donald's marriage, lies and smears and leaks, and a great villain in Vladimir Putin, "Can Trump the Musical be far behind?"
On a recent Saturday, James Comey made his first public outing since being axed by President Donald Trump as FBI Director. Was he spotted collecting unemployment? A Women's March rally? No, he was seen attending a performance of the Tony award-winning musical Fun Home in Washington D.C.
Some speculated that Comey just wanted to get his face out there rather than cower in defeat, but Comey told reporters he'd actually bought the tickets months ago, on the recommendation of his daughter, who'd caught the tour in Chicago. Whatever the case, his choice of show was a wonderful rebuke against Trump's insensitivities, whether Comey intended it to be perceived that way or not. Fun Home, as it happens, is a musical based on Alison Bechdel's graphic memoir about her comic of age as a lesbian, while growing up with a gay father.
It's no secret that Trump has a serious distaste for the arts, and they don't like him back. He is openly gunning for the National Endowment for the Arts and public broadcasting. As for LGBT rights, Trump has drawn ire for rolling back the federal guidelines regarding transgender students and staying shockingly mum on the subject of Chechnya's torture of gay people. What's more, under his administration, the national census will no longer collect information about LGBT Americans, making it harder to track their presence and needs.
Not surprisingly, Trump hasn't been seen at musicals this season (though he'd probably love Anastasia and Natasha, Pierre and the Great Comet of 1812, both set in his beloved Russia). But he does love some shows—particularly Evita, the 1979 spectacular about the penniless whore who rises to fame and power as the calculating First Lady to faux-populist Argentinian President Juan Peron. The woman is portrayed as crafty, vulgar, and wildly ambitious, and, when Trump watches it, he probably plugs up his ears whenever Che sings satirically disapproving songs about her. I wouldn't be surprised if someday he produces a revival of it starring Melania.
Curiously, Trump's Vice President, Mike Pence—himself a staunch opponent of gay rights who as Indiana governor signed into law a bill that allowed businesses to discriminate against customers based on their sexual orientation—seems to be a fan of the Great White Way.
In November, shortly after an election that was fresh in the public's mind, he turned up to see Hamilton at the Richard Rodgers Theatre. Hamilton—the Pulitzer prize-winning take on founding father Alexander Hamilton, done with a hip-hop score—is a must-see for politicians, and, raking in sometimes $3 million dollars a week, it's apparently for everyone, from die-hard theater regulars to people who don't usually see shows at all. But Pence was welcomed with boos and catcalls, giving the evening some unexpected extra drama.
Robert Hofler, The Wrap's theater critic, says, "Pence wanted to be booed to put him on the other side of the cultural elite."
If so, that's not the usual reason politicians go to shows. "First of all, politicians get free tickets," explains gay activist Jim Fouratt, who ran in the primary for New York State Assembly in 2016. Fouratt means that politicians are courted by producers as celebrities who will garner publicity for their shows. "Number two, they get free publicity for supporting the theater," Fouratt continues. "Number three, New York City is the theater capital of the world and it's a politician's duty to celebrate our culture—and this is one of the few times they can do that without politics invading. Except when Pence goes and half boo and half cheer." But going to back to the first reason, Fouratt laughs.
"One of the reasons I ran for office was to get free tickets to Hello, Dolly! starring Bette Midler!" he said.
Hamilton had a much more celebratory history with Trump's White House predecessor, Barack Obama. The show was first heard from in 2009, when creator/star Lin-Manuel Miranda previewed material from it at the White House.
Obama and his daughters saw the fully realized show on Broadway in 2015, and there were no boos, just cheers, bravos, and tears. Last year, Hamilton went back to the White House for a student workshop, and this January, in light of Obama's farewell address, the show released a video of "One Last Time," the song about George Washington stepping down from office.
Hillary Clinton has seen Hamilton three times, one of them just moments after having been interviewed for hours by the FBI. (Hey, maybe she can hook Comey up with tickets. Nah. Never mind.) Clinton's theatergoing hardly ends with Hamilton, either.
After losing the presidential election in November, the former First Lady and ex New York Senator went to four Broadway shows in a matter of weeks. One of them was Sunset Boulevard, where she was cheered and posed for smiling photos with the cast. But in April, she was honored by the LGBT Center and kept her commitment, even though she'd been offered opening night tickets for the smash Hello, Dolly! revival.
"I really struggled with it," Clinton said about the decision, but she felt this LGBT event was like a "stylish family reunion."
Interestingly, she'd gone to see Boulevard, about a demented has-been who ends up being taken away, but she didn't want to see a show about a delightfully manipulative woman who makes a triumphant return to form. Would the latter show have made her feel uncomfortable? Would Dolly's compulsive handing out of business cards have made her think, "I should have communicated that way, not by email"?
But Mayor Bill de Blasio had no problem with it and declared April 21 "Dolly Day" in New York City.
In September, de Blasio went to see Fiorello!, the off Broadway revival of the musical about the populist New York mayor from the 1930s and '40s. His vote of confidence paid off, since the resulting publicity helped both the show and de Blasio himself.
And he's not the first mayor to love theater. In the 1990s, Rudy Giuliani launched an aggressive "quality of life" campaign designed to rid Times Square of porn and make it safe for tourists swarming in to see musicals, thereby pumping revenue into the city. The fact that the musicals included a pelvis-bumping Cabaret revival created an irony lost on Giuliani. One of his predecessors, Ed Koch, liked theater, but he must have been horrified to find a character based on him being excoriated for ignoring AIDS in Larry Kramer's The Normal Heart (which had a Tony-winning Broadway revival in 2011), similar to the way self-loathing gay attorney Roy Cohn is the demonic figure at the center of Tony Kushner's blistering 1993 masterpiece Angels in America.
Mayor Michael Bloomberg had a calmer relationship with theater. When in office, he was an equal opportunity supporter, even going to the openings of really bad productions like Bye Bye Birdie and It Shoulda Been You.
Says Hofler, "Never covered are the times Hillary has gone to the opera. She has been very public by taking photos with Glenn Close because it shows she is not home licking her wounds after her defeat. With the Obamas, they go to a fair amount of theater—always have—and Hamilton became their Camelot. I think Anastasia, with its ridiculous reverence for the Romanoffs, is Trump's Hamilton/Camelot." Or it would be if he actually went to see more shows. Even a fluffy piece like Anastasia, which primarily appeals to teen girls and their parents, is out of his realm, seeing as he's interested in weightier things like golfing, late-night tweeting explosions, and gossiping with his pals in the Kremlin.
His daughter Ivanka, on the other hand, goes to shows. In March, Canadian Prime Minister Justin Trudeau took Ivanka Trump to a performance of Come From Away, the hit musical about the real-life story of planes diverted to Newfoundland on 9/11, when the Canadian natives welcomed the passengers with warmth instead of judgement. In the midst of Donald Trump's harsh immigration proposals, the show provides an uplifting message about welcoming strangers from another culture, and that's a big factor in its success.
Trudeau's involvement was a no-brainer—the show is basically a singing and dancing commercial for Canada—but it was brave of the younger Trump to go and even applaud the show.
The sight of the two of them there created some riveting theater before the curtain even rose. One hopes that afterwards, she ran back to daddy with her Playbill and sang him a few excerpts.
Related: Madonna vs. Patti LuPone, and More of the Great Diva Feuds of Yore
Watch: Chameleons of the Art World: The Humans of Frieze New York