Why Broad City's Fifth Season Will Be Its Last According to Ilana Glazer and Abbi Jacobson
Farewell but not goodbye.
---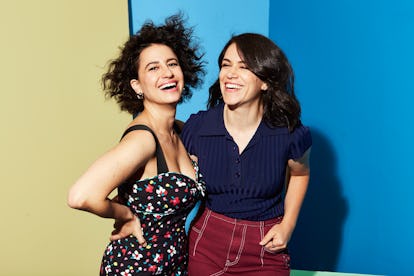 Smallz & Raskind/Getty Images
The end of an era has come. After a half-decade run, Broad City's fifth season will be its final one. The show, which doesn't pick back up until early 2019, has reached a natural conclusion according to its creators Ilana Glazer and Abbi Jacobson.
"Broad City has been our baby and first love for almost 10 years, since we started as a web series," the pair said in a joint statement to The Hollywood Reporter. "It's been a phenomenal experience, and we've put ourselves into it completely. Broad City's always had a spontaneous pace and feeling, and ending after season five honors that spirit. We are very excited to bring new voices and points of view to Comedy Central and continue our collaboration together in new ways."
As for why Broad City is ending now, on the heels of season four premiering to its best ratings ever (views were up 14 percent year-over-year according to Deadline), the decision was a "creative" one as Comedy Central president Kent Alterman revealed to THR. "It's more of a creative thing than anything," he said. "It's a show about two 20-somethings in New York, and Abbi and Ilana are smart about not wanting to overstretch it beyond plausibility. They're telling a particular story about the post-college era in New York. It's an organic conclusion to the journey that they've been on."
So, it's simply a case of Glazer and Jacobson outgrowing these characters in their personal lives. "Ultimately it was their decision — where they want to resolve the characters' stories. We'd never want them to overstay their welcome," Alterman said. "It was really driven by creative storytelling and when is a natural life [of the show over]? We're thrilled with five seasons of a show like this. The last thing we'd want is them to pretend they're younger than they are and contrive and force it. The thing that matters to us more than anything is the creative integrity of the storytelling."
While we will soon bid farewell to the series, it's certainly not a goodbye. As they said in their statement, Glazer and Jacobson will continue to develop more content for Comedy Central. It's a good thing, too. The world could use more female-driven stories about growing out of your 20's, and few could come up with as funny takes on it as Glazer and Jacobson.