Actor Will Poulter on the Daunting Task of Playing the Violent, Villainous Cop in Kathryn Bigelow's Explosive New Movie Detroit
"Normally, I try to find some sort of entry point into a character, psychologically. I don't think I did find empathy for Krauss."
---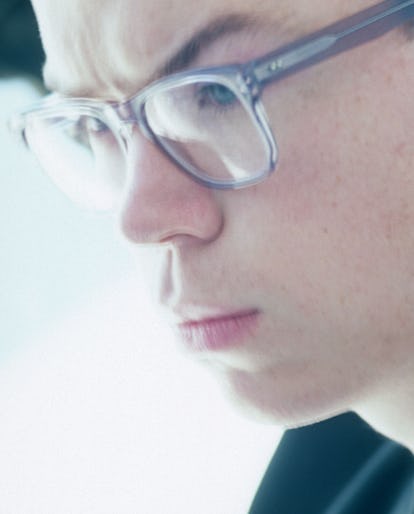 Kathryn Bigelow's new movie Detroit opens with an animated history of the Great Migration: Illustrations by Jacob Lawrence describe how black Americans in the south moved to the industrialized cities of the north, some of them landing in segregated neighborhoods in Detroit—and how there, in Detroit, racial tensions between the black population and the white police force sparked riots in the summer of 1967.
It's an expansive introduction to an intensely claustrophobic film: The central drama, a police invasion of the Algiers Motel that left three black men dead and resulted in no convictions for the white officers who were charged with the murders, takes place in a single motel corridor and adjoining rooms. Shortly after rioting broke out that July, police patrolling a neighborhood near the motel heard gunfire and entered the motel, purporting to seek out the shooter, and haul the occupants—a group of black men, including the musician Larry "Cleveland" Reed (Algee Smith), and a Vietnam veteran name Greene (Anthony Mackie), and two white women (Hannah Murray) and (Kaitlyn Dever)—from their rooms into the corridor for questioning. The interrogation quickly becomes a sadistic game perpetrated by a handful of officers led by Philip Krauss, a trigger-happy patrolman played by the English actor Will Poulter.
Poulter convincingly inhabits the part of the vicious white supremacist, but the part could hardly have been more of a stretch for the 24-year-old actor. Recognizable from roles in Son of Rambow—his breakout, a decade ago—The Revenant, and War Machine, Poulter is modest and genial, and he has clearly done his homework: During our interview, he readily delivered meditations on structural racism and how stunningly little has changed in the past 50 years, along with the supporting statistics. He arrived at the World Trade Center earlier this week clad in an olive green baseball jacket and trousers, square-frame glasses perched on his nose. Over coffee, we discussed how he related to his character and to his costars, Kathryn Bigelow's notoriously intense, immersive directing style, and why the Algiers Motel incident matters 50 years later.
"It's also important to humanize the individuals who lost their lives," he told me. "Because this is such a deep-rooted issue and it's been going on for so long, we've become de-sensitized to the loss of African-American life in our society. If three white males had lost their life in this context in 1967, it would be one of the most famous stories of all time—and it's not. That's the reality."
Detroit opens wide Friday, but Poulter and his castmates, including costar John Boyega, have already brought the film home. On the recent 50th anniversary of the rebellion, they traveled to Detroit to premiere the film; in addition to meeting police chief James Craig, who Poulter said is considering making the film mandatory viewing for incoming recruits, the actors worked with the Detroit-based grassroots organization Focus: Hope, which was founded in 1968, he said, in direct response to the 1967 riots.
"This city went through something that would have brought a lot of places to its knees, and it's still standing and it's still operating and it's still fighting," he said. "That, to me, is why the film is called Detroit—because Detroit is characterized by strength and its spirit; not by the scenes of 1967, but by where it's headed."
How did you get this part?
It was a pretty lengthy, fairly intense audition process, although the intensity of the shoot itself completely overwhelmed the intensity of the audition process. The pursuit of this job was about as long as the shoot, actually. I think I was trying to get the role for about three months, and the shoot was about three months. It consisted of a tape, a table read, a kind of workshop, and then a conversation with Kathryn, so it was kind of a multifaceted trial period, but I was desperate just to be a part of it. I would have literally jumped through rings on fire.
Why did you want it so badly?
I get asked often whether there was a sense of hesitancy to play this part, and really, there wasn't. I think that was informed by two things: One, just how brilliant Kathryn was—I knew this story was going to be in phenomenally good hands with her—but two, because I wanted the opportunity to expose an individual like this. As uncomfortable psychologically as it was to me—the idea of playing a racist—it was exciting because I was being gifted an opportunity to expose a real-life character who operates in society today on a big platform. I think it's all too unfortunate that the parallels between our film, set in 1967, and the cases of police brutality, police criminality, innocent African-American people and people of color in general being denied social justice, continuing today, 50 years on. I felt really grateful to have the opportunity to do something that felt relevant and would hopefully help shed light on the fact that social injustice, police criminality, these things are happening today, have been happening for a long time, and that's because of long-standing, deep-rooted systems that continue to oppress people of color.
That conversation with Kathryn Bigelow that you had towards the end of the audition process—what did that sound like? What were you guys talking about?
I was in a car on the way to an event in London at the Serpentine Gallery, really weirdly, which makes me sound a lot more cultured than I am. I was with one of my best friends, another actor called Kola Bokinni, and she called me up and said, "Hi, Will, it's Kathryn," and I was like, "No, I know, I'd know that voice anywhere." This is like, one of my favorite directors of all time calling me on my mobile in London. She said, "Would you be willing to accept this role? I would love it if you would play Krauss in my movie." She sort of worded it as if, maybe, there was even the slightest chance I would turn it down. Following that, we talked about the sensitivity of the subject matter and the ramifications of playing a role like this and what people's reactions could be, and the emotional toll it could take. Any level of discomfort or difficulty I face is going to pale in comparison to the kind of suffering that we are representing in a broader sense, so whatever I experience is cuts and bruises. I also would be keen to emphasize that while I found it tough, while I found it emotionally intense, for the African-American actors, it must have been truly harrowing because it's rooted in real-life experience and a pain that belongs to an entire community of people. We were kind of tapping into that.
Krauss is a composite character, so were you looking at accounts of the police? What kinds of things were you consulting?
I was looking online at the kind of documentation of the events and the three individuals who were implicated on the police force—one who talked specifically about the Algiers Motel incident. Beyond that, I was looking at the prominence of racially motivated police work, antagonistic arrest tactics. There was an assumption, I think, among the 95-percent-white police force at that time that, if you were African-American, you were guilty until proven otherwise. I don't want to generalize too much, because I understand that back then, although they were in the minority, there were some hardworking, honest, decent police officers. Now, I would like to think that there are far less of the indecent, racially motivated police officers, but it is a fact that they still exist and they still operate, because we're witnessing them at work. So for me it was about creating a character that really epitomized bad policing and racially motivated behavior. Regardless of my character's occupation, he'd always be a racist and a hateful person, and you always have that ignorance and that capacity to hate another human being. It's based on a bunch of beliefs that aren't founded in truth. It's quite scary. I also looked at some footage of racist, fascist individuals who belonged to hate groups and things like that. You watch the way they speak and the confidence with which they preach their message, and it's frightening to see how convinced they are that they're doing the right thing. They are entirely committed to hate.
I'm curious how you think Krauss—like you said, he would be a racist no matter his context—sheds a light on the more ubiquitous structural racism we confront?
I think what Detroit does as a film, as a whole, is shed light on the fact that social justice has not been a reality for many, many different ethnicity groups outside white people for a long, long time. It's deep-rooted; it's systemic. We are seeing a repetition of similar events in this film today because those racist systems have never been dismantled. Now, a character like Krauss, for me, is very much representative of people who existed then and are probably not as overtly or as obviously racist now. But there is, as you said, an entrenched level of racism within the system and these racial motivations continue to inform the way police officers conduct themselves. And for as long as we don't hold those individuals accountable, for as long as we don't convict those people, it's just the Jim Crow effect. One of the criticisms of the film I heard is it's too intense; it's too brutal, and it might even be hyperbolic. I can tell you that we toned it down. When you look at the supporting documentation from a legal standpoint, the transcripts of what some of the people who were present in that Algiers Motel said and did, you would not believe me, and it would not be allowed onscreen in public. It's that offensive. It's important that people don't brush this under the carpet as a movie that's trying to stoke a fire that doesn't need to be lit. This is about trying to put one out.
Something the film also shows is all of the people who are in positions of relative power and privilege and authority who could have intervened at some point along the way and didn't—the police chief at the beginning who doesn't take Krauss off the streets; the state police who say, oh, this is maybe a civil rights issue, we don't want to get involved in that, and retreat. There are all these people who should be held accountable who are not.
Absolutely, and, by the way, it still happens. That seems so shocking and outdated, but we've seen police officers literally get away with murder and go back onto the police force, not being convicted, being given pay, getting a payout, it's truly frightening. And again, the thing to remember, if their victims were white, it's just absolutely no way that you'd have the same outcome. And it doesn't get more obvious to me than that. The problem is right there before your very eyes.
So how did you find empathy for Krauss? Do you think you did?
I don't think I did. Normally, when I play a character, I try to find some sort of entry point, psychologically speaking, and that comes with respect. I normally have to identify something within them that I respect, and I can then sort of wear, and truly hold myself to, even if the character is villainous or less than admirable. What was difficult with Krauss was the only sort of parallel I could see that existed between me and him was that we were white males. There was nothing about his psychological makeup that was symmetrical with my own, so I just took that to the extreme: that I am a white male. Then, you look at white supremacy and the ignorant and aggressive thoughts that exist in the mind of a racist. I read up on the most harrowing, dehumanizing things that racists subscribe to. It's like looking through real-life horror. You, for a moment, have to wholeheartedly believe that you're doing the right thing by trying to uphold this dominance over this other ethnicity group who don't deserve it. You can't allow empathy to enter your mind, in a way, which is a frightening place to be.
So you mentioned the audition process paled in comparison to the intensity of the shoot. What was the shoot like?
The emotional intensity of the Algiers Motel incident, which is kind of the focal point for the movie, was unmatched in the context of my personal career. I think I speak for most of the cast when I say this is the hardest thing we faced, I imagine. Kathryn and Barry Ackroyd, the director of photography, create a level of authenticity and realism that just is naturally so affecting. It reduces the acting challenge, but it does sometimes make you feel so immersed in it that it can be painful.
How do they do that?
Barry has a way of lighting the set so that you don't have to break up the action as many times. He comes from a documentary film background, so he's able to bring that level of realism and immersion for us. Kathryn—it was put brilliantly by Jo-Jo [Joseph David-Jones], one of my colleagues today, who said she captures moments as opposed to creates them, which I think is phenomenal. She sort of creates the environment, puts us in it, and then captures the real reactions to that.
That's also very documentary.
Also very documentary, and she has a documentary film background. So the two of them work perfectly together and it creates a very immersive experience for us, which I think translates onscreen and creates a very immersive experience for the people watching. There were times when we just didn't even know where the cameras were, so they were really capturing reactions as opposed to performances. We were given an immense amount of creative freedom. I never expected for Kathryn to put so much trust in us. I was expecting to get micromanaged, and I would have happily been micromanaged, but actually, a lot of the time she stood back. Kathryn's catch phrase was, "Do whatever feels natural." We were in our early twenties, and we were like, What an amazing vote of confidence.
What kinds of conversations did you have with the other actors to prepare as you were going into it?
As a white person, it was critical for me to understand as well as I could, and learn about some of the experiences that the African-American people had had with the police. I also realized that I was going to be performing things against them that they might have real-life experience with. Algee [Smith], Jo-Jo, Leon [Thomas III], Peyton [Smith], Jacob [Latimore], they all shared stories with me about real-life experiences with the cops. Jason Mitchell, since shooting, shared some stories with me. It's really enlightening because I think without first-hand experience of racism and prejudice, it's easy to become sort of desensitized to the reality of it. A simple example: if I get pulled over in my car, I respond in the safety that I'm going to be treated lawfully and respectfully. And nowadays as an African-American man or an African-American woman, if you're pulled over in your car by a police officer, it is not unreasonable to think you might lose your life if you make the wrong move, and that's just a terrifying reality that conversations with my fellow castmates really helped me. And that's the hope with Detroit, that people will engage in similar conversations.
This interview has been edited and condensed for clarity.
Riz Ahmed's first kiss was on stage, and he didn't know what he was doing: