@wfhfits Is the Indoor Fashion Inspiration We Need Now
An Instagram account started by a trio of magazine editors has arrived to fill the void.
---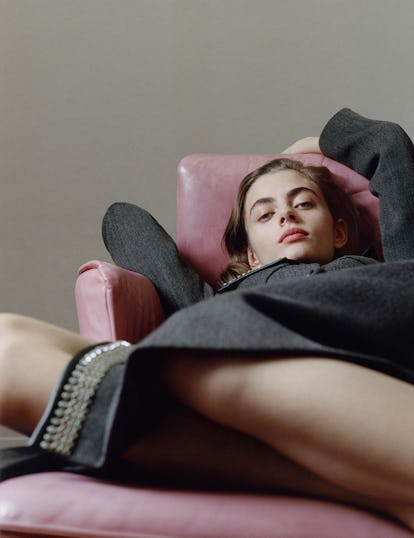 Photographed by Larissa Hofmann for W Magazine; Styled by Katie Grand.
Many frantic, well-meaning words have been written since the start of our current public health crisis about the importance of maintaining a steady routine when working from home. Without the structure and community of office life, the concepts of a "schedule" or "time itself" go out the window.
But what about some of the smaller, more unquantifiable things we lose when we're stuck inside? The thrill of debuting a great new jacket to the world, the pep in your step you get when your most stylish colleague compliments you on an outré pair of shoes, the simple fun of checking out what everyone else is wearing in the elevator. Even fashion bloggers, who we often look to for guidance, can offer us little comfort: Why would I care about a perfectly styled outfit for an event, when all of my party dresses are to remain firmly on their hangers until this is all over?
Thankfully, the Instagram account @wfhfits (that's "working from home outfits" for the not-always-online) has sprung up to fill the void.
Started last week by a trio of fashion magazine staffers (Elle UK's Sara McAlpine, Vogue editor Steff Yotka and GQ writer Rachel Tashjian), the account celebrates the stylistic accomplishments of those of us confined to our couches for the foreseeable future (including, full disclosure, yours truly). When reached for comment, Tashjian declined an interview, stating that they wanted to avoid presenting the project as some kind of manifesto: "It's just sweatpant pics!"
There are plenty of sweats, sure, but there's also an inspiring array of scuzzy-chic ensembles in the mix, like the accessories designer Susan Alexandra's embroidered peasant blouse and boxers combo, interior decorator Charlotte Rey's Missoni robe, and a few very ladylike house dresses paired with Chanel slides or boudoir slippers.
The cast of characters (anyone can submit their fit via DM) is mostly New York media and fashion types mixed in with the occasional celebrity screenshot: Frank Ocean's sleepy, kitchen-bound look was heralded for creative layering, Timothée Chalamet's hunched The Thinker-esque stance inspired a #CHALAMETCHALLANGE.
Captions are loopy, affirmative and written in all caps, like a slightly deranged digital version of Cheer-style mat talk. "GIVE YOURSELF THE FREEDOM TO MOVE COMFORTABLY IN BOXY TOP AND BUCKET HAT" reads one, under a jaunty bedroom pose. On a mirror selfie featuring ruffle trimmed shorts: "HAD NOT SEEN FESTIVE BASKETBALL SHORTS BEFORE! LOVE IT…AND GUCCI CLOGS IN THEIR NATURAL HABI."
It's no radical manifesto, but I've come to think of @wfhfits as a virtual stand-in for the function of fashion as an element of public life. Even when home alone, braless and unmoored, we still crave interesting ideas for what to wear, and we still want people to tell us we look cool. Casual can still mean creative, and, as one caption put it, "COZY DOESN'T MEAN SNOOZY!"