W's In & Out List is Back!
The legendary In & Out list, a signature of the magazine since its inception, is back as a daily newsletter, so you can get what's "In" delivered straight to your inbox every day.
---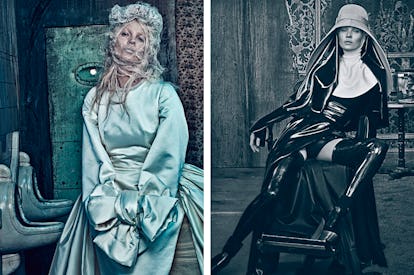 Photography by Steven Klein, Styled by Edward Enninful
For years, W titillated the fashion world with its In & Out lists. With tongue firmly in cheek, the column briskly dictated what was and wasn't in fashion. At any given moment, things like airbags, "vintage fake jewelry" and "being naughty at lunch" could be in, while pasta salad, "flat shoes for evening" and the entire Kingdom of Spain would be out. The list once even decided that the entire species of cats was decidedly out.
In today's world, tastes can turn on a tweet, and trends can live and die in the space of a week or less. Some things are hardly worth paying attention to, while others of more importance can simply get lost in all that noise. So it seems like the perfect time to re-launch the In & Out list as a daily newsletter to help you cut through all that clutter and stay up to date.
Each morning we'll deliver the latest news of what's truly in and what's on its way out in the worlds of fashion and culture, straight to you. To put it another way, we're quite literally putting the "in" in your inbox.
The original feature spurred all matter of imitators in the pages of other magazines. Every "Hot or Not," "Do's and Don'ts" and "Fab or Drab" listicle owes a debt of inspiration to W's legendary lists. In the oddest example, Marvel Comics once even infamously put its own spin on the format.
Of course, few could do it as well as the legendary editor who first dreamed up W, John B. Fairchild. To be frank, we're not even sure we could.
So while we're bringing back the idea of informing readers of what's in and what out, we're reimagining the basic premise for our times.
Think of the new "In & Out" newsletter as your cheat sheet to the latest news in the worlds of fashion and culture, both high and low. Delivered to your inbox each weekday, it's your guide to what to talk about at that fancy cocktail party (the latest trends in the art world or the most recent round of designer musical chairs) and what to talk about at the less formal after party (what to watch on Netflix this weekend and just what exactly those Hadids are up to now).
This time around, we'll actually explain our reasoning. We'll also include can't miss posts from who to follow on social media, insider information and exclusive previews of W content.
Sign up here to have what's In delivered to your inbox every day.