In Paris, Ximon Lee Impresses Even Kanye West
The men's designer showed his first presentation during Paris Men's after getting nods of approval from LVMH and Yeezy himself.
---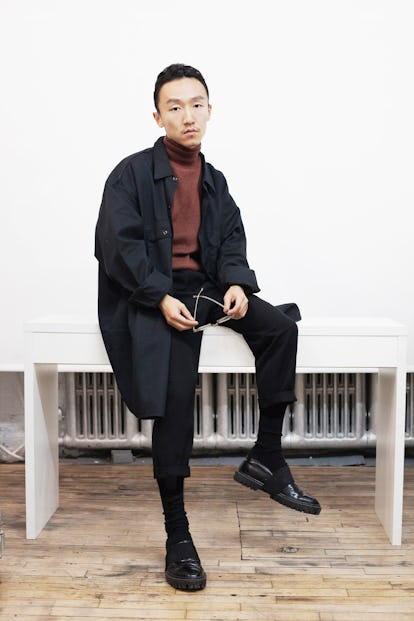 At the Louis Vuitton Moët Hennessy Prize designer showcase last spring, 24-year-old Ximon Lee was named among the semi-finalists. But that highest praise came from an astute observer of the fashion scene. Kanye West, in a phrase, told Lee he was "killing it." At least in this instance, West was't exaggerating. Only a year or so after graduating with a B.F.A. in Fashion Design from Parsons in New York, Lee became the first designer from the U.S. and the first menswear designer to win another sought after prize, the H&M Design Award. Earlier this year, he was included in Forbes' "30 Under" 30 list and just this past weekend finally made it to Paris to show his fall 2016 men's collection in his first official presentation (he had a showroom debut last season).
What was meeting Kanye West like? It's memorable before you meet these people, but after you meet them you realize, 'Oh, this is no longer memorable.' The actual meeting and talk was not the memorable moment. The moment before when you're excited about it—when you're imagining the conversation—is memorable. It's not about that, though. It's about seeing things growing. There are a lot of small moments when people understand what you're doing. These moments make you happy.
What is the inspiration behind the fall collection? Basically, it's different scenes in a nightmare that repeated a lot for me in my teenage years. It's very much about myself, and my ego and alter ego. This nightmare is very romantic in a way, but also very scary. It's hard to explain, but each look is a scene in this nightmare – you're submerged in water; you're trapped in the middle of the mattress; you're trapped by a blade. It's not a physical demon or a ghost, it's just something you're scared of. All of the colors, fabric, and stitching reflect these scene. It's almost like a little film and each look is a little piece of imagery in this film.
How would you describe your looks? It's a mix of very graphic elements and something very soft and romantic. There are very, very washed jeans, which I hadn't really developed to the end last season. Last season was very tailored and geometric. I don't want to use denim as something typical Americana, but this season I'm doing more of an acid wash and really magnifying everything to make it scary. All the seams become much bigger; everything is more three-dimensional and thicker. I've been mostly working with work wear uniforms, which I really love and developing these garments to create a new silhouette. This season is about taking familiar details and magnifying and elongating them, so that you feel something is weird when you look at it.
Words play an important role in your designs. How have you incorporated them this year? The words on my clothes are like whispers from my own diary. All the words this season though are magnified and bleed out of the garment, so you can't really see what they say. For example, when you make words really small, they become a line. They're also covered under outerwear, so it's like you're trying to yell, but it doesn't come out. The words are submerged underneath very cracked, acid-washed garments.
As a young designer, how do you adapt your vision to appeal to a mass audience? This season, I had to be ready for production. Last season we had a lot of problems with pieces that were developed in-house that could not be easily reproduced. I've really been exposed this year to how mass production is done. I'm very fortunate to have a small team. There's a lot to learn, and I'm involved in every part of the process. It's much more challenging than working alone, because you can just express yourself and spend all your time working on a few pieces. Now, I'm spending my time communicating my ideas to a lot of different people to produce a much bigger collection. For me, it's a little bit scary. But it's organically moved into teamwork in a very short amount of time.
There are freedoms that come with success, but also more restrictions, it seems. Right now, it's just about working with the best people, and figuring out how to work best with them. For me to edit things down though is extremely different. Sometimes, even in the beginning of designing a collection, you can see what you want, so it's hard to see it die. But you have to keep the balance so you can have everything on time.
What are some career highlights so far? I know you met Kanye West. Where do you see yourself in the next few years? What are your goals? In the end, you just want to make good stuff that people feel confident in. A coat that makes you smile when you walk down the street—that's what matters. Fashion is not a necessity; it's like a beautiful vase that you want to keep on your table.
Photos: In Paris, Ximon Lee Impresses Even Kanye West
Ximon Lee photographed by Danny Roche.
Ximon Lee Fall 2016 Look 1
Ximon Lee Fall 2016 Look 2
Ximon Lee Fall 2016 Look 3
Ximon Lee Fall 2016 Look 4
Ximon Lee Fall 2016 Look 8
Ximon Lee Fall 2016 Look 9
Ximon Lee Fall 2016 Look 13
Ximon Lee Fall 2016 Look 14
Ximon Lee Fall 2016 Look 16
Ximon Lee Fall 2016 Look 17
Ximon Lee Fall 2016 Look 19
Ximon Lee Fall 2016 Look 20
Ximon Lee photographed by Danny Roche.