All the Instagrams From Opening Day of Yayoi Kusama's Insanely Popular New L.A. Exhibition, Where Selfies Must Be Taken In 30 Seconds or Less
Selfies from the show's six infinity rooms are already flooding in from the sold-out show's opening day—along with comments from Instagrammers begging the museum to "let us in."
---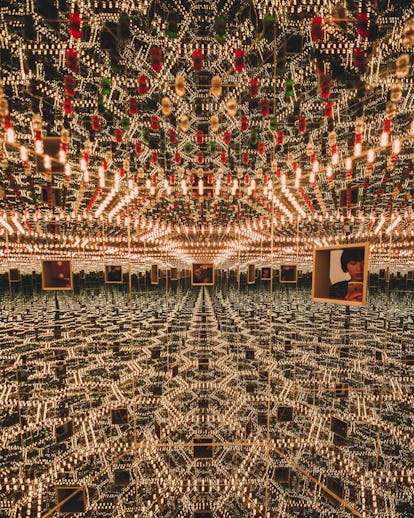 Courtesy of @coleyounger
At nine o'clock this morning in Los Angeles, the floodgates opened: Entry was officially allowed into the Broad Museum's edition of the Japanese artist Yayoi Kusama's traveling exhibition "Infinity Mirrors"—at least for those lucky enough to get their hands on some of the basically impossible to come by tickets, which sold out its 50,000 advance passes in less than 30 minutes, despite charging $25 rather than the Broad's usually free admission. (Though that wasn't exactly a surprise after the show broke attendance records at the Hirshhorn Museum in Washington, D.C.)
After many complained about the experience, which some called "harrowing," particularly for a museum whose aim is to make art available to the public, the Broad released 40,000 additional tickets at the beginning of October—and underlined some its strict rules to deal with the crowds, both inside and out of the museum. To gain admission in the first place, for example, one must have purchased the tickets themselves, and once inside, visitors are only allowed to spend 30 seconds apiece in each of the artist's so-called "infinity rooms," which have been perennially popular for their selfie-taking opportunities.
Luckily enough for the amateurs, "Infinity Mirrors" actually opened yesterday for select social media "influencers," who artistically demonstrated the correct way to prove that one has made it into the exclusive exhibition, whether under the time limit of the infinity rooms or amidst the chaos of the dozens of other works, including background on how Kusama landed at the mirrored installations—in the '60s, the artist was obsessed with the idea of "self-obliteration," which she initially carried out through public performances like nude "Body Festivals" in New York City—and "The Obliteration Room," a completely white space where visitors are free to stick brightly colored polka dots wherever they please—including on their own faces.
The Broad has been guilty of Instagramming the show itself, though its attempt to send the message that some standby tickets are available doesn't seem to have sunk in with its followers—to the point that the museum's poor social media manager has already begun responding to those leaving comments like "Why are you promoting an event that is already completely sold out?!" and "let us in then!" with a wide-eyed emoji on its installation shots. Luckily for them and everyone else interested in taking a peek inside, though, it's pretty easy to get a glimpse inside the exhibition, since it already seems practically impossible for visitors to leave it without first posting about it on Instagram, as the show's first few hours have already shown.
Related: While You Weren't Looking, Yayoi Kusama Sneakily Built Herself Her Own Museum in Tokyo
Go Behind the Polka-Dot Scenes of Yayoi Kusama's Glass House Takeover: