This Polka Dot Madness at the Hirshhorn Museum is Another Yayoi Kusama Instagram Hit
Inside the Japanese artist's latest polka-dot takeover in her retrospective at the Hirshhorn Museum in Washington, D.C.
---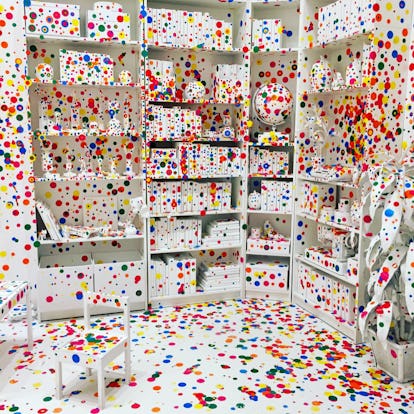 Courtesy of @alana.holt
The Japanese artist Yayoi Kusama's 65-year-spanning retrospective "Yayoi Kusama: Infinity Mirrors," which kicked off its years-long world tour at the Hirshhorn Museum in Washington, D.C. last month, would not be complete without at least six of the mirrored rooms from which it takes its name. But a different installation has quickly proven to be just as Instagram-friendly: "The Obliteration Room," an intimidatingly titled space that's actually more like a play set come to life thanks to its stark white interiors, which visitors are free to cover in an array of red, orange, yellow, and blue polka dots. (It's a colorful update to the Kusama creation for W's George Clooney cover in 2013.)
So far, though, the free reign at the Hirshhorn has actually resulted in less damage than in other, more carefully designed parts of the exhibition: the room's fake white apples may have gotten the spotty treatment, but "obliteration" seems to actually best describe what went down in the "Infinity Mirrored Room—All the Eternal Love I Have for the Pumpkins," a $1 million installation where a selfie accident recently claimed one of the titular pumpkins.
Get a look inside the space visitors are transforming much more calmly via their dot-placing on everything from teddy bears to telephones—and their obligatory resulting Instagrams, here.
Go Behind the Polka-Dot Scenes of Yayoi Kusama's Glass House Takeover: