The Duchess of Detox
A spa addict takes her fitness obsession to wuthering heights.
---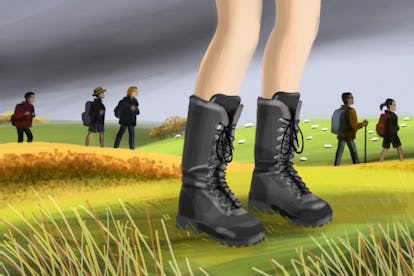 Thanks to my tweenage obsession with books like Wuthering Heights and Jane Eyre, I knew early on that English moors were wild, windswept places where lovesick heroines flirted with (or fled from) their suitors amid gnarly trees, craggy rocks, and carpets of heather and bracken, often catching their death from cold in the process. What I didn't know was that I would one day find myself being herded across just such a moor by a super-buff (and annoyingly fast) former Royal Navy officer named Davey, as I struggled to free my snazzy (but woefully unwaterproof) exercise tights from a clump of prickly gorse, under the quizzical gaze of a flock of sheep. "Don't stop!" cried Davey, pointing to a roiling mass of storm clouds so dark and violent-looking that I would have broken into a run were I not already out of breath. Where was Heathcliff when I needed him?
Dramatic scenery, strenuous workouts, and mercurial weather are par for the course at Yeotown, an "adventure wellness retreat" about 15 miles from the Atlantic coast in Snapper, North Devon, run by Simon and Mercedes Sieff—surely among the nicest (and fittest: He's an avid surfer; she's a well-known yoga teacher) couples in the United Kingdom. I was tipped off about their Yeotox program by a chain of dialed-in London friends. "It's quite small, but it's meant to be chic, and very good," my frequent partner-in-detox—and retox—the designer Eva Karayiannis, told me. "Kate Moss went." (It turns out Eva had her supermodels confused—it wasn't Moss, but she was close.) I called for a reservation, only to be told politely that Yeotown was fully booked for the next 90 days. How would I meet the deadline for this story? More important, how would I lose five pounds in time for Fashion Week? In the end, Eva saved the day. She had booked a room months earlier and kindly agreed to share it with me. Which, as it turns out, wasn't the imposition I'd feared, considering how little time we actually spent in it.
Although we'd been instructed not to consume dairy, sugar, caffeine, or alcohol for at least a week before arrival, Eva and I boarded the Devon-bound train at London's Paddington Station slightly groggy from a few too many glasses of red the night before, giant lattes in hand. "Did you bring a CamelBack?" I asked, referring to the hydration bladder that fits into a hiking backpack. "Darling, no, have you seen those things?" she replied. "They are hideous. Did you bring one?" I had. But only because once I'd nearly fainted on a hot, strenuous hike in Southern California; by comparison, I thought an English fitness camp would be a piece of cake, complete with afternoon tea. Boy, did I get that one wrong.
Our group of six women and three men was greeted at the retreat (a former farm with two main houses and several stylishly converted 18th-century outbuildings) with our first Yeotini, a fresh elixir that changes daily. That one, called Red Is Radiance, was a mix of raspberry, rose hip, and mint. Fantastic food and delicious juices—all gluten-, wheat-, and sugar-free, and mostly sourced locally—are Yeotown's secret weapons. "We don't really do the calorie-counting thing here," Mercedes said. "We're more interested in how nutrient-dense a food is and what its pH levels are. We're trying to get away from that 'Life will begin five pounds from now' mentality." (I made a note not to tell her about my five-pound goal.)
Over the next five days, we were put through the proverbial wringer by the Yeotown fitness team. There were excellent yoga, CrossFit, and core classes; a bike ride along the River Taw on the Tarka Trail; and some of the most magical treks I'd ever experienced, including one across the Valley of the Rocks and along the sea cliffs of Exmoor, with staggering views of Wales across the Bristol Channel. Midway in, we were rewarded with a picnic of tomato-and-red-pepper soup, quinoa salad, hummus, and wheat-free crackers, all of which we had helped make in a cooking class the previous afternoon. We were so ravenous, we barely noticed the heaps of dried wild-goat poop scattered around our feet.
The Sieffs are expanding their wellness boot camp starting early next year, with the addition of five eco suites insulated with straw bales. Plans are also in the works for another treatment room and a large fitness/yoga studio overlooking the River Yeo. Until then, Yeotown.com offers a virtual program of sorts, including videos of cooking tutorials, yoga, and fitness classes, guided meditations, breathing techniques, and more. All that's missing are those grueling cliff walks. And the goats. Oh, and I know I'm not supposed to care, but guess how many pounds I lost Yeotoxing? I'll give you a hint: high-five!