All About Yigal
Armed with an unpolished aesthetic and a serious knack for draping, Yigal Azrouël is carving his own niche.
---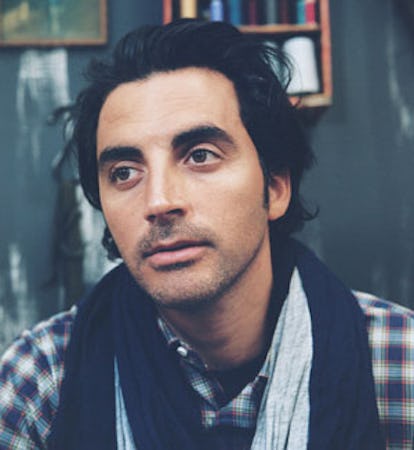 On Yigal Azrouël's desk in his seventh-floor studio above New York's West 39th Street sit a few knickknacks: a pair of beaten-up wooden bowling pins; a scuffed dumbbell; a shoe last the color of sand with cracks running up the heel. "I find things I like and keep them around," the Israeli-born Azrouël says in his typically clipped way. His English, though quite good, is heavily accented, which may be why he's inclined to speak in a succinct, almost blunt manner. Dressed in a gray T-shirt and dark jeans, Azrouël motions to the pieces, less objets d'art than flea market finds, and shrugs: "It's not too perfect, you know? I like that."
Azrouël-designed scarves.
Perfection, it turns out, has never been Azrouël's intent, something one might sense upon looking at the clothes he designs. His are of the distressed-glamour ilk, from raw-edged, loose-fitting dresses to snug, battered jackets. Necklines are often unfinished and seams exposed, while colors tend to veer into of-the-earth territory (mossy green, putty brown, slate and charcoal). His aversion to flawlessness is evident elsewhere, too: Though his appeal has seemed limited at times to a certain urban (read: thin) sophisticate, Azrouël fits every piece he produces in American sizes two through 12—a rarity in fashion. And while most male designers profess to "love women," that sentiment rings closer to home for Azrouël, given that his five older sisters and mother, all of whom wear his clothes, span in age from 40 to 75. Pointing out the coltish to curvy range of mannequins in one corner of his studio, Azrouël sighs. "Women work so hard to look good, you know? So I want to work on proportion and length," he says. "My vision is not about fantasy; it's about reality. I design for women, and I have my eyes on what I want you to look like."
It's a look, in fact, that Azrouël, 36, has been honing since long before he arrived in the United States 12 years ago. The youngest of eight children (the girls, plus twin boys) raised by a sneaker importer and a housewife in the port city of Ashdod, Azrouël recalls a youth spent on the water, surfing and lounging at the beach. Though not the sort to hurry home with a stash of fashion magazines peeking out from under his algebra homework, he did develop a taste for clothes early on. "I would always go shopping with my sisters, get taken to give my opinion on what they were wearing," he says. Then, as all Israeli citizens are required to do, Azrouël joined the military at age 18 and served in the army for three years. It was a period during which he ruminated on what he might do with the rest of his life and how that thing might get him "out in the world" (surfing, he realized, would not be his meal ticket). There weren't many options, but there was family: Once discharged, Azrouël booked a flight to Washington, D. C., to bunk there with one of his sisters, her husband and her husband's mother. "A bit bored," Azrouël began spending time with the mother-in-law, who just happened to have a sewing machine. He bought jersey fabric ("It was cheap"), and she taught him how to make things. Fortunately, he says, "she was very patient." Some dresses, some blouses—basic fare, Azrouël is quick to point out—and he was hooked. Off to New York he went, and that's where things got tricky for a bit.
Details from Azrouël's studio.
"I couldn't afford to go to design school, and no one would hire me because I had no papers," Azrouël says, shaking his head at the memory. Of course, he also had no experience or formal training. Squeezed with four friends into a cramped basement apartment in Queens, Azrouël would escape to the Garment District, where he rented a 300-square-foot studio. Scooping up black matte jersey from fabric stores—again, it was cheap—he went to work on his initial designs, which were draped dresses with wide armholes, fitted at the hips. Yet his sewing still wasn't quite up to par. Early one morning, on the corner of 38th Street and Eighth Avenue, just a stone's throw from his current studio, Azrouël met a woman who was looking for work as a seamstress. He motions back to his sewing room, where, at 7:30 on a recent cold winter evening, his entire factory staff, now numbering 22, is unfurling fabric rolls and clucking over draft boards. "Carolina is still back there," Azrouël says, laughing. "They're all my family."
The transition from that little studio, from which he churned out a 12-piece lineup consisting entirely of black matte jersey dresses (he sold the collection to Fred Segal), has been calculated and steady; Azrouël is uninterested in trends or, worse, flash-in-the-pan status. He now has two retail stores, in the Meatpacking District and East Hampton; a men's wear line; and a brisk accessories business (he is rarely without a wrapped scarf—not the ascot type—and he designs several styles each season, explaining that "both boys and girls like them"). Using funds from the sales of his first collection, Azrouël held an ambitious, exhausting 80-look show in 2000, adding chiffons and cotton voiles to his repertoire, silk dresses in burn-out prints, and those distressed, practically lived-in leather jackets (best-sellers, he's quick to note). But when asked to describe his design philosophy—given that he never took needle to thread at any of those fancy fashion schools—Azrouël leans forward. "Not having training made me stronger," he says, almost conspiratorially. "I think you really have to do something with your life. I just really believe in myself."
The answer speaks to Azrouël's unrelenting drive—the Queens days behind him, "I have a nice loft in Chelsea now," he says—but neglects one very important sleight of hand: He is a born draper. He uses mannequins for every piece he designs, often leaving a swath of silk or jersey on a form for several days, circling and examining it before deciding on a specific pleat or zipper placement. "It is a big part of how I work," Azrouël remarks. "I like to have surprises. I am always touching the dress or shirt, seeing how it works in a couple of shapes."
That relaxed approach—informed, no doubt, by a lack of self-consciousness about his pedigree—lends Azrouël's clothes their distinct aesthetic. "What sets Yigal apart from other designers is that he stays true to his roots," says Jennifer Wheeler, vice president of women's designer apparel at Nordstrom, who adds that the store's Southern customers, in particular, are Azrouël fans. "He knows what works for his collection and his customers, and he builds on that each season."
About three years ago, Azrouël director Donata Minelli Yirmiyahu says, the designer became frustrated with his first fabric crush. "Jersey was getting monotonous," Yirmiyahu explains. "We said, 'Yigal, you own this business, do what you love.'" Out came filmy knits and jaunty cropped trousers, true sportswear that buyers and critics alike lauded for its layered, laid-back vibe. There were, of course, a few of those liquid jersey columns tossed in—who was Azrouël to mess with a tried-and-true technique?—yet the unpolished cool of the collection renewed his confidence. "I realized that you can keep experimenting, keep challenging and be successful," says Azrouël. "But I have a very naive way of looking at things."