You Won't Be Able to Buy Louis Vuitton Off Amazon Anytime Soon
Louis Vuitton's parent company thinks that selling products on Amazon.com isn't very chic.
---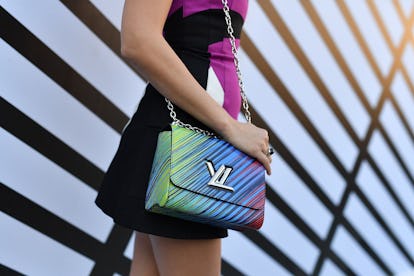 Getty Images
You can buy just about anything on Amazon.com, including everything from giant barrels of pork rinds to this life-size Yeti sculpture. You can not, however, buy high-end luxury goods directly from the world's most sought after brands. That apparently won't change anytime soon.
In fact, an executive at luxury conglomerate LVMH, was completely dismissive of having the company's wares share e-shelf space with bulk boxes of Band-Aids and year supplies of laundry detergent.
"We believe that the existing business of Amazon doesn't fit our luxury, full stop, but also doesn't fit with our brands," said chief financial officer Jean-Jacques Guiony on a recent conference call with investors. "If they change the business model, I don't know, but with the existing business model, there is no way we can do business with them for the time being."
LVMH owns luxury brands like Louis Vuitton, Givenchy, Céline and a controlling stake in Dior. Its portfolio also includes high-end liquor, jewelry and watch brands as well.
Amazon is projected to overtake Macy's as America's leading apparel retailer sometime next year, but luxury good businesses are hesitant to stock their wares with the e-retail giant, although the company has been making strides towards earning credibility in the fashion space through moves like sponsoring New York Fashion Week's Men's.
Some designer brands that offer entry-level luxury goods are testing the Amazon waters, but even then they offer a limited selection on the site. For examples, Quartz points out that Coach offers just two of its bags directly on the site. Brands like Michael Kors and Kate Spade follow a similar philosophy when it comes to Amazon.
LVMH however has no interest in joining the Amazon fray, and it's not likely other brands in the category are eager to either.
In fact, luxury brands have been notoriously hesitant about e-commerce in general. You can buy makeup, accessories, perfumes and sunglasses on the websites of Dior and Chanel. You can't, however, buy their actual clothes online.
Luxury brands tend to view the action of actually buying the product just as important to their brand's image as the product itself.
They want their goods to say, "Why yes, I spent part of my trip to Paris sipping on complimentary champagne in a boutique while being waited on hand and foot and being shown a selection of handbags."
They do not want them to say, "I don't know what happened. Last week I was online at 3 a.m. in my bed eating Pringles, and one thing lead to another, and somehow this purse was delivered to my door 24 hours later, but now I'm not sure I can pay my rent next month."
That's not to say you can't buy just about any luxury product online at 3 a.m. while eating Pringles if you so desire. If you can't find an item directly on a label's site or on high-end e-retailers, you can turn to luxury e-commerce players like Net-a-Porter, Farfetch and MyTheresa or the thriving world of online second-hand luxury sales.
In fact, you can even find Louis Vuitton handbags on Amazon.com. Though those are sold by third-party sellers using Amazon's marketplace as their platform, and are not sold directly from Amazon nor from the brand itself.
Watch Jennifer Connelly and other stars react to the latest Louis Vuitton collection: