Young Celebrities Who Can (and Should) Vote For the First Time
Today is National Voter Registration Day and #OurVoteCounts. Millennials, we know you're on your phones — and that's fine — as long as you're using them to sign up.
---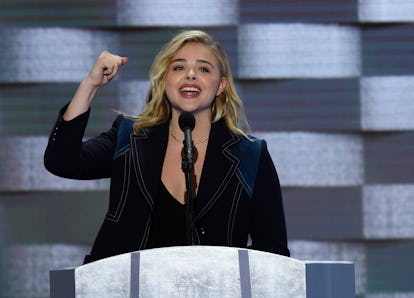 AFP/Getty Images
This past August, Hollywood scion Sofia Richie celebrated her 18th birthday with rumored boyfriend Justin Bieber and friend Bronte Blampied at a club called The Nice Guy. There was an enormous, flaming cake in the shape of a car, followed by a trip to an exotic location with her father, Lionel Richie, and sister, Nicole Richie. But we know that the greatest gift of turning 18 – at least for the civically-minded – is the eligibility to vote in the upcoming presidential election. No one ever forgets their first – vote, that is, and this contest is shaping up to be quite the event, with two candidates who were already famous since long before most of these Millennials were born.
The question is: Is Sofia Richie registered to vote? Well, if she's not, lucky for her. Not only is today National Voter Registration Day, it's also easier to vote than calling an Uber home or getting on a private jet. Unfortunately, Justin Bieber is Canadian, so they can't register together. However, Richie can register with other young, first-time voters like friend Hailey Baldwin, Kylie and Kendall Jenner, Bella and Gigi Hadid, and Jaden Smith.
Millennials, we know that, like the Richies and the Jenners and the Hadids, you're probably on you're phones right now — and that's great — but if you're not registered to vote yet, you don't even have to open a new app. Just click right here, and it will take you 90 seconds to sign up. By the time you're done, your Uber will have arrived and your Snapchat stories will have finally loaded. Now that's a major key.
Following the first presidential debate on Monday night between candidates Hillary Clinton and Donald Trump, W magazine and 54 peer publications announced that they are teaming up with #OurVoteCounts, a nonpartisan voter registration initiative collaborating with Rock the Vote. Because, dear Millennial readers, our vote really does count. And yet in the past, we've shown up to the polls in substantially smaller numbers than our elders. It's simple: We can't be the best if we don't show up.
Here are ten celebrities who can (and should) vote for the first time this year just like you. Hopefully, you can take a selfie with one of them when you're both at the polls in November.
Kylie Jenner, 19
Kendall Jenner, 20
Gigi Hadid, 21
Bella Hadid, 19
Jaden Smith, 18
Sofia Richie, 18
Zendaya, 20
Elle Fanning, 18
Tavi Gevinson, 20
Chloë Grace Moretz, 19