Young at Haute
At 24, Chanel fan Jade Lau is a new convert to the cult of couture.
---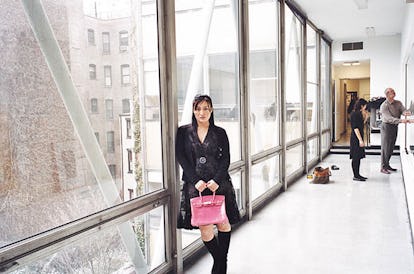 Like many college students studying abroad, Jade Lau wears jeans, takes public transit, volunteers, does her own laundry and visits her family on breaks from school. But the soft-spoken young woman has an additional reason to cut class that few of her university peers share: couture shows and fittings. Since 2005 Lau has been a regular client at Chanel—emblematic of a new generation of customers, mostly from the Far East and Russia, who are keeping high fashion growing.
A natural beauty with wash-and-go hair, little makeup and few airs, Lau lights up when she recalls her first encounter with the world's most expensive clothes. Thanks to the fact that her late mother, Theresa, was an important client of Chanel Fine Jewelry and ready-to-wear, Jade was invited to the fall 2005 couture show at the Paris house. Afterward, she told her father, Hong Kong real-estate titan Joseph Lau, how much she had loved Karl Lagerfeld's spellbinding coat and dress presentation, which was featured in Francis Veber's 2006 film The Valet.
"I thought I was just there to watch the show, and that was going to be the highlight of my trip," Lau recalls. "And then [my father] caught me by surprise and said, 'Well, if you really like it, you can get something.' I was like, 'Oh my God!' I was 21."
According to Lagerfeld, the numbers of fresh-faced recruits to the couture are rising. "There are more and more younger women with more and more money," he says. Clients of all ages are also seeking more youthful styles today. "Why buy couture and look dated?" Lagerfeld asks. "Designers have to keep the spirit of their dresses in the mood of the moment."
When Lau ordered a black wool coat and a ribbon-trimmed evening dress for a New Year's Eve ball in Hong Kong, she became the first member of her family to own a couture piece. Wealthy Asians typically spend more money on things like fine jewelry, she notes. "Because I am the younger one, [my family] thinks that I should be the one taking care of myself and looking nice," Lau says matter-of-factly. "Obviously, they have more authority or right or money to order it for themselves, but they are just happy for me. I'm very lucky."
Lau, who is working on her master's degree in psychology at The New School for Social Research in New York, has been under fashion's spell for a long time. Born in Toronto, she grew up in one of the great shopping capitals, Hong Kong. At age 12, she intercepted one of her mother's Chanel deliveries and discovered that a long-sleeve dress fit her perfectly. And when she was at the Institut Le Rosey boarding school in Switzerland, she and her friends preferred glossy magazines to textbooks.
Jade's father is an art collector who owns works by Cézanne, Warhol and Basquiat and last November spent $39.2 million at Sotheby's for Paul Gauguin's Te Poipoi (The Morning). A few months earlier, Boeing announced that Joseph had ordered one of its new 787 business jets.
Lau, for her part, has started collecting fine jewelry and Hermès handbags. Her other weakness is Christian Louboutin shoes. ("I live in heels," she explains. "I'm only five feet four.") But clothes remain her biggest passion, and she's extremely particular. "I like things really fitted," she says. "And I know what suits me." For student life in the city, Lau likes to mix high and fast fashion, something she's learned to do only recently. "My shirt is from Target," she says, tugging at her stretchy black V-neck. "My friends think it's really funny, because sometimes I'll wear a Target T-shirt underneath a couture coat.
"I like to dress according to my mood, and that's what I like about fashion," she adds. And nothing is more mood altering than the haute quality and details of her couture pieces. "They are," she says, "the only material things that can put a smile on my face."