Billionaire Yusaku Maezawa Will Spend Untold Millions to Send a Fashion Designer and Artists to Space
He bought up the entire first flight of Elon Musk's SpaceX, in the name of art.
---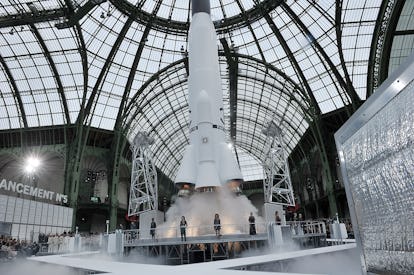 Catwalking
What if Coco Chanel had gone to the moon? This is the question the Japanese billionaire Yusaku Maezawa dropped untold millions to answer. Well, sort of. Maezawa revealed that he's bought up every single ticket on the inaugural flight of SpaceX, Elon Musk's efforts to pioneer commercial space travel, and hopes to bring a cadre of notable artists and creatives, including at least one fashion designer, along on the trip—which will, by the way, not technically be to the surface of the moon itself, but rather around it.
"What if Picasso had gone to the Moon? Or Andy Warhol or Michael Jackson or John Lennon?" he asked at an announcement event Tuesday morning, according to The Verge. "What about Coco Chanel? These are all artists that I adore.
"I would like to invite six to eight artists from around the world to join me on this mission to the Moon," he went on. "These artists will be asked to create something after they return to Earth, and these masterpieces will inspire the dreamer within all of us."
This, we remind you, is an actual thing that appears to be happening in 2023, and not an elaborate marketing campaign for an upcoming Ryan Murphy–produced limited series.
Anyone familiar with Maezawa's background may not be entirely shocked by his plans. He made his money in fashion as the founder of Zozotown, Japan's largest online clothing retailer, a career path he found after retiring from being a professional drummer. He's also developed a habit of spending that money on art. He broke records in 2017 by dropping $110.5 million on a single piece by Jean-Michel Basquiat, and once went on a two-day art-buying rampage in 2016 during which he snapped up works by Jeff Koons, Richard Prince, and other blue-chip artists.
Indeed, he seems to imagine the flight as his biggest art acquisition to date, and has even framed it as an art project in and of itself, entitled #DearMoon.
"A painter, musician, film director, fashion designer," reads the projects website. "Some of Earth's greatest talents will board a spacecraft and be inspired in a way they have never been before."
Seems a shame that a writer won't be on the trip, but of course we do have to wonder who will be going, particularly when it comes to the fashion designer.
The trip itself is five years away, which is practically an eternity in fashion. Who knows. It's hard to predict which designers will be in their current jobs by then, let alone which will be remaining on earth. That's just how fast the industry moves. In fact, it seems like it's been ages since the last time fashion was obsessed with space-age imagery, but alas, it was just a year ago.
Still, we can at least rule some possibilities out. Karl Lagerfeld, the current head of Coco's label, would be about 90 by the time the spaceship launched, so we'll just count him out (even though the set for Chanel's show basically predicted this all. Rei Kawakubo, the mastermind behind Comme Des Garçons and the most famed designer from Maezawa's home country, seems like an inspired choice, but alas, she'd be 80 by then. We assume, since space is limited, that designers who work in teams are out. Sorry to Jack and Lazaro of Proenza Schouler, the Mulleavy sisters of Rodarte, and, perhaps most disappointing, Mary-Kate and Ashley of the Row.
Still, there are plenty of intriguing choices. What would Demna Gvasalia of Balenciaga and Vetements come up with? Nicolas Ghesquière of Louis Vuitton is always five years ahead of the industry; why not put him space? Hedi Slimane may or may not be done with his time at Céline by then, so perhaps him.
Of course, we should probably all prepare for the distinct possibility that this guy is just gonna spend tens of millions of dollars to send Virgil Abloh into orbit.
Still, we have to wonder what, exactly, could creatively come out of a trip to the moon.
If Coco Chanel herself had gone to space, maybe she would have come back and drawn up some cutting-edge new ensemble that would have totally changed how we dress even today. Or maybe she just would have quipped that the lighting aboard the ship was drab and the conversation even worse.
Andy Warhol may have once sent a tiny drawing of a penis to the moon, but he once quipped that instead of going to parties he'd rather watch them on television. He might have kept the same policy for space travel.
As for Michael Jackson, he didn't even have to go to space to invent the moonwalk.
We get that the idea of space travel is inspiring to many, but for the most part, groundbreaking artists are often inspired by far more mundane things, like the intricacies of their craft and the limitations of human life on earth. Let the billionaires who don't have their imagination try to find it out there.