Yves Saint Laurent
Fashion god Yves Saint Laurent is gone, but certainly not forgotten.
---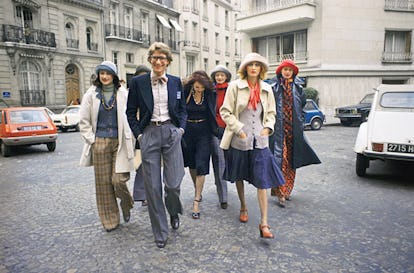 Fashion lost one of its finest on June 1, when the legendary couturier Yves Saint Laurent, 71, died at his Paris home of brain cancer, according to his longtime business partner, Pierre Bergé. He had quite a life. From his celebrated entrée into design in 1957 at Dior, where, at age 21, he replaced the late Christian Dior, through his retirement in 2002, Saint Laurent hypnotized with his imaginative creations. An exacting sense of color, cut, exoticism and androgyny were his signatures, as was the infamously fragile constitution that led him to retreat from the fashion world altogether in his final years. Yet his influence remains strong—current designers such as Marc Jacobs, Miuccia Prada and Jean Paul Gaultier frequently reference Saint Laurent's work in their own collections. Over the course of his 40-plus-year career, Saint Laurent regularly produced a legacy of instant classics (the trapeze dress, the safari jacket, the Mondrian shift and the eternally iconic le smoking) not to mention the concept of ready-to-wear, which he launched in 1966 with his Rive Gauche collection. Then there are those initials, three letters—YSL—that will forever be associated with the pinnacle of French chic. Here, a few of Saint Laurent's confidants and colleagues share memories of their dear friend Yves.
With Loulou de la Falaise and Betty Catroux, 1978.
Edmonde Charles-Roux, writer and former Editor in Chief, French Vogue: "He was full of doubt. He wasn't the sort of artist who is sure he's right. He was always asking questions: 'How do you like this dress? Would you wear it?' And I would say, 'Of course I would.' And he would say, 'Oh. That counts.' I think that was quite intelligent: What is fashion if you can't wear it? "The first time we met? Well, it's historic. He arrived in the office I had at Vogue; I was the chief editor's assistant, a beginner. And the porter came in and said, 'There is a young boy with his mother who would like to see [Michel] de Brunhoff [the editor of French Vogue]'…. And the porter said, 'He wants a meeting.' His mother wanted to show his drawings to find out if [she should] encourage the young boy to pursue a career in fashion, if he had talent. "We went into [de Brunhoff's] office holding his drawings under our arms and we showed them, and he was flabbergasted. He said they looked like the best drawings of Dior….Once they left, Mr. de Brunhoff said to go immediately and see Christian Dior with the drawings: 'I want to be completely sure the drawings are made by the boy.' So I went and I was alone, en tête-à-tête with Christian Dior, and he said, 'These are tellement bien vue [well thought]. Who is the boy?' "It was a joke we always had, that when he came into the office, he looked like a child of six years. I remember the day after the death of Christian Dior, when [Yves] became the head of the house, always looking like a boy of 16 years old, and he was there with all the directors, and I said, 'You look like Mussolini in Italy on his balcony, greeting the crowds in the street.' He was a hero of Paris; nobody could imagine he could become the first to take that enormous job in that house. From one day to the other, Yves became a sort of entrepreneur, a director of a very, very important business…. Then he did the famous black collection: There were very few dresses and costumes with color; it was black and dark and terribly chic, with what we call in French a blouse noir, a very democratic way of dressing. It was very courageous."
Loulou de la Falaise, friend and muse: "I was 21, and a swinging London hippie dressed in Ossie Clark. The truth is that what Yves found attractive in me was the fantasy, over-the-top bedecked look. Betty Catroux was the one who inspired all of his mannish looks; I've always been the gypsy influence. "He had an amazing survival instinct and an amazing flair for what was going on in the world even though he lived in a white tower…. He had this nervous energy. Thirty years is a hell of a time. He was also like my family, my blood. I can remember going to Deauville with Yves before he had a house there and him being exasperated by the contents of my suitcase. We went to the fish market, where he bought a tin of those pins with colored baubles that one uses to eat snails, and he used them to decorate one of my T-shirts. It wasn't very comfortable, but it looked great!"
Helene de Ludinghausen, inspector of boutiques, 1969–71; couture director, 1971–2002, Yves Saint Laurent: "I was impressed by his elegance. He was always charming—but aloof and distant. There was a very sharp eye behind his spectacles…. It was a surgical eye, and he was seldom wrong. He was extremely polite. In all the years I worked for him, I never heard him have a harsh word for anyone. "His sketches had movement to them. Just by the way it was drawn, the atelier would know how to make it. There were fluidity and lightness in his sketches. He really was an exceptional artist. He had an extraordinary sense of humor. He always saw the ironical side of things. He took things seriously, but he didn't take himself seriously. He was neither arrogant nor self-content. He was extremely intelligent, and he was never very interested in what other people did. He was extremely sure of what he did, and he never compromised. During a fitting, he immediately saw that thing that could be changed. He was always taking off, never adding. He never interacted with clients. The only one he saw was Marie-Hélène de Rothschild. No one else. It wasn't his thing. He needed his distance. He was easily amused, but nothing mediocre amused him. If he was bored when he was talking to you, he'd pretend to be asleep. He would put his head on his desk and sleep. The whole house adored him. People would do anything for him, and he never asked for anything."
Jacques Granges, interior designer: "I first knew Yves as a friend and then as a decorator. I think of his beauty, charm and intelligence, his rigor and his laser eye. He was always very rapid, and to work with him was pure pleasure. Everything was possible, droll and light. People talk of his suffering, but with houses it was always about pleasure. I remember when he bought the Goya and how impressed I was. I was much younger, and it was a lot of money. But he and Pierre would say that life was meant for pleasure. I'll also remember his varied taste, which went from orientalism to Napoleon III to Art Deco. No one looked at Art Deco anymore except for him and Andy Warhol. I'm sure that people will remember Saint Laurent's taste."
Yves Saint Laurent, 1986.
Patrick McCarthy, Chairman and Editorial Director, Women's Wear Daily and W: "In addition to his extraordinary talent, there was this incredible sadness about Saint Laurent. He was one of those people who, despite all his success, didn't seem all that happy. When I was in Paris, we used to do interviews with Saint Laurent all the time. In 1982 or '83, I was doing my biannual interview, and it took all day to set up, as they always did. They kept delaying it until it was Friday night at about 7 o'clock, a very beautiful spring night in Paris, and they said, 'Mr. Saint Laurent will see you at rue de Babylone,' which was his apartment. So I went to the apartment. We did the interview, and I looked at my watch, realizing it was dinnertime. He could sense that I was getting ready to leave and said, 'Oh, what are you doing tonight?' I said, 'Oh, I'm having dinner with a couple of friends.' Just out of politeness, I asked, 'What are you doing tonight?' He said, 'I'm just going to stay here.' And I realized, it's a Friday night in Paris, a beautiful night in Paris, and here was a man at his height, who could have had dinner with the president of France, with any movie star, with any writer, with anybody he wanted to have dinner with, and he had absolutely nothing to do. "He was so inward looking. Mr. Bergé is famously quoted as saying that Yves Saint Laurent was born with a nervous breakdown. He never seemed to enjoy the success. A lot of designers who are successful really enjoy it. They're going out, having a good time. Yves always seemed to be tortured by it more than anything else. That's what I remember most about him. Maybe that explains part of his genius, the fact that he was tortured by it. "The first time I met him was at the house of Saint Laurent. It was 1980 or '81 when I was still in London, and Mr. Fairchild [John B. Fairchild, the former Chairman and Editorial Director of W and WWD] had asked me to come to Paris to meet some of the designers. I can remember Saint Laurent was very shy. Shy and forthright at the same time. He was a complex mixture of many things. He would look at you, and then he would kind of shrink away. But when you looked at those runway shows, they were not produced by a shy man. Of course, you always remember his exits on the runway—Will he make it down? Won't he make it down? That was always a big issue. He insisted on coming out even when there were times when he shouldn't have because he was in a bad way. Yet in some ways, he was extremely strong. Everybody thinks, Oh, he was just a weak little creature, but he wasn't just a weak little creature. No one builds a business like that, no one produces those kinds of shows, no one has the impact on fashion that he's had, without also having a very, very strong will."
Mounia, muse and model, Yves Saint Laurent, 1978–2002: "I was his first black muse…. He helped open the door for black models. Sometimes I was his confidante, and I would sometimes inspire his creativity. He called me Moumounn. The collection that made me a celebrity was the one inspired by Porgy and Bess. I wore a pink pantsuit and a boater hat. I walked to 'Summertime' and really took on the character of Bess. Catherine Deneuve stood up and started clapping. Then everyone stood up and called out 'Bravo!' Yves Saint Laurent peered around the curtain—a thing that he had never done before—to see what all of the commotion was about. The people were shouting 'Bravo, Yves Saint Laurent!' and 'Brava, Mounia!' He took me in his arms, and we kissed. This for me was history…. After that I had more than 15 covers…. Mr. Fairchild gave me my first cover [of WWD], and [French Vogue's] Francine Crescent gave me 27 pages. This was the first time that a black model had arrived in haute couture. I say thank you to Monsieur Yves Saint Laurent and thank you to Monsieur Pierre Bergé. My last word for Yves Saint Laurent is 'love.'" Jean-Pierre Derbord, director of tailoring, 1965–95; technical director of haute couture, Yves Saint Laurent, 1995–2002: "I can remember him showing me a photo of Lauren Bacall in a houndstooth suit. He liked her pose, which was very natural, and asked me to take inspiration from her attitude. He liked to be inspired by the stars—Greta Garbo in a man's overcoat…looking very relaxed, very chic…. "Then with the tailoring there was always this rigor in the shoulders, in the construction of the sleeves. It gave women a feeling of reassurance and a liberty of movement, a certain power. It was quite surprising; there was always this mix of masculine and feminine. He'd mix in a transparent blouse, say, or a small top in black sequins…. He liked perfection, and if I modified a hem by a millimeter, he would notice it. He had an extraordinary eye. At the time of the collections we would all be very stressed…. He instilled in us this sense of questioning everything that we did, as that is what he did. It's the anguish of the artist questioning if [the audience] will understand. When we heard the applause, we would say, 'Okay, the message got through.' We always had butterflies. "He always had his fetish jewelry item, the heart, with him [backstage] in a box. At a given moment he would take it out and put it on a dress. It was important to him that the piece was always in his show; it was in his first collection, I believe. It was a good-luck charm made from a necklace with rubies, diamonds and baroque pearls. He was adored by his staff and treated them with great respect. I couldn't have worked for anyone else."
Etta Froio, Contributing Senior Executive Editor, Women's Wear Daily and W: "Yves Saint Laurent instinctively knew how to captivate his audience—and without all the bells and whistles tossed at us these days. Now fashion shows are all about hype, celebrity, megabuck productions, elaborate sets, dozens of supermodels, live music—and, oh yes, clothes. But in his heyday, when he was the most influential designer of his time, Saint Laurent did it the good old-fashioned way, with gloriously beautiful fashion. His only props were a modest backdrop, a good soundtrack and his beloved cabine of models. The collection was always the star of his shows, and they were the most anticipated events every season. "But even the most devoted fans could not imagine the significance and depth of the awe-inspiring fall collection he presented on April 6, 1976—the legendary Ballets Russes show that WWD awarded five stars. Never had anyone witnessed such an outpouring of creativity: a 200-model, nearly two-hour tour de force filled with fantasy, drama, elegance, color and incomparable beauty. One wonders if another designer will one day produce such a triumphant effort. At the end of the show, everyone was standing, wildly cheering their hero, some even crying. The audience was both in a state of euphoria and emotionally drained. As for Saint Laurent, he was completely spent. One guest, who was seated near the stage with a clear view of the backstage action, said after the presentation, 'Yves wept through the entire show.' Saint Laurent took his bow and was so overcome, he collapsed into the arms of a friend backstage and said, 'Now I'm ready for the hospital.' "It was well known that his was a roller-coaster life of amazing highs and debilitating lows. Over the years, Saint Laurent had been described as tortured, shrewd, fit, fragile, shy, sly. And perhaps Yves was all of those things. When I interviewed him in New York four years after his blockbuster Russian peasant collection, he was in a charming, upbeat mood and talked about his new maturity, which gave him peace, joy and confidence. And then he added, 'But even with that confidence, when I work, I learn something each time. The more you work, the more you learn, the more you are in anguish.' Anguish and confidence—for Saint Laurent, they went hand in hand. "Witness the night of the launch of his fragrance Opium, a $250,000 extravaganza held in September 1978 on a boat decked out like a Chinese junk in New York Harbor. It was the hottest ticket in town, and as the crème de la crème of fashion, fragrance, retailing and society clambered aboard, Saint Laurent was hovering in a dark corner of the ship, clinging to his then muse Marina Schiano, too terrified to greet the crowd. It took some convincing, but he finally joined the lavish party, and just hours later, a joyous Yves sat triumphantly surrounded by his doting entourage as he took in the scene at Studio 54. "He said, 'How long it takes to do a collection depends on my mind and my life. It's a very bad life sometimes, but the results are often better.' The results were often spectacular. And for those of us lucky enough to experience his creative genius firsthand, Yves Saint Laurent will always be the king of fashion, who ruled the runways with breathtaking clothes, exquisite taste, dazzling color and an undying passion for his craft. Thank you, Yves."
Oscar de la Renta: "I love rooms full of light, and my wife doesn't like rooms with a lot of light. We went to see Yves in the house that he had in Normandy, and he showed us through the house. We walked into the most wonderful, beautiful bedroom that had a very tender, very romantic lighting. All the curtains were drawn, and it looked absolutely mysterious and beautiful. Then Pierre ran to open all the windows, and Yves walked right behind him and said, 'No!!!' He wanted Annette to look at the room just with that kind of light. Many times early on, when I went to Paris with Annette and with my first wife, Françoise, we would spend time with Yves. Both my wives loved Yves. He didn't have a huge circle of friends, so I was honored that he always spent time with me. Not only was he a great fashion designer, he was a great, great artist."
Clara Saint, former press agent, Yves Saint Laurent: "He didn't see the world of fashion. He was a solitary spirit, with a small circle of friends. He never integrated into the fashion world. "We first met when Margot Fonteyn invited me to luncheon with Yves and Pierre Bergé at Maxim's. We instantly had a link. It was as if we'd always known each other. We never separated. When he opened the first Rive Gauche ready-to-wear boutique, in 1966, he asked if I wanted to work with him, to take care of press. I had never worked before. I thought it was a little too easy to take care of one shop. But in a year there were 40 Rive Gauche shops. The success was incredible. Cars were parked three-deep at the curb, and after a fortnight, nothing was left…. People talk about Yves suffering, but he was also one of the funniest people you can imagine. We would be on the floor with laughter at times. He had an incredible eye and did caricatures of people for us, which amused us a lot. He saw people exactly as they were. He had an absolute eye."
Francois-Marie Banier, photographer and writer: "Immediately we spoke deeply about everything. His world, his work, sex, freedom and his gods: Pierre Bergé, Christian Dior, Maria Callas, Picasso, Chanel. What questions he asked! Why navy blue, black, beige? Shouldn't one take color and fantasy to the maximum? "I loved that he talked about his mother, of his sisters and how he terrorized them as a young boy. I was terrified by his years at school, where his classmates made him suffer. I loved the secrets of the world of Christian Dior, where he started; the portraits of the influential women over whom Monsieur Dior reigned. I loved the solitude of his memories. And the fidelity of his friends: Fernando Sanchez, Betty Catroux, Loulou de la Falaise, Anne-Marie Munoz. I loved less his need for solitude. There were many moments when he would only go from his home to the couture house and back home. It was at that moment that I decided to show him the pictures of people I'd photographed in the street. My solitaires. I brought them to him to make him come out of himself…. In the first years of my photography, he sponsored me and paid for labs. I remember calling him when I was 16 from Salvador Dalí's suite at the Meurice Hotel and asking if he wanted to pose for him. He said he couldn't do a thing like that…. He was very, very funny. One night we were leaving L'Escargot [a restaurant in Paris], and Yves laid down on the street corner on a cardboard box. Suddenly he started to scream. A hand emerged from the box and was pulling at his trousers. "Pierre and I used to laugh that Yves could lose sleep because Madame Ida, the premiere of his atelier, had gotten the shoulder on a jacket wrong. But without that focus on perfection, he wouldn't have had his work… He was profoundly haunted by sexuality. No other couturier understood desire as profoundly… Yves was a flame in the service of women, of his art. He gave everything to his métier, like a saint gives everything to God." —with contributions by Katya Foreman, Ellen Groves and Robert Murphy
Photos: with De La Falaise And Catroux: Fairchild Fashion Group; others: Conde Nast Archive