Zac Efron Follows Up Dreads with Braids
And you thought Justin Bieber's Hair was something.
---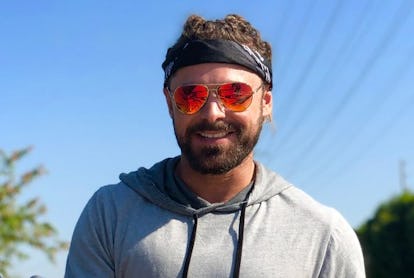 instagram.com/dylanefron
What exactly is going on with Zac Efron's hair these days? That is one of the first questions that comes to mind upon glancing at his social media feeds. Just a month after he showed off dreadlocks, missing the cultural appropriation memo and getting called out by many for exactly that, Efron has landed on another questionable hairstyle: cornrow-like braids.
The actor revealed his new hairstyle after he wore it to fishing trip along the Los Angeles River, a body of water that is closed to the public for swimming due to how contaminated it is — and was only recently reopened for recreational activities after a 2017 study found bacteria and E. Coli in it, as Daily News reported at the time. Efron, hardly intimidated by that though, spent the day searching for carp in the water, while wearing a braids-and-dreadlocks hybrid, secured by a bandana. "Beautiful LA Carp," he posted on Twitter, offering a closeup of his braids.
Meanwhile, his brother Dylan Efron shared additional photos from the fishing outing, revealing that it's been a bucket list item for the both of them for quite some time now. "Finally fished the LA River? Been wanting to do this for awhile now and brought some friends with me," he wrote on Instagram.
Efron has yet to respond to the backlash to his dreadlocks or, now, the braids. His peer actress Amandla Stenberg broke down why moments like these are so offensive to The Daily Beast back in 2015, when describing cultural appropriation as "when a style leads to racist generalizations or stereotypes where it originated but is deemed as high-fashion, cool, or funny when the privileged take it for themselves."
It's worth noting that Efron's dreadlocks and braids don't seem to be for a role; his last one in Harmony Korine's upcoming The Beach Bum with Matthew McConaughey Snoop Dogg wrapped up production awhile ago according to the film's IMDB page. In the movie, Efron wears a beard shaved into stripes, which he described to Entertainment Tonight as "That wasn't a wig, that was my real hair. I bleached it all down the sides."