Zac Efron Is Going To Star Alongside Matthew McConaughey in The Beach Bum
From the same director as "Spring Breakers."
---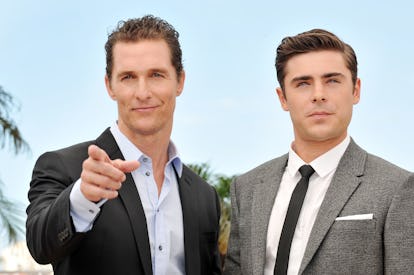 Stephane Cardinale – Corbis
It is a testimony to Zac Efron, or at least his agent, that the former Disney Channel star keeps landing roles that seem perfectly suited towards Zac Efron. A Speedo-clad former swimmer loosely based on Ryan Lochte in Baywatch? Perfect Efron role. A singing, dancing, handsome ringmaster in a circus musical? Of course it's Efron. A role in Matthew McConaughey's upcoming weirdo stoner comedy directed by Harmony Korine, the man behind Spring Breakers? Who else but Efron?
Yes, Efron has officially joined the cast of the upcoming The Beach Bum, which stars McConaughey as "a rebellious stoner named Moondog" who "lives life by his own rules" in the Florida Keys. Efron will play a character named "Flicker" who Moondog meets along his journey, but not much else is known about the role. In fact, we don't know that much about the film in general, though Snoop Dogg and Isla Fisher also co-star. Jimmy Buffet, unofficial crowned prince and spiritual leader of the semi-autonomous region of the Florida Keys, will also appear as himself, of course.
"It's a comedy with Matthew McConaughey and Snoop Dogg, about somewhat depressive marijuana smokers, in the spirit of Cheech and Chong," Korine has said of the film.
He also wants to screen the film in weed-laced smell-o-vision, at least where that's legal.
The film is also Korine's first since 2012's hit Spring Breakers, and could prove to be something of a spiritual sequel in some regards. Like The Beach Bum, that film was also set in Florida. Also like Efron's casting, that film made use of former Disney Channel stars including Selena Gomez and Efron's ex-girlfriend Vanessa Hudgens. Korine, the man who brought us both Gummo and Julien Donkey Boy, has become something of the go-to arthouse auteur champion of former Disney stars. Who could have imagined?
Filming is already under way in Miami's Key Biscayne, with McConaughey being snapped in a number of ridiculous-looking costumes (filming will eventually relocate to Key West).
Apparently, in between promoting The Greatest Showman and before his casting was confirmed, Efron had been spotted on set as well.
Interestingly, this is not the first time Efron and McConaughey have shared the screen. They also appeared in 2012's The Paperboy, another campy film set in Florida.
Related: Zac Efron Is Just the Latest Disney Boy to Play a Cold-Blooded Killer
Zac Efron's Body Transformation From Lanky Teen Heartthrob to Baywatch Stud
In A Hawaiian inspired button-down with cuffed sleeves, the lanky young actor appeared on the red carpet of the WB Networks' 2004 All Star summer Party.

Jean-Paul Aussenard
A year laster and still without any noticeable muscle definition, Zac sported another button down with cuffed sleeves at the breakfast with the cast and crew of 'High School Musical'.

Michael Tran Archive
The teenage heart throb flexed his muscles on the red carpet at the premiere of 'High School Musical 2'.

Jason Merritt
At the 2007 Madrid ' Hairspray' Photocall, we begin to see the peak of slight muscle definition in what later becomes Zac's infamous athletic body.

Lalo Yasky
Still with his muscles on the lean side, Zac rocked a fitted mode-sleeve button down and vest to the 2008 Teen Choice Awards.

K Mazur/TCA 2008
Tanned and visibly chiseled a year later at the Teen Choice Awards, Zac opted for his go-to classic button down with cuffed sleeves look.

Jeffrey Mayer
While visiting Maui in June 2010, the young stud showed off his hot physique after taking a dip.

Splash News Online
Zac soaked up the sun in Maui in June 2010 – shirtless of course.

Splash News Online
In 2011, Zac modestly showed off his biceps in a simple black tee while sitting court side at a Lakers game.

Noel Vasquez
Zac relaxed to music shirtless at his Sydney hotel in April 2012.

INFphoto.com
While filming his 2014's 'Bad Neighbors', the actor frequently showed off his incredibly buff body on and off the big screen.

GONZALO/Bauer-Griffin
With the star being in the best shape then ever before, he couldn't resist showing off his chiseled abs and biceps on the 2014 MTV Movie Awards stage.

Frederick M. Brown
While filming 'We are your friends', Zac showed off his sculpted bod again while running on the beach.

TSM/Bauer-Griffin
Acting out a scene from his new film 'Bad Neighbors 2' at the 2015 MTV Movie Awards, the stud shows off his hot bod once again under a green fatigue jacket.

Paul Archuleta
Zac was spotted walking the streets of Los Angeles last year flexing his muscles without even trying.

RB/Bauer-Griffin
While filming his newest movie 'Baywatch' Zac shows off all of his hard training work by shooting shirtless scenes showing of his incredibly ripped bod.

© 2016 FameFlynet, Inc – Beverly Hills, CA, U.S.A.