Peek Inside Zachary Quinto and Miles McMillan's Plant-Filled NoHo Apartment
Filled with plants and crystals.
---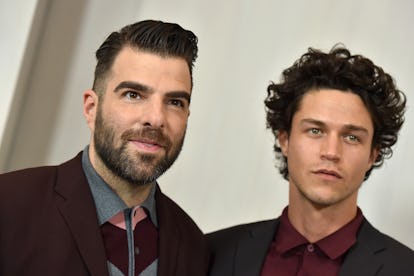 Axelle/Bauer-Griffin/FilmMagic
Often, celebrity homes are preciously curated, more for the sake of being photogenic than comfortable. In the case of Zachary Quinto and Miles McMillan, however, the pair struck a balance between the two. The actor and his model and artist boyfriend opened up their NoHo apartment for Architectural Digest and it's a plants- and crystals-filled haven.
As effortlessly decorated as it seems, though, the pair actually spent two years amassing enough things to fill it with. Quinto, best known for Star Trek, Heroes, and The Glass Menagerie, and McMillan, who's walked in shows for Tom Ford, Fendi and Rick Owens — to name a few — moved into their 2,250-square-foot apartment three years ago and immediately fell in love with the open-floor plan. "I think that openness will always be a hallmark of whatever home we have together, whether it's in New York, L.A., or a different environment," Quinto told AD. "The open-floor-plan kitchen into the dining and living rooms is something we really love. It doesn't matter where people are, they're still able to relate to each other and connect."
They ended up filling all that open space in with plants, books, tapestries from their trips abroad and a lot of crystals. Many of them belong to McMillan, as he told AD, "I forget how it started. I was just drawn to their beauty and energy as objects, but also as tools." He's taught Quinto how to use them as such as the actor echoed, "I love that it's not just about having the collection in the house, it's about what they mean and how they can benefit him and us. The interesting thing about Miles is, he doesn't just collect crystals, he really genuinely uses them, and I've learned a lot about crystals and their properties as a result."
While McMillan takes the lead on the couple's crystals collection, every other element in their apartment is more of a collaboration — to an extent. "Miles is a trained fine art painter, he's got a really strong visual sense," Quinto said, "And I do too, but I was happy to have Miles's input on everything and he was happy to have mine. If one person tended to overrule the other person more, though, I have to say it's probably Miles. There are certain things he'd be like, 'Absolutely not. We're not doing that.' I'd be like, 'OK, sorry, I thought it would look good!"
Take a look inside below.