Five Minutes With Zanzan Eyewear Creator, Megan Trimble
With the objective to produce luxury sunglasses unlike any on the market, London-based design duo Megan Trimble (left) and Gareth Townsend launched Zanzan in 2009. Hand-made from rare, iridescent 60s and 70s Italian acetate in...
---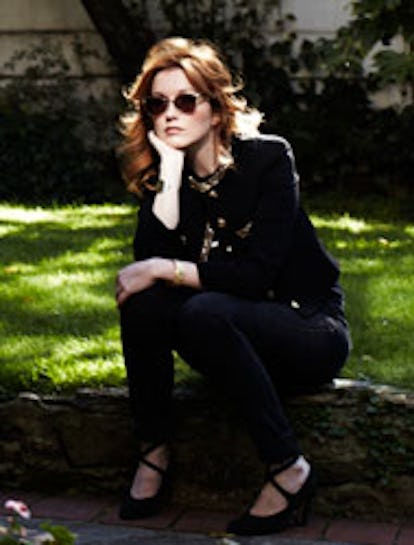 Can you tell us about the fabulous name? We discovered the word Zanzan in 'The Way We Wore' by Robert Elms—his personal account of the life of a style-obsessed kid throughout the 60s, 70s, and 80s in London. It's a Maltese word used by gangsters in 60s London's Soho to describe the feeling of wearing something great for the first time, like a new suit; a rush of style. Actually, I was talking to a young Moroccan boy on a beach in Essaouira recently and he told me that Zanzan means 'crazy girl' in Arabic. Maybe he was winding me up though?
Everywhere—we're both bookworms, film freaks, music addicts. Zanzan is a response to the world rather than a response to the fashion scene. Culture and history are my passions and Zanzan is just a way of making sense of all that 'lost' time in cinemas and art galleries, and all those Sunday afternoons watching 70s films, loving the clothes and hair-styles. The names come out of books mostly, and are just words that jump out and have some sort of resonance, romance or lyrical quality. I love it when I discover words in other languages that we don't have equivalents for in English. We have a men's style called Sprezzatura— it's an Italian word for the stylish art of dishevelment. It's a guy thing really—not trying too hard. Only the Italian's could have a word like this! Consistent inspirations though would be Italy, France, Brazil and NYC/California in the late 60s and 70s—anything to do with living well. I am fascinated by the arts and crafts that are produced when cultures collide, probably because I grew up in colonial Hong Kong.
So interesting that you grew up in Hong Kong, then Australia and now London? Yes, I'm Australian but grew up in Hong Kong and Sydney and now split my time between London and New York. I did a degree in Photography and have always worked in design and fashion. I saw sunglasses as a product that weren't being made well, generally speaking. Italian style is a huge influence for Zanzan, but it seems to have lost its way. That's part of the problem with sunglasses; they're all made in Italy (well China really but let's skip that). We saw the opportunity to bring an English style sensibility to the conservatism of the industry and to present a more strident visual statement to support the product. Sunglasses have gotten boring, but why? What could be more glamorous?
Who would you love to see wearing your specs? My friends. Nothing beats seeing the people you love get excited about what you do. I'm more interested in seeing them photographed and interpreted by great photographers or used by certain stylists really. I'd much prefer to see them in a Tim Walker shoot than on some celeb, but we sell to all sorts really. I had a woman call me from Africa recently telling me she had read about Zanzan in The Sunday Times and wanted to buy a pair when she was in London. We met for tea in Liberty, and I sold her a pair. It's fascinating who turns up. If you make something romantic or nostalgic then you always have a chance of striking a chord with someone.
We're showing eight styles at our showrooms in NYC and Paris this year: Avida Dollars, Zuki, Aubade, Spa Ma Ma, Sprezzatura, Paninaro, Ortolan and Erzulie. We collect vintage acetate. The colors can be truly extraordinary – some look like iridescent marble and some of the one-off's are made from diaphanous veneers—they light up from behind if you catch the right aspect. I get a lot pleasure holding the acetate up to the light and looking at all the beautiful colors and patterns. They're quite kaleidoscopic. They are all Italian, usually 1970s and we use this acetate because no one else can get their hands on it! 95% of sunglass sales are in black or tortoiseshell but we've created a small market for something more unique.
Any exciting projects for Zanzan this year? Yes! We're working on silk kimonos and kaftans, French-cut men's trousers, leather accessories, a pop-up shop, and a collaboration with a hotel in Asia alongside a continuation of our work with the Fred Hollows Foundation to fund sight-saving operations in developing countries. A call from Tom Ford to lend a hand with his next collection? Okay well that hasn't happened—but here's hoping!
Also available through zanzan.co.uk