We Should Have Seen the Zayn Malik and Gigi Hadid Breakup Coming
A deep dive into the elusive chanteur's Instagram reveals that he'd been going through something for quite a while.
---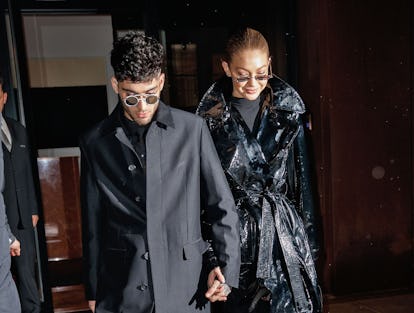 Photo by Gotham/GC Images
As the ice begins to melt and cuffing season comes to a close, young couples everywhere have worked to keep the magic of their relationships alive for just a few more weeks, in an effort to get all the way through breakup season without being one of those couples that actually breaks up. Zayn Malik and Gigi Hadid are unfortunately one of those couples.
Daily Mail reports that the couple of two years have officially split. The report seemingly came from out of nowhere—just two months ago the couple happily celebrated Malik's 25th birthday—but eagle-eyed fans pointed out that Malik had unfollowed Hadid on Instagram, before sending out a heartbreaking tweet announcing that the two are no longer together. Hadid followed suit with a personal announcement of her own.
According to both announcements, there appears to be no bad blood between the two—they wish "nothing but the best" and are "forever grateful" for each other—but as shocking as the breakup may be, a close examination of his presence on Instagram reveals that the elusive chanteur has definitely been going through something for quite a while.
In January, Malik began posting poems to Instagram, in the form of disparate, heavily filtered images overlaid with text he penned. Lines like "There is no meaning it's just aesthetics" address the optics of performing a version of oneself for a social platform like Instagram and the pressures of fame, about which Malik has previously expressed causes him anxiety, to the point where he once canceled his highly anticipated first solo tour.
He offered no explanation of the poems; most of them were posted without captions, but it was widely assumed in the comments of these posts that his poems could double for song lyrics. After all, it has been nearly two years since the release of Malik's debut album Mind of Mine, and many fans have waited with bated breath for new songs from the former One Direction vocalist.
After weeks of posting the poems, he eventually began to upload quick videos of himself singing and playing piano or guitar; some songs were covers of other songs but there were some original vocal runs included in there too.
His "morning jam" series and late-night freestyle vocal sessions were something for fans to look forward to. Aside from the fact that Gigi Hadid was nowhere to be found in Malik's Instagram (he is notoriously private, after all) for the past few months, there was no indication of trouble between the couple. The pair dressed up together for Halloween, celebrated Malik's birthday in January, and all appeared to be well.
But then came the selfies. The unsettling, unexplained, unusually close-up and very heavily filtered selfies. And the "chillin" by the pool. No good can come from such a long series of selfies like these.
All of this led up to a selfie with one confrontational caption: "When Life throws you lemons, catch em so they don't hit you in the f–king face."
Sadly, we should have been able to see this breakup coming all along. And hopefully Malik has caught those figurative lemons.
Related: Gigi Hadid and Zayn Malik Release Dual Breakup Statements on Twitter