Zazie Beetz, Star of FX's "Atlanta," on Van's Goals For Season Two and the Surprising Reach of Her Hit Show
"It was very cool to see there was a market for the show, and the market wasn't just black people," the actress says.
---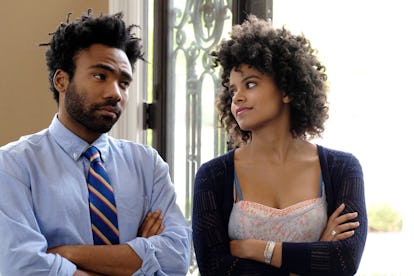 Copyright 2016, FX Networks. All rights reserved.
The FX series "Atlanta," which just ended its first season this week, has startled and surprised on a weekly basis since the very first episode. Among the more memorable curveballs was episode six, "Value," what would be considered in normal TV parlance a special "bottle episode" — featuring an independent storyline devoted entirely to the main character Earn's on-again-off-again girlfriend Van — except that Donald Glover's unconventional show has proven over and over again that devotion to its secondary characters' POV is its resting pulse. Which is why the 25-year old actress Zazie Beetz, who plays Van so thoughtfully, has become so integral to "Atlanta."
What is it like to work with Donald Glover, and how is he as a director? Donald is a really great guy. I mean, he was super big on making everybody feel included and initiating a family feel. He'll also ask what you think and recently, since we got the second season, he sent me a text asking me what I thought about Van and what I wanted to see in her. So we had a little bit of a conversation, which is a cool thing to experience. As a director he was super relaxed and — I don't want to say surprised, but he was very kind of going-with-the-flow. It's weird to say this, but it was a little bit of his directorial debut. Not totally, but I think in terms of a large-scale project, particularly this show being his baby, it was cool to work with him in that respect. But the show is very much his vision.
And what are your hopes for Van for season two? Will she end up opening her own business? Will she continue to teach? Does she have other goals? We talked about that. I mean, honestly I have no idea what they're going to do, I just provided my thoughts and he thought they were really good ideas. I oscillate between wanting Van and Earn [Glover] to end up together versus Van or Earn dating other people. We talked about that being a possibility. Also, seeing how scrappy she can get with finding work because she needs to find something. Even while we were shooting this last episode, he was talking about how this sort of opens up a door to a whole number of things that she can do. I even felt like it would be funny if she started like selling drugs or something, because she's so desperate, but obviously those are ideas that we're talking about. I have no idea what is going to actually to happen, but I thought those would be fun things to explore.
Do you think that Van will get on board with Earn managing Al [aka Paper Boi, Earn's rapper cousin]? She's seeing this may be a legitimate way Earn can provide for his family. You know, one thing about Earn and Van is I want to see their relationship grow, because I think that aspect of them definitely works together. But I feel like they both individually have some growing to do. You know Earn has been honestly relinquishing some of his autonomy and learning to be less selfish and putting his daughter and Van's future first. For Van what I felt that where she needs to grow is not necessarily thinking that Earn's dreams or what he wants to do is just the fantasy of a child and that working in the music business is also legitimate work.
And that it can be lucrative. Yeah, exactly. As someone who is actually a creative, it is legitimate work and you can get money from it. There are different ways you can do that. I don't think that Earn is necessarily approaching it in a way that is fair for Van or [their child] Lottie, but maybe it should be dinner on the table first and then these other things which is also what so many creatives do. [Laughs] I was working at restaurants and auditioning, there are different ways that you can do it. I think that Van needs to be more accepting of that and I feel like there's room there. And yes, I think as Paper Boi's success grows, which I'm sure in the second season that will continue to unfold, Van will be open to Earn's path.
It feels like it's a real depiction of twentysomethings who are young and black and working in a creative field, that it's not just about them being young and black. Oh my god, yeah. That's a big thing for me: I feel like I say it all the time because to me it's the perfect way to describe it. It's like whenever you see a show or movie about an Indian family or a black family or whatever it's always about them being black versus if you're like watching "Friends," it's not about them being white. I feel like often stories that are about people of color aren't about the nuance within their existence, it's just about them being a person of color.
Do you feel like they're starting to get it now especially with shows like "Atlanta"? I really do. And I was shocked at sort of how many people "Atlanta" reached. Before it aired, we talked about how it probably be a niche audience, but we didn't know. When I get stopped on the street, it's by all kinds of people — white people, black people, Asian people, like everybody. All sorts of demographics are engaged in the show and are genuinely enjoying it, and not feeling excluded. So that was actually very cool to see. And to feel there is a market for it, and the market isn't just black people. [Laughs] "Oh okay, white people are also interested in seeing these kinds of stories." There's this misinformation within Hollywood that white can be the only standard. It's funny because black people are expected to be able to enjoy a film with an all-white cast, but it's not necessarily the same the other way around. I'm glad that "Atlanta" doesn't make people feel ostracized like they can't enjoy it, and that it opens a door rather than closing one.