Everything That Went Down on Zendaya's 22nd Birthday
Hollywood's It Girl is becoming at It Woman.
---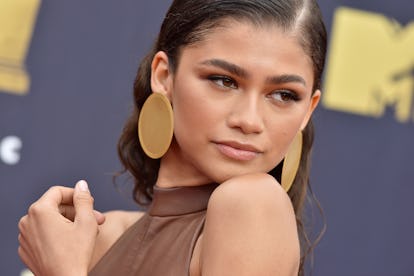 Axelle/Bauer-Griffin/Getty Images
Zendaya Coleman is officially 22! The actress and singer celebrated her birthday this weekend with friends and family in London. Here's everything we could find out about how she celebrated…
Her party was in Mayfair, a posh neighborhood in West London. For the occasion, Coleman wore all black, including "an Alessandra Rich dress, Wolford tights, and Christian Louboutin shoes," per JustJared.
Guests included her mother and father, and her Spider-Man: Homecoming co-stars Tom Holland, Tony Revolori and Jacob Batalon, whom she tagged in an Instagram Story from the event:
The party continued on Instagram. Both Holland and Zac Efron, her co-star (and duet partner!) in The Greatest Showman posted tributes to Coleman on their profiles, accompanied by goofy candid pictures:
On her own 'gram, Zendaya posted a throwback picture of herself as a smiling tot, writing, "Keeping this energy as I enter my 22nd year of life."
After the celebrations, Coleman posted a heart-warming message on Instagram Stories: "I really don't know how to put into words how grateful I am for the love everyone has shown me today, thank you for another beautiful and special birthday."
And how did she spend her first full day as a 22-year-old? Standing by her parents at a tattoo shop! She originally planned for just her mom to get tat'd, but apparently her dad wanted in on the action, too:
On Insta, her mom was all smiles getting inked on her arm, while her 65-year-old father opted for a classic dad tat: his kids' initials. Colemans, you really are too cute.
Happy birthday, Zendaya! You are quite possibly the most killing-it 22-year-old on the planet right now.
Related: Zendaya, Jacob Elordi, and the Euphoria Cast Are Already the Coolest Teens in TV History
Virgo Season Is Here for Idris Elba, Tom Ford, and Lili Reinhart
Idris Elba, born September 6, photographed by Juergen Teller for W Magazine, February 2014.

Juergen Teller
Cameron Diaz, born August 30, photographed by Mert and Marcus for W Magazine, April 2012.

Photograph by Mert and Marcus.
Tom Ford, born August 27, photographed by Steven Klein for W Magazine, January 2006.

Steven Klein
Lili Reinhart, born September 13, photographed by Steven Klein for W Magazine, May 2019.

Photograph by Steven Klein; Styled Arianne Phillips.
Naomie Harris, born September 6, photographed by Craig McDean for W Magazine, February 2017.

Craig McDean
Alexander Skarsgard, born August 25, photographed by Alasdair McLellan for W Magazine, August 2017.

Alasdair McLellan
Claudia Schiffer, born August 25, photographed by Michael Thompson for W Magazine, August 1994.

Michael Thompson
Florence Welch, born August 28, photographed by Tina Barney for W Magazine, March 2018.

Tina Barney
Sanaa Lathan, born September 19, photographed by Alasdair McLellan for W Magazine, August 2017.

Alasdair McLellan
Blake Lively, born August 25, photographed by Inez and Vinoodh for W Magazine, December 2008.

Inez and Vinoodh
Karl Lagerfeld, born September 10, photographed by Thi Tien Dinh for W Magazine, September 2012.

Thi Tien Dinh
Chris Pine, born August 26, photographed by Craig McDean for W Magazine, February 2017.

Craig McDean
Taraji P. Henson, born September 11, photographed by Craig McDean for W Magazine, February 2017.

Craig McDean
Hugh Grant, born September 9, photographed by Ellen Von Unwerth for W Magazine, October 2016.

Ellen Von Unwerth
Salma Hayek, born September 2, photographed by Juergen Teller for W Magazine, Best Performances 2018.

Juergen Teller
Armie Hammer, born August 28, photographed by Antoniou Platon for W Magazine, October 2010.

Antoniou Platon
Melissa McCarthy, born August 26, photographed by Mario Sorrenti for W Magazine, February 2012.

Mario Sorrenti
Ryan Phillippe, born September 10, photographed by Tierney Gearon for W Magazine, March 2008.

Tierney Gearon
Michelle Williams, born September 9, photographed by Mario Sorrenti for W Magazine, April 2012.

Mario Sorrenti
Jack Black, born August 28, photographed by Anna Bauer for W Magazine, March 2013.

Anna Bauer
Asia Argento, born September 20, photographed by Emma Hardy for W Magazine, March 2006.

Emma Hardy
Zendaya, born September 1, photographed by Catherine Serval for W Magazine, March 2014.

Catherine Serval
Michael Keaton, born September 5, photographed by Tim Walker for W Magazine, February 2015.

Tim Walker
Richard Gere, born August 31, photographed by Craig McDean for W Magazine, November 2012.

Craig McDean
Colin Firth, born September 10, photographed by Inez and Vinoodh for W Magazine, February 2011.

Inez and Vinoodh