Zendaya, Jacob Elordi, and the Euphoria Cast Are Already the Coolest Teens in TV History
This HBO teen series is trying to end all teen series.
---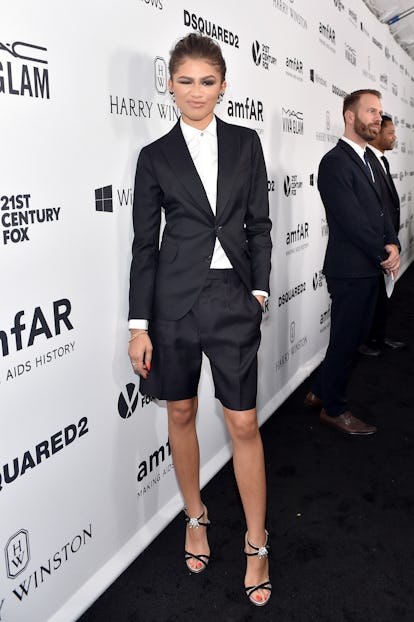 HBO doesn't make teen TV. It makes sprawling historical dramas with timeless yet prescient themes. It makes gritty mysteries featuring detectives who realize the biggest mystery of all is trying to unravel themselves. It makes television about (and for) upper-middle-class women who sip merlot on their porch while contemplating their textured inner lives. It does not make shows about the time Becky walked in on Serena giving a handy to her boyfriend at Tommy Filbin's pre-Halloween rager.
And the most prestigious of all the prestige networks has been content to let the CWs and Freeforms of the world handle all of those high school concerns while it worries about trying to figure out a way to get Nicole Kidman more Emmys.
Yet, as streaming has disrupted the way we watch television over the past few years, so too has it disrupted traditional notions of audience segmentation and target viewers. As it turns out, the same people who enjoy watching Carrie Coon navigate the end of the world also sometimes like to watch Becky and Serena battle it out for prom queen. Raise your hands if you have both a college degree and strong feelings about Riverdale.
So, perhaps sensing that there's an audience out there for the first truly prestige teen TV show, HBO has ordered Euphoria to series. Adapted from an Israeli series and co-produced by Drake (who knows a thing or two about groundbreaking teen television that goes there, as he recently reminded us), the series will star Zendaya as a pathological liar who ropes everyone around her into a world of sex, drugs, and social media.
Zendaya alone is a selling point, being one of the true icons of Generation Z, but this is HBO. It turns out that the cast is completely packed full of social media savvy teen icons and promising young up-and-coming actors. Here, get to know the rest of the cast of Euphoria, who may be poised to become the most talked-about teen TV cast ever.
Jacob Elordi
Just a few months ago, no one knew who Jacob Elordi was. Then Netflix released The Kissing Booth, a teen rom-com whose viral success (along with Elordi's real-life relationship with co-star Joey King) has rocketed the 21-year-old actor to the sort of fame that has netted him 5.2 million followers. The Jacob Elordi business is hot right now, and HBO is buying in at the exact right time.
Sydney Sweeney
At just 20, Sydney Sweeney is putting together a television resumé that would make anyone but Elisabeth Moss or Carrie Coon jealous. You've seen her as Eden on the current season of The Handmaid's Tale, and opposite Amy Adams in HBO's Sharp Objects. It's only fitting she found a permanent co-starring role of her own.
Maude Apatow
She's been an actress since she was 10, appearing in her father's film Knocked Up, and a Twitter celebrity since 13. This summer, thanks to the buzz around Assassination Nation, she's bound to become a bonafide movie star too.
Storm Reid
The reception to A Wrinkle in Time might not have been what Disney expected, but it hasn't slowed down the film's star's career much, apparently.
Alexa Demie
The Los Angeles native dabbles in a lot of areas. She's done gigs as a model and stylist, made art, and has released a visual EP of her own music. Her acting career is quickly heating up, too. You've seen her playing bit parts in The OA, Love, and Ray Donavon, but her big breakthrough, aside from Euphoria, is an upcoming role in Jonah Hill's directorial debut, Mid90s, which Vogue has dubbed Lady Bird for skaters.
Lukas Gage
Like Apatow, he has a part in Assassination Nation, but he might be best known for his work on Netflix's American Vandal.
Astro
At age 14, the Brooklyn-born actor and rapper known on his birth certificate as Brendan Bailey became a finalist on the first season of the American X-Factor. He's continued to put out music, but has also tried his hand at acting. Most notably, he appeared with Kristen Stewart and Joe Alwyn in Billy Lynn's Long Halftime Walk.
Hunter Schafer
Schafer first made a name for herself as an activist. She was a plaintiff in the ACLU's lawsuit against North Carolina's discriminatory anti-trans bathroom bill, but after she shared her story in Teen Vogue and i-D, the fashion world realized she had model-worthy looks as well. She's appeared in the pages of W, and has modeled on the runway for everyone from Dior Couture to Helmut Lang.
Barbie Ferreira
Ferreira got her start as a model by sending her photos to American Apparel as a teen, and has made waves and won fans for her outspoken attitude about body image.