Drake's Degrassi Reunion Music Video Left Some Unanswered Questions About Your Favorite Canadian High Schoolers
Drake's "I'm Upset" music video is a cornucopia of cameos from the Canadian series.
---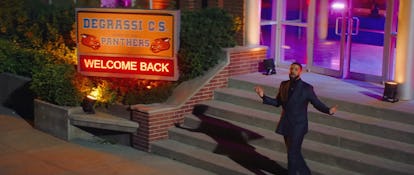 Degrassi fans who knew Drake as Jimmy Brooks in the early aughts have been waiting for over a decade for an official class reunion, and Champagne Papi finally delivered: He threw the ultimate high school reunion so that you won't ever have to go to your own, and the class of 2007 came back to their old stomping grounds for one last roam through the halls at Degrassi Community School in Drake's video for "I'm Upset."
Karena Evans, the 22-year-old Canadian wunderkind who directed Drake's music videos for "God's Plan" and "Nice for What" (another cornucopia of unexpected cameos), as well as SZA's music video for "Garden (Say It Like That)" featuring a glistening Donald Glover, stepped up to the plate once more and directed "I'm Upset," to accompany the diss track Drake dropped just before Pusha T hit back with "The Story of Adidon" and called out the Canadian rapper for being an alleged absentee father.
The video for "I'm Upset" begins with Drake picking up a ringing phone and hopping out of bed—much as his fans did when they got the alert that his music video had just dropped in the middle of the night—before heading to a suit fitting. It all seems like typical Drake fare until Spinner Mason (on Degrassi he was Jimmy's best friend, played by Shane Kippel) appears. Then Paige Michalchuk and Craig Manning, Liberty van Zandt, Emma Nelson, Manny Santos—nearly everyone from season 1 to season 14 of Degrassi: The Next Generation makes a cameo, even Jay and Silent Bob! Many of the Canadian cast have been busy since graduation—some made it to Broadway, some have appeared in other Canadian television shows you should be watching—but you might have still been wondering "Where are they now?" about the rest of the cast. Thankfully, Drake has given you all of the tools you need to sort that out.
Dropping this video is such an ultimate PR move on Drake's part because it did leave so many of us feeling like, "What beef?" by the end of it. But it also left viewers wondering about a few unanswered Degrassi-related questions.
When did Terri wake up from her coma?
Terri MacGregor began to date Rick a couple seasons into the show, and one day during a heated argument, he pushed Terri, and she fell back onto a pile of cinderblocks, leaving her in a coma at the end of the third season. She was hospitalized and sort of never heard from again—until now!
Where is J.T.?
J.T.—or, James Tiberius—Yorke was tragically stabbed to death by students from the rival Lakehurst High School, in what was perhaps one of the top three most shocking things to ever happen on this show. ("It goes there," remember?) The actor who played Rick (the nerdy loner who brings a gun to school, shoots Jimmy, and dies by his own weapon) was asked to return for "I'm Upset," and he did make a cameo (he even kept the disturbingly long hair) despite his fictional death, but J.T. was nowhere to be seen. Apparently the actor who played J.T. (Ryan Cooley) did get the memo that his Degrassi castmates were filming a video for Drake. He just thought it was a scam. Which is fair when you think about it—none of the cast probably expected to get that call from Aubrey Graham. Jay, Alex, Spike, Peter, and Darcy were nowhere to be found either.
Where is Liberty and J.T.'s baby?
Nothing was quite as shocking as Liberty, the goody-two-shoes valedictorian, getting pregnant in high school with J.T.'s baby. Nobody expected it at the time, but it was one of the early shockers that occurred on Degrassi. That kid would be 14 years old by now, and obviously we never really saw the baby on the show, so it would just be fan service to introduce the teen in this reunion video, but this entire thing is fan service. We want to see Liberty's baby!
Did Emma and Spinner ever get divorced?
You would think that in between the teen pregnancies, school tragedies, and general after school special vibes, that there would have been more shotgun weddings on Degrassi, but one plot twist of the series is that Emma and Spinner were the only couple from the original cast to ever get married. The two hardly ever dated, but got drunk and married each other one night, only to stay married because, hey, might as well. They don't interact much in the video, but that's okay! It's just enough to see the cast reunite in the same frame. Whatever it takes, right?
Related: Every Famous Face In Drake's "Nice for What" Video: A Visual Guide