Every Famous Face In Drake's "Nice For What" Video: A Visual Guide
Drake threw a dance party for basically every famous woman in Hollywood.
---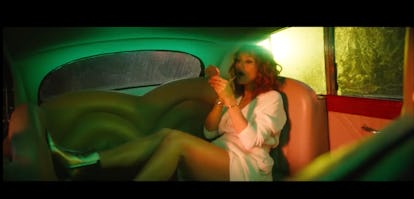 Leave it to Drake to throw a dance party for all of our favorite women in Hollywood. In his latest blockbuster video following the $1 million giveaway in "God's Plan," "Nice For What," directed by Karena Evans, the rapper features the actresses and models (oh, and a prima ballerina) of our slumber party dreams all dancing, studying, at one point levitating, and generally ruling the world.
Check out Insecure's Issa Rae telling old white men exactly what's up in a business meeting; Harvard-bound Yara Shahidi in her college sweatshirt hard at work; and suited up Tiffany Haddish smoking a cigar in a way that can only be described as boss. Meanwhile, Rashida Jones is glam in a car; Zoe Saldana is playing with adorable kids; Emma Roberts is taking an indoor dip; and Tracee Ellis Ross is truly living her best life just doing whatever she's doing in a field. In Drake's world, women are beautiful but not objectified, and empowered to be more than one-note. They're having fun and enjoying their freedom in every kind of setting, and then, you know, occasionally Drake shows up. To jog in place. So, ideal video! Here's a guide to every famous face (besides Drake's) that you'll see in "Nice For What," which is, pardon the wordplay, very nice for us.
Olivia Wilde, dancing in a restaurant:
Ballerina Misty Copeland, single-handedly making ballet chic again:
Rashida Jones, one her way someplace fabulous:
Model Jourdan Dunn on a horse, because why the hell not:
Issa Rae having absolutely no time for this meeting nonsense:
Zoe Saldana and the world's luckiest kid:
Swedish twins Elizabeth and Victoria Lejonhjärta (here's a guide to these suddenly famous siblings):
Yara Shahidi, ready to school:
Tiffany Haddish, badass:
The Florida Project's Bria Vinaite, bumper car-ing:
Emma Roberts at a pool party:
Michelle Rodriguez, sun goddess:
Singer Syd, enjoying the night:
And Black Panther breakout Letitia Wright, brushing her shoulders off because I mean, she's Princess Goddamn Shuri:
And check out the video here:
Related: From Taylor Swift to Drake, a GIF History of Intentionally Goofy Dancing in Music Videos
Coachella 2017: Kendall Jenner, A$AP Rocky, And Every Other Major Celebrity Partied All Weekend Long
Kendall Jenner and Hailey Baldwin attend Winter Bumbleland.

Getty Images
Sofia Richie attends the Midnight Garden After Dark at the NYLON Estate.

Getty Images
Yara Shahidi and Aja Naomi King attend Popsugar and The Council of Fashion Designers of America's (CFDA) Brunch.

Getty Images
Hailee Steinfeld performs during The Hyde Away, hosted by Republic Records & SBE.

Getty Images
Freida Pinto attends H&M Loves Coachella Tent.

Getty Images
Casey Cott, Lili Reinhart, Cole Sprouse, KJ Apa and Camila Mendes attend H&M Loves Coachella Tent.

GETTY
Daisy Smith, Pyper Smith, Lucky Blue Smith and Starlie Smith attends H&M Loves Coachella Tent.

Getty Images
Sophie Turner and Hailee Steinfeld attend Midnight Garden After Dark at the NYLON Estate.

Getty Images
Mackinley Hill, Chase Hill and Taylor Hill attend H&M Loves Coachella Tent.

Getty Images
Emily Current, Steven Kolb, and Meritt Elliott attend Popsugar and The Council of Fashion Designers of America's (CFDA) Brunch

Getty Images
Kylie Jenner attends the PrettyLittleThing x Paper Magazine Pretty Little Playground.

Getty Images
Emma Roberts attends The Hyde Away, hosted by Republic Records & SBE.

Getty Images
Martha Hunt, Stella Maxwell, Elsa Hosk and Josephine Skriver attend Victoria's Secret Angels Celebrate the Sexy Little Things Launch at the Angel Oasis.

Getty Images
Sophie Turner attends The Hyde Away, hosted by Republic Records & SBE.

Getty Images
Troian Bellisario attends the #REVOLVEfestival.

Getty Images
Jasmine Tookes and Elsa Hosk attend the #REVOLVEfestival.

Getty Images
Taco, Tyga and Brooklyn Beckham attend the Interscope Coachella House.

Getty Images
Joe Jonas, Cole Whittle, JinJoo Lee, and Jack Lawless of DNCE attends The Hyde Away, hosted by Republic Records & SBE.

Getty Images
Drake and French Montana attend The Levi's Brand Presents NEON CARNIVAL with Tequila Don Julio.

GETTY
Alessandra Ambrosio attends The Levi's Brand Presents NEON CARNIVAL with Tequila Don Julio.

Getty Images
Halsey at Three Olives Vodka Find Otherness at The Saguaro Hotel.

David Crotty
Katie Perry and Jeremy Scott attend the Moschino Candy Crush Desert Party hosted by Jeremy Scott.

Jerritt Clark
eremy Scott and Rita Ora attend the Moschino Candy Crush Desert Party hosted by Jeremy Scott.

Getty Images
Riz Ahmed and Travis Scott attend the Moschino Candy Crush Desert Party hosted by Jeremy Scott.

GETTY
Dilone attends the Moschino Candy Crush Desert Party hosted by Jeremy Scott.

Getty Images
Katy Perry attends Katy Perry's Footwear Easter Sunday Recovery Brunch.

Rony Alwin
Sama and Haya Khadra attend the Galore x Grindr GBF Pool Party with Charli XCX.

Owen Kolasinski/BFA.com