How Drake's "God's Plan" Video Flips Miami Stereotypes and Makes Amends For an Old Feud with Uncle Luke
"Tell Uncle Luke I'm out in Miami, too."
---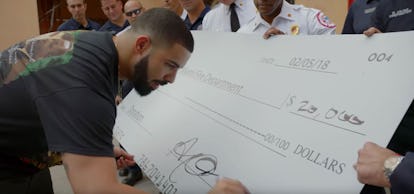 You've seen Miami as a setting for many a music video before. It's where Rihanna collected her "Wild Thoughts", Nicki Minaj Raked It Up, and Taylor Swift recently downed several drinks on top of a mega-yacht. Musicians of all kinds have used the city as a backdrop for party song clips for decades, so much so that you can probably play bingo with the stereotypes of a Miami-shot music video: a candy-colored Lamborghini, a yacht, stacks of $100 bills, champagne served in the bottle service area, gyrating booty shorts, speedboats or luxury yachts, stretches of pristine sand, luxury suites or downtown penthouses, a Scarface allusion here and there, and, for a recent dash of culture, perhaps some of the technicolored murals in the city's artsy Wynwood district. It's all pretty standard fare, and it's not necessarily like Miami minds. After all, a large chunk of its economy relies on tourism, and that tourism in turns relies on the city's pop culture image as a balmy seaside den of sin and luxury. Whether it's Beyoncé grinding up against Jay-Z's surfboart on one of the county's beaches in "Drunk in Love" or Jennifer Lopez partying with speedo-clad papis in Biscayne Bay, it's all exactly, reassuringly what you'd expect.
So, if Drake's latest video for "God's Plan" feels like a pointed retort to all of that, maybe it's because it was designed to be. In the clip, Drake takes the near $1,000,000 budget his label gave him to spend on the typical expenses one expects comes with a 305-set video—like, say, renting out a mansion and securing an actual tiger—and instead goes around to the city's less glamorous areas in order to play a charitable young Santa Claus in a University of Miami hoodie. He tells costumers at an inner city market that he'll buy anything they can fit in their shopping cart. He gives scholarships to undergrads. He donates money to the Overtown Youth Center and Lotus House, a local charity and shelter that helps homeless women and children, many of whom were victims of domestic and sexual abuse. He buys people cars, gives money to the fire department, and drops lump sums of cash into strangers' laps.
In other words, Drake ditches the South Beach clichés and gives representation to the Miami-Dade County that lies beyond that MTV sheen, where the poverty rate is 21.3 percent, where some neighborhoods are amongst the most dangerous in the country, and where income inequality is at near third-world levels. A side of the city that perhaps few gave much thought to until last year's Oscar winning Moonlight, and maybe haven't thought about much sense.
Though, it does beg the question, "Why did Drake chose Miami?" He is after all a proud son of Toronto, and once rapped, "All I care about is money and the city that I'm from." Even the song's lyrics are packed with references to Toronto, and makes references to providing charity to one of that city's underserved neighborhoods. So why Miami and not his own town?
Well, the answer may lie in a years-old mini-feud involving Uncle Luke, the leader of famed Miami Bass group 2 Live Crew. The man who once famously fought an obscenity case against his music that almost made its way to the Supreme Court has remade himself as a civic leader and voice of the people in his hometown. Those duties include penning a regular column for the town's local alt-weekly. Back in 2011 he wrote a pointed critique of out-of-town rappers who use the city as a party pad but never paid anything back to the community. Lil' Wayne and his Young Money Crew, Drake's label, were the top targets. "I'm tired of seeing these cats using up our beaches, soaking up our sunshine, taking over the nightclubs, and sleeping with our women without investing anything into the community," Luke wrote. "I want to see Lil Wayne, DJ Khaled, Puff Daddy and all their boys start doing more for Miami. I want to see them doing fundraisers to help youth sports and after school programs. I want to see them at FCAT rallies. I want to see them do like Pitbull who works closely with the Kiwanis Club in Little Havana and DJ Irie who puts on a charity weekend for the Make-A-Wish Foundation."
We certainly know Drake got wind of the column. He addressed it just a few months later on his hit track "The Motto," one of the songs, incidentally, which would elevate his status from just a buzzy member of Lil Wayne's crew and into a rap icon in his own right.
"Tell Uncle Luke I'm out in Miami, too. Clubbing hard, f—ing women, there ain't much to do," he wrapped. "Wrist bling, got a condo up in Biscayne. Still getting brain from a thang, ain't shit changed."
A pointed declaration of, "Yes, I am going to continue to taking over your nightclubs and sleeping with your women and there's nothing you can do about it."
That probably was the last anyone expected to hear of the "feud." Years went by. Drake sold his condos up on Biscayne. Luke wrote approvingly of Drake, crowning him an "Icon."
Fast forward seven years to today, and we get this, the video where Drake is definitely not "clubbing hard, f—ing women," but giving money to youth sports and after school programs in Uncle Luke's hometown. That's not to suggest this is only some petty settling of an old score, either. Rather, it's a sign of maturity and making amends for reacting snottily to one of the valid early criticisms levied against him by a hip-hop older statesman. Perhaps a man who is ready to stop living by "YOLO" as his motto, and ready to accept "God's Plan."