Drake and Pusha T's Collateral Damage: Sophie Brussaux, Virginia Williams, and More Undeserving Victims of Their Beef
Assessing the collateral damage to Virginia Williams, Sophie Brussaux, and Drake's alleged son.
---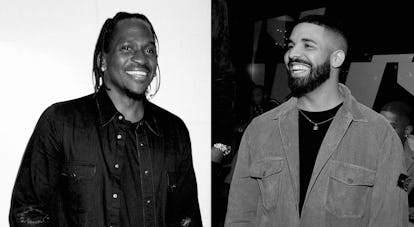 When Pusha T came out of the gates this month with "Infrared," a track from his new album Daytona, it was the jolt the stagnant rap world needed at this moment. Pusha shading Drake for his alleged use of ghostwriters was a throwback to the days of old-school beefs in hip-hop. As if on cue, Drake responded with a diss track immediately after. His "Duppy Freestyle" arrived with an accompanying (fake) $100,000 invoice for "promotional assistance and career reviving" from his OVO imprint to Pusha T's label, Kanye West's G.O.O.D. Music, which was all in good fun. What wasn't, however, was when Drake dragged Pusha T's fiancée into their feud, igniting a full-on personal war that's left a long trail of victims as collateral damage.
When Drake threatened, "I told you keep playin' with my name / And I'ma let it ring on you like Virginia Williams," Pusha T told The Breakfast Club, "All bets are off because of that." That included Pusha T dragging people from Drake's life into their beef, including Drake's alleged son, who was born on his 31st birthday last October 2017 to mother Sophie Brussaux.
Brussaux, a French porn star, first revealed that Drake was the father of her child at the beginning of May, saying she has receipts to prove it (e.g. texts), but Drake shrugged it off. "If it is Drake's child, which he doesn't believe it is, then he would do the right thing by the child," a rep for Drake told E! News. Pusha T got wind of that story and dredged it up in his latest diss track "The Story of Adidon."
"Since you name-dropped my fiancée, let 'em know who you chose as your Beyonce," Pusha T raps in the response to "Duppy." "Sophie knows better, ask your baby mother / Cleaned her up for IG, but the stench is on her / A baby's involved, it's deeper than rap / We talkin' character, let me keep with the facts / You are hiding a child, let that boy come home / Deadbeat mothaf–ka playin' border patrol, ooh / Adonis is your son and he deserves more than an Adidas press run, that's real / Love that baby, respect that girl / Forget she's a porn star, let her be your world."
Pusha T not only came for Brussaux, he also came for Adidas, for which Drake has a forthcoming collection rumored to be named Adidon, as Teen Vogue points out. (His alleged son's name is Adonis.) As if that wasn't hard-hitting enough, Pusha T also called out Drake's longtime producer Noah "40" Shebib.
Shebib, who has been combatting multiple sclerosis, was dismissed by Pusha T in "The Story of Adidon" as "OVO 40, hunched over like he 80, tick, tick, tick / How much time he got? That man is sick, sick, sick." "Coincidentally…tomorrow is World MS Day," Shebib later tweeted, which Pusha T told The Breakfast Club was "ironic."
At this point, Pusha T and Drake's feud has taken a dark turn—not to mention the fact that the artwork for "The Story of Adidon" features an alleged old photo of Drake wearing blackface, which the rapper has since defended on Instagram. Hopefully, it will end here, before anyone else gets dragged into it. Even if it doesn't, it won't be long before everyone's attention turns to the next thing—which, at this point, will likely be Kanye West's impending follow-up to 2016's Yeezus, as he's holding a listening party for it in Wyoming today.