Nicole Kidman Purchases Rights to Big Little Lies Author Liane Moriarty's Nine Perfect Strangers
It takes place at a health spa.
---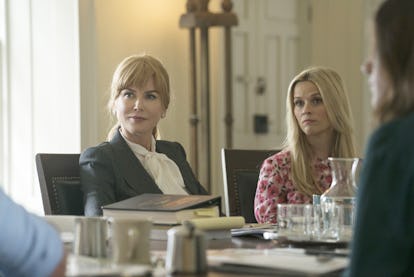 Courtesy of HBO
Get ready for the next Big Little Lies: Nicole Kidman and author Liane Moriarty are teaming up again for another dark saga about the seriously screwed up bourgeoisie. According to The Hollywood Reporter, Kidman's Blossom Films and BLL producer Bruna Papandrea's Made Up Stories have bought the TV/film rights to Moriarty's upcoming novel, Nine Perfect Strangers. The book's Amazon page makes it sound like Agatha Christie meets Goop: Nine people come together at a luxury health spa for 10 days, but obviously, it's not all jade vagina eggs and conscious uncoupling.
"Frances Welty, the formerly best-selling romantic novelist, arrives at Tranquillum House nursing a bad back, a broken heart, and an exquisitely painful paper cut," the description reads. "She's immediately intrigued by her fellow guests. Most of them don't look to be in need of a health resort at all. But the person that intrigues her most is the strange and charismatic owner/director of Tranquillum House. Could this person really have the answers Frances didn't even know she was seeking? Should Frances put aside her doubts and immerse herself in everything Tranquillum House has to offer – or should she run while she still can? It's not long before every guest at Tranquillum House is asking exactly the same question." How intriguing.
THR notes that Kidman will star in the adaptation (which a source told THR is likely to end up on TV), as well as executive produce alongside her BLL producing partner, Per Saari, and Papandrea. There's no word as to which role she'll play, but we could easily see her as a secretive, cult-y health spa guru. (Although imagine how perfect it would be to cast Goop maven Gwyneth Paltrow herself.)
"I'm so very happy and thrilled to once again be working with Nicole, Per and Bruna," Moriarty told THR. "They are such talented, passionate people and I have no doubt that whatever they do with my Nine Perfect Strangers, it will be brilliant. I'm honored by their faith in this book — even before I'd written 'the end' they believed in it, and I just feel very lucky to have had them come into my life."
Nine Perfect Strangers comes out November 6. The adaptation has no release date yet.