Sorry, Lenny Kravitz and Lisa Bonet Will Not Play Zoë Kravitz's Character's Parents on Big Little Lies Season 2
Bonnie's parents have been cast.
---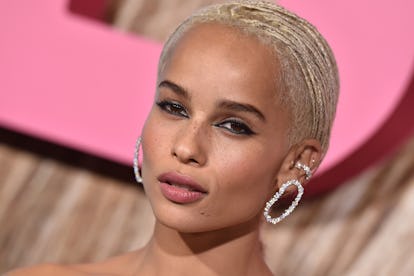 Axelle/Bauer-Griffin/FilmMagic
Hypothetically, being from a family of famous actors means that casting directors never have to look far to fill parts. But that would have been too easy for Big Little Lies. The show just cast the parents of Zoë Kravitz's character, Bonnie, and, spoiler alert, it's not Lenny Kravitz or Lisa Bonet. Instead, The Hollywood Reporter notes, HBO hired Martin Donovan, best known for Weeds and Boss, for the role.
While Donovan will play Bonnie's father, Martin Howard, Crystal Fox, an accomplished theater actress, will be in the role of her mother, Elizabeth Howard. Fox's character will be "abusive" and "controlling," according to THR. And that's as much of a hint as we're getting for now, as the story line for season two is being kept under wraps.
In fact, the Big Little Lies novel author, Liane Moriarty, wrote the story that season two is based on solely for the show, as the first season contains the scope of the original book. David E. Kelley, who handled the script in season one, will be writing once again for season two.
As for the show's other newcomers, Meryl Streep will be joining the cast for the second season as the mother-in-law of Nicole Kidman's character, Celeste. Streep will be playing Mary Louise Wright, who is "concerned for the well-being of her grandchildren following her son Perry's death and on the hunt for answers." Judging by the first photo, however, her role isn't just somber. Streep looks like she's smiling in the picture Kidman shared last week on Instagram, which also shows Kidman's onscreen twin sons, played by Cameron and Nicholas Crovetti.
Earlier, Kidman revealed that Big Little Lies created the character just for Streep. "[The role] was written for her, and we wanted her," Kidman said. "Reese [Witherspoon] and I were just [thinking], She would be so amazing in the role!… We didn't think we'd get her." She added: "We're determined to give [Streep] an extraordinary experience. She's had a lot of experiences, so we just want to make it fun for her and vibrant and exciting."
At this moment, we'll have to wait to find out when we'll be able to partake in that excitement, as Big Little Lies has yet to set an air date for the second season, revealing only that it won't be this year.
Related: Big Little Lies Will Introduce a Completely New Character in Season 2