Goop Magazine Launches First Edition, Starring Gwyneth Paltrow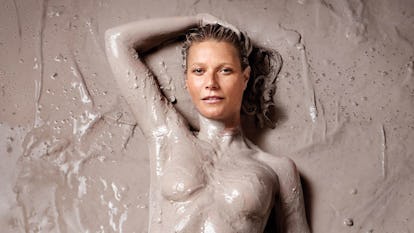 GOOP
Don't bother dragging Gwyneth Paltrow and Goop through the mud, she's done it for you.
On Friday, the first edition of Goop magazine, a quarterly glossy launched in tandem with Condé Nast (the parent company of W), made its debut featuring—who else?—Goop founder and face Paltrow, with the cover line "Earth to Gwyneth." And in a tongue-in-cheek move, she stars on the cover perfectly nude and coated in mud—just what kind of antioxidant-rich and youth-restoring mud? You'll have to read the mag to find out.
Paltrow announced the magazine venture in April, taking her well-known wellness brand and commerce platform, which was founded in 2008, to the next level. In the past nine years, Paltrow's company has expanded into fashion and beauty lines, helped make terms like "vaginal steaming" and "jade eggs" commonplace, and exposed her A-list health and beauty regimens to the masses in the form of curated listicles, all in an effort to cater to women's pursuit of wellness.
The magazine, being Paltrow's first foray into print media, has been highly anticipated, and one thing's for sure: It aims to please the social media generation with a cover that could double as an Instagram post and inside pages that are splashed with color, clean lines, and more pics of the actress experimenting with wellness and beauty products.
Check out the cover below, and pick up an issue of Goop magazine, on newsstands September 19 for $14.99. (Or preorder issues here{: rel=nofollow}.)
Related: In Her 40s, Gwyneth Paltrow Has a Completely Different Understanding of What It Means to Be Beautiful
55 Years of Celebrity Airport Style: