Nicole Kidman Is Developing Amazon Original TV Shows and Films Now Thanks to Jennifer Salke
New Amazon Studios head Jennifer Salke is getting things done.
---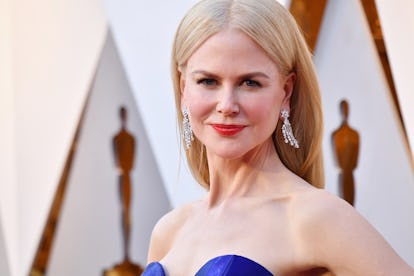 Jeff Kravitz/FilmMagic
The new era of Amazon entertainment is absolutely thriving, now that a woman is running it. New exec Jennifer Salke has tapped Nicole Kidman for a partnership that will bring original TV shows and films—some "in theaters"—to the streaming platform in the wake of Roy Price's departure.
At this point, any new projects from Kidman is exciting, but this particular collaboration is notable because Kidman, together with Salke, will be helping to reshape Amazon's approach. When Price was in charge he favored male-skewering programming, infamously passing on The Handmaid's Tale and Kidman's breakout show Big Little Lies. Reportedly, Price rejected the beloved show, which of course ended up on HBO, because it didn't contain any nude scenes with Kidman or Reese Witherspoon. (Additionally, Price was accused of sexual harassment by The Man in the High Castle executive producer Isa Hackett and was placed on indefinite leave afterward.) Kidman later won a Golden Globe for her performance, saying, "Wow. The power of women…. I do believe, and I hope, we can elicit change through the stories we tell and the way we tell them."
Now, with Amazon, she'll have the chance to do exactly that, as Salke has promised. "Nicole is a force of nature as both an actress and a producer," the exec said in a release. "She understands the focus of bringing addictive, entertaining, and compelling television to our Prime Video customers as well as movies that will connect with film audiences. Stay tuned for many exciting projects to come in the very near future!"
Kidman's schedule is especially busy these days, between shooting the second season of Big Little Lies and playing an LAPD detective in the upcoming Karyn Kusama film Destroyer. Both will be making good on Kidman's promise to work more with female directors. "It's very much a part of my contribution now, is being able to say, pretty much every 18 months, I'm making a movie with a female director," she said last fall. "That's the only way the statistics are going to change—when other women start to say, 'I'm only going to choose a woman now.' Every 18 months, there has to be a female director in the equation."