Zendaya and Reese Witherspoon Are Joining Forces For the New Movie A White Lie
They're the hottest package deal in Hollywood.
---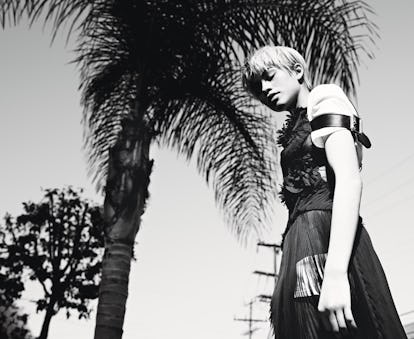 Of the Disney Channel series K.C. Undercover's 78 episodes, Zendaya, the show's star, is credited as a producer on 42. That, hopefully, is ample experience for her next, decidedly bigger project: Zendaya has just signed on to star in A White Lie, an upcoming fictionalization of the life of Anita Hemmings, the first black woman to graduate from Vassar College, which Zendaya will co-produce alongside Reese Witherspoon. According to a report by Deadline, which called the film "the hottest pitch package" around Hollywood, the 21-year-old actress will play Hemmings, based on a script by The Leftovers and Fargo writer Monica Beletsky.
Thanks to Zendaya and Witherspoon, A White Lie will be headed by its all-woman team: women producers, a female star, and a woman writer and screenwriter. The film is based on Karin Tanabe's 2016 novel The Gilded Years, a psychological thriller based on the college years of Anita Hemmings. In 1893—more than 40 years before Vassar began openly accepting women of color among its student body—Hemmings applied to the then-all-women's liberal arts college, declining to disclose her race on the application form. It wasn't until shortly before her graduation, according to a 2002 story in Vassar, the college's alumni magazine, that her (white) roommate, (in the book, her name is Louise "Lottie" Taylor), expressed some suspicion to her family; her father hired a private investigator, who tracked down Hemmings's parents and exposed Hemmings's race. (Hemmings's ancestors included slaves; her father worked as a janitor.) It became something of a sensational news item when it emerged in August 1897, at which point Hemmings had already graduated.
In Tanabe's story, the main drama arises when Taylor finds herself attracted to Hemmings's brother (he graduated from M.I.T. with a degree in chemistry the same year), while Hemmings strikes up a romance with a white Harvard student, Porter Hamilton.
If her brief, scene-stealing appearances in the new Tom Holland-fronted Spider-Man: Homecoming weren't enough of an indicator, Zendaya is very much no longer just one of Disney's multi-hyphenate ingenues. The K.C. Undercover actress (the third season of which just premiered this summer) is on the cusp of releasing The Greatest Showman alongside Hugh Jackman, as well as a handful of children's movies: the animated film Duck Duck Goose, in which she voices a wayward duckling, and Smallfoot, another animated film, but this one about a yeti who, apparently, is not Bigfoot. She'll also be following up Spider-Man: Homecoming with the franchise sequel, currently slated for a 2019 release. And then there's A White Lie, which is much more A Great and Terrible Beauty and much less K.C. Undercover, much as Zendaya must also play a woman undercover—albeit a very different, and much more high stakes, version of undercover.
Zendaya's favorite birthday featured a very special homecoming: