Stylist Zerina Akers on Working with Beyoncé and Founding @blackownedeverything
Earlier this year, the stylist best known for her work on Beyoncé's "Black is King" founded the viral instagram account @blackownedeverything.
Photographs by Tyler Adams
---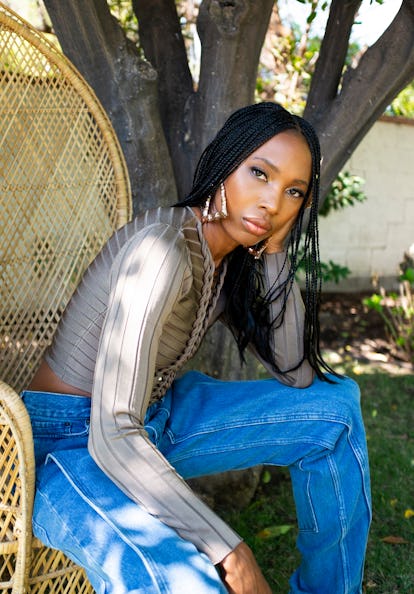 For our annual "The Originals" portfolio, we asked creatives—pioneers in the fields of art, design, fashion, comedy, activism and more—to share their insights on staying true to themselves and pushing the creative envelope in a chaotic year. Read all the Q+As from this year's group here.
As Beyoncé's stylist, you have been responsible for some of her most striking looks. Were you a fashion-conscious child?
Growing up, I was a huge fan of Queen Latifah. I loved everything she wore and said and the way she played with androgyny. In high school, I started a small fashion collection and staged a senior-year fashion show. Mostly, I would deconstruct existing clothes and sew them back together. For instance, I'd take a pair of jeans, open the seams, add a piece of fabric between the legs, and sew on so many patches that there was a train coming down the back of what was now a long skirt. I also prided myself on always wearing stilettos. My feet are still paying for that.
What is your go-to look now?
I love monochromatic suiting. I'll wear head-to-toe fuchsia. Or a yellow suit. I love vibrant colors. I also like suits made out of athletic wear—Adidas did a collaboration with Daniëlle Cathari. I love those; they're kind of stretchy. I used to be a vintage customer. After graduation, I moved to Philly, and they had the best thrift stores. I'd find vintage Chanel. We'd buy prom dresses from the 1980s, and we'd turn them into minidresses or tops. Now the vintage market has dried up—there are no surprises.
Did you dress up during lockdown?
I must confess that I would wake up and put on a sweatshirt. I have a great pink sweatsuit from Alexander Wang that I wore quite a bit. I also bought my first pair of Crocs! My fancy shoes were Birkenstocks. I love all the Birkenstock collabs.
In Black Is King, Beyoncé's visual album, I was particularly struck by the massive black tulle gown and Nefertiti–like hairpiece in "Brown Skin Girl." How did that look happen?
Beyoncé wanted to explore an exaggerated silhouette, and her personal tailor, Timothy White, created that amazing gown. I had the shape in my mind, and we worked on the braided headdress. The idea was to take it over the top but still retain simplicity and beauty. And we were also exploring the idea of monochromatic dressing, with a nod toward the elegance of Nigerian women. We did a lot of research.
Throughout Black Is King, you used Black designers, like Loza Maléombho. That led you to start the Instagram account and website Black Owned Everything, which gives visibility to Black-owned companies all over the country.
It was wild. I created the page in order to support some of the brands and people I knew. But I couldn't keep it to myself—I was finding so many Black-owned businesses in so many categories. I had 10,000 followers in three days! Four months later, we're approaching 200,000 followers. It became my passion during the pandemic.
Do you have a favorite new business?
Mims Motors, out of Detroit. She rivals Tesla! And Estelle Colored Glass, in the Carolinas. Her stemware is rainbow-colored, and I love color.
Did you do any styling during lockdown?
I work with Chloe x Halle, and they were performing at the Global Citizen Festival. They wanted to look like rock stars, but we couldn't rely on big designers to provide them with clothes during quarantine, so I patched together T-shirts with Bob Marley, TLC, and Malcolm X on them. I created new garments out of old tees—it took me back to my high school days.
Do you have any outfits from your past that now make you cringe?
Wearing a visor. For no reason. Indoors. I did that in high school, and I have no idea what I was thinking.