Zhu Zhu: It Girl, It Trend
The Chinese actress takes her dreams global.
---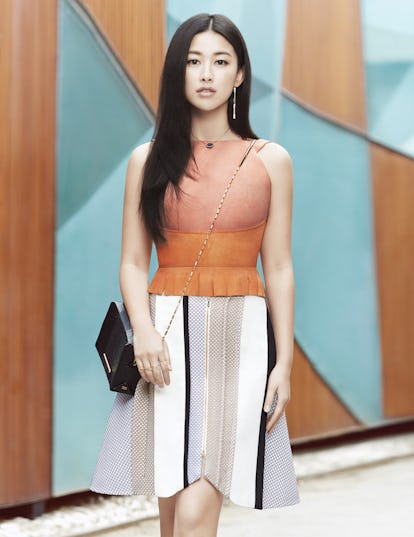 Photographer: Charles Guo Stylist: Karla Martinez de Salas
Zhu Zhu's first role, in the 2011 Chinese remake of What Women Want, was so small that "the director told me even if I sucked, I wouldn't screw anything up," the actress recalls. As it turned out, she didn't suck, and has since shot almost a dozen films. This winter, she is starring in the epic, Weinstein Company-produced Netflix series Marco Polo. Though she has always been passionate about the arts, Zhu followed her father's wishes and majored in electrical engineering in college. After graduating, however, she worked as a bilingual MTV VJ and released a pop album before getting into acting. In Marco Polo, which she's hoping will extend her stardom beyond China, she plays Kokachin, the 13th-century Mongol princess and Polo's love interest. To prepare for the intense shoots in Malaysia and Kazakhstan, Zhu trained in horseback riding and archery, though she's most excited about the romantic aspects of her role. "I don't mind doing action or kung fu, but I'm also really happy to do something dramatic. I'd like to show that a Chinese girl doesn't have to do crazy martial arts to get the part."
Photos: Zhu Zhu: It Girl, It Trend
Zhu Zhu wears Roland Mouret top, $1,685, skirt, $1,375, and bag, $1,060, Roland Mouret, New York, 212.249.2008; Azlee gold and diamond earrings, $2,035, fivestoryny.com; Kimberly McDonald gold, geode, and diamond Necklace, $4,250, Kimberly McDonald, Los Angeles, California, 310.854.0890; (right hand) Azlee gold and diamond rings, $740-$1,280, fivestoryny.com; (left hand) Azlee gold, sapphire, aquamarine, and diamond rings, $575-$978, roseark.com.

Photographer: Charles Guo Stylist: Karla Martinez de Salas
Emilio Pucci bag, $2,550, Emilio Pucci, New York, 212.752.4777.
Valentino dress, $17,500, Valentino, New York, 212.355.5811.
Luigi Scialanga for Giambattista Valli metal and leather necklace, $1,600, Blake, Chicago, 312.202.0047.
Best New Band "Chromeo have such a great rhythm, and I love their lyrics. Their music just makes me want to dance!"
Favorite Movie "I love Wes Anderson's Rushmore. The story is so great, and Anderson has the best visual style and flawless taste."
Derek Lam top, $2,190, Bergdorf Goodman, New York, 212.753.7300.
Lagos gold and sapphire rings, $750 each, lagos.com.
Hair by Liu Xuemeng; makeup by Lu Wang. Special thanks to Galleria Continua Beijing.