Zoë Kravitz Will Star in Gender-Flipped High Fidelity Series Adaptation
The show will air on Disney's forthcoming streaming service.
---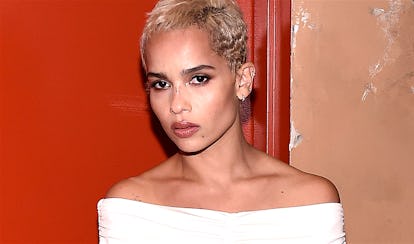 Ilya S. Savenok/Getty Images
Zoë Kravitz can add another high-profile project to her already lengthy résumé.
Variety confirmed that the Big Little Lies star has been cast as the lead in a series adaptation of High Fidelity, a role originated onscreen by John Cusack. Kravitz will not just star in the series—she'll also be an executive producer. The show, which is set to air on Disney's forthcoming streaming service, is inspired by Nick Hornby's 1995 novel and the Touchstone film of the same name. The 29-year-old actress will take on the role of a pop culture–obsessed music fan and record-shop owner. Kravitz's interest in High Fidelity runs in the family; her mother, Lisa Bonet, starred in the movie version as the musician Marie De Salle, opposite Cusack.
With Kravitz starring as the head music snob, the High Fidelity series will hopefully gain a new perspective. With sexism so deeply ingrained in our culture, women often receive backlash for being experts in anything, let alone music and arts criticism. While the original book and movie are beloved by many, the main character, Rob, definitely had a toxic masculinity problem, both idolizing and disliking women, often showing his sexist thoughts as a means to explain his flawed behavior. Hopefully the casting of a woman of color in the lead also leads to an expanded set of pop culture references for the show to dig into. Fingers crossed for some musical cameos as well.
Ahead of her performance in High Fidelity, Kravitz is set to star in the upcoming, second season of HBO's hit series Big Little Lies, as well as the films Fantastic Beasts: The Crimes of Grindelwald and Viena and the Fantomes.
The High Fidelity series, which has been granted a 10-episode order, was created by the writers Veronica West and Sarah Kucserka, who will also serve as executive producers with Midnight Radio's Josh Appelbaum, Jeff Pinkner, André Nemec, and Scott Rosenberg.
While there's no release date yet for the series, Disney's direct-to-consumer streaming service is set to launch in late 2019 with original content, as well as content from the archives of the Walt Disney Studios, Disney-ABC Television Group, Pixar Animation, Marvel Entertainment, Marvel Studios, and Lucasfilm.
Related: How Zoë Kravitz Became the Most Effortlessly Cool Girl in Fashion