It's Time to Know Zuri Tibby, the First Black Spokesmodel for Victoria's Secret Pink
Her first order of business as model of the moment: turning 21.
---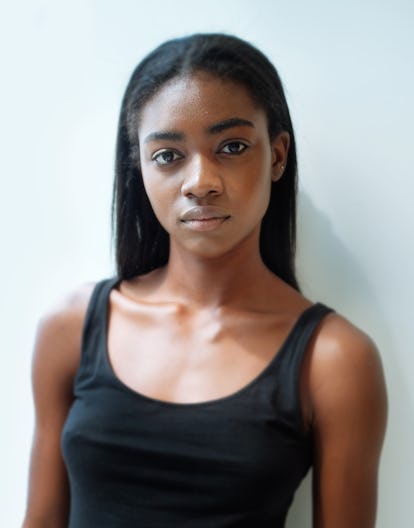 Biel Parklee.
Zuri Tibby has always had her eye on Victoria's Secret. Though she's only been modeling for Pink, the brand's younger sister line, for about a year and a half, her Intagram handle has been @angelzuri "for, like, ever," she said. "I copied Candice." (Longtime Victoria's Secret Angel Candice Swanepoel goes by the handle @angelcandices.) So whether it was fate or simply a lot of determination, it seems fitting that Tibby has now been announced the newest face of Victoria's Secret Pink, joining model Rachel Hilbert in a role previously occupied by Elsa Hosk, Miranda Kerr, Alessandra Ambrosio, and Behati Prinsloo.
"When people say I'm the face of Pink, I still kind of jump a little bit," she told me. She had just been revealed as the brand's newest ambassador the previous week, the sixth model ever to earn the title, and it still hadn't sunk in for her. Nor had she really had time to get acclimated: She paused to discuss her new gig while dashing between fashion week castings in the days leading up to New York Fashion Week, and she was about to jet off to Texas for a Pink launch party at the University of Texas with Hilbert — "It's the time when you can't expect to be off on the weekends," she said. "I'd rather be busy, though."
She's found a home at Pink, though, describing the brand's creative director as "like family." She regularly posts Instagrams in far-flung shoot destinations like St. Barts with other Angels like Hilbert and Brooke Perry, and on set, she can usually be found blasting Future, Beyoncé, Lil Yachty — her "really crazy Spotify playlists" — and, more recently, the new Britney Spears album.
When we spoke, Tibby was on the cusp of another landmark occasion, too — her 21st birthday, which she celebrated after the Texas event Wednesday night. She's been modeling ever since she was scouted in a mall (like so many before her) in her hometown of West Palm Beach, Florida, at age 15; her first shoot was an editorial for Teen Vogue in January 2012. But it was only once she started spending most of her time in New York after graduating from high school that things turned serious. (She's since relocated to the city full-time.) Over the past three years, she's modeled for the likes of Creatures of the Wind, Vivienne Westwood, and Thom Browne, and appeared in the pages of Vogue Italia, Vogue Japan, Elle UK, and Interview Germany. But perhaps most memorable of all — aside from her work for Pink, she added by way of disclaimer — was a shoot for Rihanna's Stance line of socks.
"Think of the coolest person you know, and then think of that times, like, 500," Tibby said of Rihanna, laughing. "She's like a goddess. I'm not worthy." She dotes on her idols, regularly Instagramming vintage images of supermodel Naomi Campbell, and describes Jasmine Tookes as her "favorite angel. Her body is so…" She paused. "Crazy beautiful."
But with her new appointment, Tibby now finds herself in the position of role model: She's the first black model to be named face of VS Pink. (Chanel Iman modeled for the line during her stint as an Angel, but she was never appointed spokesmodel.)
"I think it's time for diversity," she said, citing the importance of representation. "A lot of young girls … look at Pink and shop there and see someone you know and [think], 'Oh, that looks like me,' and 'Oh, I have the same hair as her.' I think it's good to be able to look like that." It's something that peer brands with similar customer bases — American Eagle's Aerie, for instance — have also begun to emphasize, casting models of diverse ethnicities and body types in their campaigns.
The fashion industry at large has been slow to embrace diversity, but Victoria's Secret has recently made some significant steps. Notably, Angolan model Maria Borges made headlines when she walked the 2015 Victoria's Secret Fashion Show runway with natural hair — the first model to walk with an Afro in the show's 20-year history — in lieu of the blowout extensions she had worn in years past. Models of color comprised nearly 30 percent of the cast of that same show, and while there's certainly room for improvement, it's a significant increase over the approximately 20 percent figure that Business of Fashion calculated at Fashion Month during the same period.
One thing the models all have in common, though, is their strength — one model described the annual fashion show (during which Pink gets its own segment) as akin to "training for the Olympics," according to the Atlantic, and it's a badge of honor for gyms like Manhattan's Dogpound that Angels train there. Tibby is no exception — she trains with David Barton Gym trainer Michael Strevel, and she can lift some serious weight. During her last session, he had her squatting with 120 pounds, she recalled.
"It's a lot," she conceded.
She doesn't get much time off, but when she does, she can usually be found experimenting in the kitchen — making things like pancakes with as few ingredients as possible — or camped out in front of a Lifetime movie — "I like really cheesy movies," she said. She contended that in spite of her new, dream job, she still just enjoys "normal, laid-back stuff." Then she offered me a stick of gum.
Victoria's Secret Angel Martha Hunt reveals her Instagram secrets: