Exclusive Music Video Premiere: ZZ Ward's "The Deep" Is the First Look at Her Most Personal Record Yet
Singer-songwriter Ward revisits old flames and the heartbreak that accompanied them in "The Deep," off her first full length album in five years.
---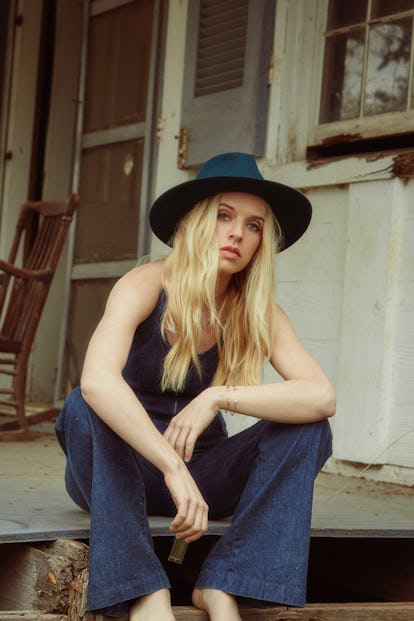 Harper Smith
In the weeks leading up to the video shoot for her new single "The Deep," the musician ZZ Ward was trying to take care of her body. She had to step out from the studio and get in front of the camera, after all. But when she arrived on set in mid-December, all bets were off: "I was like, 'Let's order pizza.' I was eating chips and pizza and a milkshake," she recalled, speaking over the phone from Los Angeles. "I was like, 'It's about time.'"
This what-the-hell moment on set was a counterpoint to the dimly lit, noir-ish visuals in the video for "The Deep," which premieres exclusively on W. Filmed over the course of a day at Hollywood's Harvard House Motel, the kind of seedy, gritty establishment Ward thought didn't exist anymore, it finds the singer locked in an emotional tug-of-war with a lover, echoing the narrative of the track itself: "It's about that feeling when you meet someone and you start to lose yourself in them and you know that it's no good for you. But when you try to leave, something pulls you back in," Ward said.
"The Deep" features Chicago rapper Joey Purp and samples The Charmels' track "As Long As I've Got You," synthesizing vintage and contemporary sounds in one bluesy track. (Ward grew up on a diet of both blues and hip-hop.)
Ward worked with director Kyle Cogan of Simian Design, the filmmaking team that has also collaborated with Death Cab for Cutie, to create a suitably moody ambiance to accompany a sound she described as "dirty," "raw," and "emotional."
"What's important to me mostly is a mood, a tone, and a feel," she explained. Then, she laughed: "I'm such an artist, right?"
"The Deep" is the first look at Ward's upcoming sophomore album, her first full-length since 2012's Til the Casket Drops, and her most candid body of work yet. The track, which Ward wrote last summer and premiered earlier this month, recounts an ill-fated, toxic relationship: "I don't want to let you in," Ward sings in the opening moments, "I don't want to let this thing end." The record, too, re-examines Ward's past flames, relationships she hadn't explored through music until now. As she put it, "I decided to clean out my closet."