Bella Hadid Kicks Off 2021 With TikTok's Favorite Hairstyle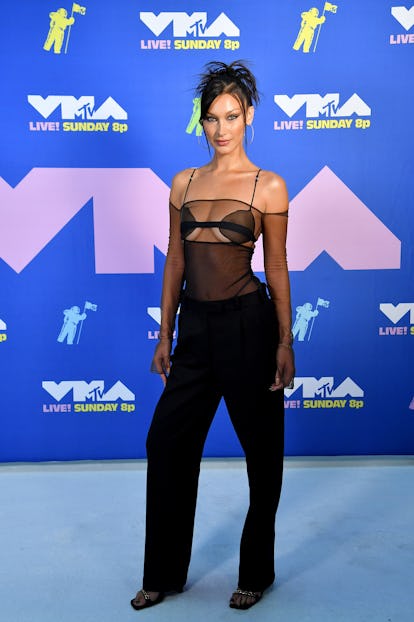 Bored with lockdown, Bella Hadid made her formerly private TikTok account public earlier this year. While she didn't emerge as a power user (her last update was back in October), she seems to have kept an eye on the social network's hair trends. Just after the New Year, the 24-year-old supermodel debuted a new look: she's dyed the "money pieces" of her hair an ombré of bright orange and red.
Subtly highlighting your "money pieces" (basically, the locks of hair that directly frame your face) isn't particularly new, but over the past year or so the kids have taken all subtlety out of the dye job. Instead, they're dyeing the strands in starkly contrasting (and often unnatural) colors. The TikTok-popularized "e-girl" subculture is most identified with the 'do (and some "e-boys" have put their own spin on it as well), but Hadid is not the first mainstream celeb to try it out.
Dua Lipa—who is, incidentally, dating Hadid's brother Anwar—kicked off her Future Nostalgia album era with a blonde and brunette version of the trend. British pop artist Rina Sawayama made a trademark out of bright orange money pieces, similar to Hadid's.
"There's definitely a trend toward two-tone hair. It's similar to the transformation the team and I recently did on Dua Lipa—the front strands are lighter/blonder, and the back of the hair is much darker," Lipa's colorist Nicola Clarke told us last year. "It's a trend that can be made as extreme or subtle as you want and still have impact."
Though, the look hasn't yet crossed over to the high fashion runways in any grand fashion. Perhaps that's why Hadid decided to try out the trend over her holiday. We suppose it wouldn't be too much trouble to dye a few strands back, should she book a job.
Though the trend has taken off among TikTok-happy Gen-Zers, older Millennials and Gen-Xers may associate the particular dye job with something else entirely. "Money pieces" bear a striking similarity to the trademark '90s look of Smashing Pumpkins guitarist James Iha. Credit is due where credit is deserved.
Related: The Hadids Are Making New York City Their Playground This Winter