Gwyneth Paltrow's Eyebrow Expert Kristie Streicher on Brow Etiquette
The renowned brow maven discusses her tweezing philosophy, and the perfect tips for a good pluck that's right for your face.
---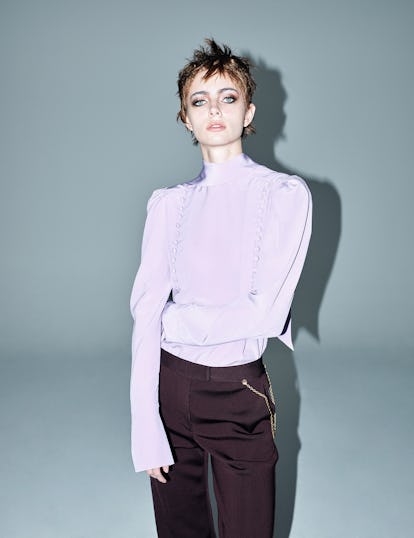 Photographed by Willy Vanderperre; Styled by Katie Grand.
Beauty expert Kristie Streicher has made her mark on the eyebrow world for over 20 years at Striiike, her Los Angeles-based eyebrow and makeup studio. Revered for her ability to master the perfect eyebrow shape for the face, Streicher has been tweaking and setting looks for A-list notables such as Adele, Gwyneth Paltrow, Mila Kunis, and Mandy Moore. Her years of expertise prompted her to develop her own patented Feathered Brow technique, which relies on three principles: "Feathered, soft and lush," she explained. "It's natural-looking brows, maybe a little undone or lived in." We consulted the renowned brow maven on her tweezing philosophy, the perplexing Microblading craze, (she has her own softer, more natural version, thankfully), and the perfect tips for a good pluck that's right for your face.
First, why tweezing over waxing or threading? Why is it better, and what are the benefits?
Waxing and even threading can cause premature sagging and loss of elasticity because of the way the skin is stretched or pulled during the process. I have always thought brows deserve the gentle precision of tweezing. It is not only the most accurate and precise, but the gentlest on the skin. Oftentimes with waxing, the hair can break at the skin's surface instead of being pulled out by the root.
Describe your Feathered Brow technique.
It's a technique that rehabilitates thin, over-tweezed brow trends from the '70s, '90s, and early 2000s. The Feathered Brow look embraces a natural, fuller shape that is groomed into sophistication by my signature touch, honed over nearly two decades in the beauty industry. I'm very goal-oriented when it comes to brows, but sometimes, we don't reach our goal for a year—or sometimes longer. It's a process that requires time and patience. I love a good challenge when it comes to shaping brows; it's amazing the difference it can make in the entire face. It's gratifying to be able to give someone a good brow—it can be empowering for them.
What is the best way to pluck your eyebrow hairs? In the direction of the way the hair grows or against it?
It's best to pull or pluck the hair in the direction of growth, using your other hand to hold skin taut.
What are common mistakes women make with their eyebrows that you can help point out and guide them on?
Common mistakes are not having the right products or not working with the natural shape of the brow. Educating and talking to clients is the most important way to help them have the right brow for their face and hair texture.
Every face is different, but is there a particular place where brows should start and end in relation to the eye? And what about in relation to the arch?
Working with the individual's bone structure, hair amount and texture to create the most flattering shape for that individual is always best. Finding the individual's shape and showing them where their eyebrows start, arch, and end is a valuable tool. Keeping the bottom of the beginning (or front) of the brow more lifted and straighter and the ends angled out and not down opens and frames the entire face.
Okay, let's discuss eyebrow color. How do you determine the correct shade for someone who wants to go a bit lighter or darker on their brows?
I think it's important to try a few different tones and textures to find the right product for you—and always use natural light as a guide to find what's best. Filling in your brows can be intimidating and scary for a lot of women, so I educate them with little tips. For instance: how to find their natural shape, how to steady their hand to have the lightest touch possible, backcombing, blending out with a brush and matching them with the right color. I always give my client a hand mirror to have them watch closely how I fill in one side and have them do the other side.
A lot of people are Microblading. You have your own technique that you've developed. How do the two differ?
When I first learned of this technique, I was actually quite turned off by how unnatural it looked. I thought Microblading looked much too over-filled and resembled a tattoo. I soon realized it was more the way it was being taught. I then decided to get certified and it wasn't until I started developing my own technique that I recognized the many variables that can affect the end result. I spent a year developing my own technique, "Microfeathering" on over 300 test models, using it more conservatively as a "fill-in" technique rather than re-creating an entire brow. At that point, I thought, I may have something here. I felt I was able to provide an entirely different service. I progressed with my technique and subsequently discovered a far more effective after-care method and sometimes recommended a number of sessions (sometimes it takes three to four) to achieve the best results. To be more specific, microfeathering is at least a two-appointment process. To ensure the most natural result, the two sessions are six to eight weeks apart. After the first session, I evaluate the healed strokes and additional hair strokes may be added and previous strokes may be reinforced. Each appointment takes about two hours. Microfeathering utilizes precise "hair-like" incisions that deposit dye in the top layer of the brow skin. The process is achieved without the use of machines or traditional tattoo guns. After numbing the area with a topical cream, small incisions are created by hand, using a fine and very precise blade. Pigment is then deposited into the incisions, resulting in an incredibly natural-appearing "eyebrow hair." Only state-of-the-art pigments are used, similar to ones used in traditional tattoos. I insist on working with one's natural brow shape and not a previously shaped brow. All clients that have had any tweezing or previous hair removal must begin with the Feathered Brow process (growth training) which can range anywhere from six-12 months and include strategic tweezing every six to eight weeks (with no tweezing in between). My greatest fear is to overdo any technique and take away the very thing that gives us a beautiful, natural brow with its individual character.
In between eyebrow sessions can be tricky in terms of keeping a groomed look. It's hard for many to wait and even harder not to overpluck. What do you advise a client to do when they have taken eyebrow care in their own hands and done some damage by over-plucking? Someone told me that if you want your eyebrows to grow in the area above the brow you must not pluck under the brow. Is this true?
First off, to get all of the hair growth on the same cycle you must adhere to the six to eight week cycle of tweezing for maximum growth potential. Even randomly tweezing a few hairs growing down your lid will affect what can grow in the areas where you need it. I always tell clients any hair that grows from your eyelash line to your head's hairline is a part of your brow. It's really less about how much hair you are tweezing or not tweezing but more about when and how frequently you are tweezing.
Best techniques for drawing in brows?
You really need to consider the entire face. One of the most common mistakes I see is matching the brow pencil to the hair on the head which can often times be highlighted or a different color all together. When filling in your brow, you always want to use a product that matches the brow hair color and the lightest touch possible.
I have two favorite products for filling in the brow. One is the Arch Brow Pencil from Hourglass. It's a very user- friendly pencil and it's great because the color is on point. There's a triangle tip and powdery formula that is great for filling in sparse areas, adding fullness and definition to the brow. Use it to lightly shade skin under the hair using short feathery strokes, gently going against the hair growth direction to get underneath the hair—then blend out with the brush side of the pencil.
The second product I really love is also from Hourglass, it's the Arch Brow Volumizing Fiber Gel. It picks up the hairs and wraps the fibers around the follicles, fluffing them up, giving volume. This can be the quickest fix in creating a fuller brow. Think of this as mascara for the brows. When you add volume and richness to the lighter hair/ fuzz that grows around and between the thicker brow hairs, it creates the illusion of a fuller, more natural brow.
Many people in the beauty world also know you as a makeup artist. What skin products can you not live without?
Currently I'm loving the texture and brightness Genetically Blessed Serum is giving me. Since I am breastfeeding, I cannot use Retin A and this all-natural serum gives you all the benefits of Retina A without the harsh chemicals. It has completely faded my hyper-pigmentation post-baby, which allows me to get away with no foundation. When I do go out, whether hiking with my son Henry or to work, I love using the Supergoop CC Cream. It evens out my skin tone, adds the perfect glow and protects my skin. It's 100% mineral with an SPF 35.
Name one eyebrow product every woman needs to invest in.
I would say my own Essential Eyebrow Grooming Kit. You will find the same scissors, tweezers, and brush I've been using for over 20 years to create Feathered Brows all over the world. Handmade in Switzerland by Rubis, the tweezers and scissors are part of their Classic Gold line. The leather case is hand-stitched in Los Angeles, inspired by a vintage manicure set from the 1930s that I have cherished for years. My kit includes access to exclusive tutorials needed to create your perfect Feathered Brow.