Does Jennifer Lopez's JLo Beauty Sheet Mask Actually Work?
Four W editors set out to determine whether the Get That Limitless Glow facial mask was legitimate, or merely celebrity beauty bait.
---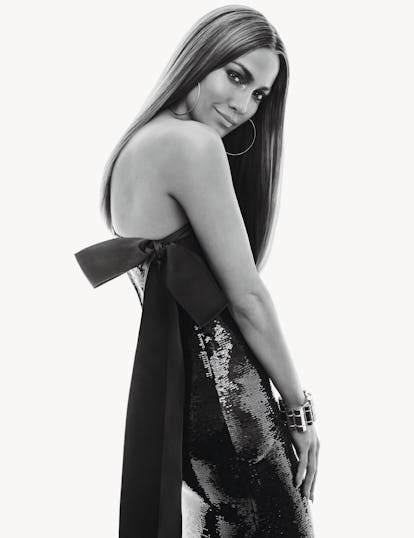 Photo by Inez & Vinoodh
Jennifer Lopez is the latest megastar to enter the Celebrity Beauty Industrial Complex with a skincare line of her own. Named JLo Beauty, the collection—which consists of serums, moisturizers, sunscreen, and even a supplement—officially launched on January 1st after years of Lopez fielding questions concerning her youthful complexion. "I feel like skincare is one of the things people wanted from me," she told W earlier this month. "I get sent a lot of things and I've tried every product out there, from drugstore to high-end. I wanted to share what I've learned… my secrets."
One of the most hotly anticipated products from JLo Beauty is the That Limitless Glow facial sheet mask, which is infused with JLo Beauty's proprietary Olive Complex, along with sake and yeast-derived ferments. The masks are said to hydrate, and especially to firm, focusing on fine lines and wrinkles. But is this product merely celebrity bait? Does it actually work as a legitimate beauty formulation? Four W editors tried and mask and gave their honest opinions.
Brooke Marine, Associate Digital Editor
What is your skin type? Has the condition of your skin changed in quarantine?
This winter, my skin has been pretty dry. I've also been experiencing mask-ne (and hormonal acne on a monthly basis) so I've been looking for products that will clear my skin up, keep it hydrated, and give it some sort of glow.
Describe your experience using the JLo Beauty Sheet Mask.
This product has one feature unlike any other mask I've seen or used in the past: double hooks that loop behind your ears. They secure the mask onto your face tightly, and give you the freedom to move around and do things with it on. There's nothing wrong with sitting still, but sometimes my neck can get stiff from holding my head in one position for 20 minutes lest my sheet mask slip off. With the JLo Beauty Sheet Mask, I did not have that problem at all.
I was hoping the mask would clear my skin up and give me a glow. I'm not so sure it had any long term skin-clearing effects, however my skin started to feel tight after about 15 minutes of putting the mask on, and remained tight for at least 30 minutes after I removed it. When I took it off, I went to look in my reflection using my Instagram camera, and it looked like I had a filter on because of how smooth and taut my face was.
Would you use the mask again in the future?
I would definitely use this mask again. My only regret after using it for this column is that I tried it at night! In the future, I'd try it out in the morning or midday so that I could take advantage of a full day of glowing skin.
Maridelis Morales Rosado, Assistant Visuals Editor
What is your skin type? Has the condition of your skin changed in quarantine?
I have combination skin, and an oily T-zone. My acne was very much under control before the pandemic, but since then, I've been in a constant battle with mask-ne (if you have any tips to combat it, please HMU).
Describe your experience using the JLo Beauty Sheet Mask.
I just applied the mask five minutes ago—the way it makes my face look is reminiscent of the bandages The Weeknd wore to the 2020 AMAs. The mask stuck to my face pretty easily, and includes loops to secure the mask behind your ears (which is helpful to keep it on as I write this), but I don't love the idea of having product in my hair/behind my earlobes. It smells a bit like olive oil (which I find comforting), and feels cool on my skin, with almost a tingling sensation—in a good way. Am I expecting to look 21 again? Maybe. But in all honesty, I hope to feel a bit hydrated since the radiator in my apartment has made my skin lose moisture at an exponential rate.
After my 20-minute timer went off and I removed the mask, there was a significant, satisfying amount of serum left on my skin. The only complaint I have is that I have a lot of residue on my hairline, and had some dry out around my nose. My face feels firm, smooth, pores are significantly less visible, and I think I actually aged back a year. I don't think that a mask has ever made me feel this way before.
Would you use the JLo Beauty mask again in the future?
Not even a question, I would—and for $18 per mask, I think it's a great treat when you want to look like your shiniest and brightest self.
Maryam Lieberman, Contributing Beauty Editor
What is your skin type? Has the condition of your skin changed in quarantine?
My skin is normal, right down the middle—no acne, not oily, and not dry. I like to think I take great care of my skin and constantly make sure it's well cared-for and hydrated. However, my skin needs extra attention on the days when I don't get enough sleep—which have been frequent during quarantine. I'll see the effects of poor sleep the next day all over my face; I get lines around my mouth and my skin looks dull.
Describe your experience using the JLo Beauty Sheet Mask.
To see whether it truly made a difference, I used the sheet mask on a day when I had not slept well the night before. I applied it without much difficulty; the ear hook feature made it much easier to keep on. There was no constant adjusting and pushing up the sheet mask, which happens often with other products. I didn't have to keep smoothing it out. Plus, once you hook it behind your ears it fits nice and tight, so you can feel the mask's serum absorbing directly in the skin. I really liked that element, and felt it penetrated right into my face.
After about 20 minutes I took off the mask and had an a-ha moment. My face looked super smooth and, more importantly, fresh—as if I had slept for 20 hours. I have tried so many sheet masks and this is without a doubt one of the best on the market. No joke. I am skeptical of public figures getting into the beauty game and putting out products that sell because of their name, but this is definitely a hit and provided noticeable results.
Would you use the mask again in the future?
Yes, 100 percent. This is something I will use as both a pick-me-up and as a pre-makeup step—on special days or before I go to an event.
Katie Connor, Executive Digital Director
What is your skin type? Has the condition of your skin changed in quarantine?
I don't actually know my exact skin type. But let's say "combination skin"—as in, a combination of age and pandemic stress has made it dry, splotchy, and dull.
Describe your experience using the JLo Beauty Sheet Mask.
Putting the mask on was tricky. I wasn't totally sure which hole went where. But once I distinguished the ear loops from the eye cutouts and got the bottom half centered, it felt like a nice hug for my face. My skin can be pretty sensitive so there was a slight tingling, burning sensation at first. After a few minutes the feeling gave way to a cooling effect. Once I took it off there was a fair amount of excess serum, which was fine by me. I rubbed it into my neck and the back of my hands. Compared to other masks this one felt like it actually did something. Once my face was dry my skin did, in fact, feel tighter and smoother.
Would you use the mask again in the future?
Definitely. I'm still miles away from getting that JLo glow but maybe practice makes perfect.
Related: Jennifer Lopez Fought Hard to Include Supplements in the JLo Beauty Lineup