The Beauty World's Most Creative Minds Experiment at Home
Sam McKnight, Isamaya Ffrench, Hiromi Ueda and Lucia Pica create standout hair and makeup looks on themselves.
---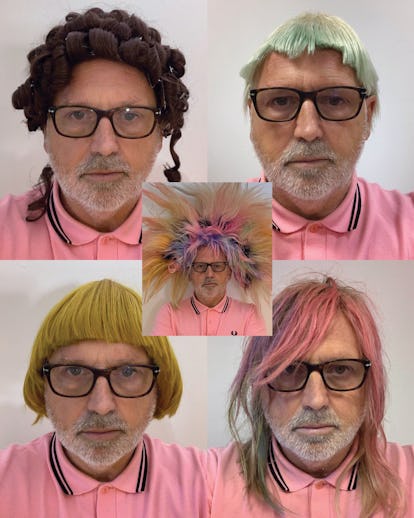 SAM McKNIGHT
"Completely spontaneous" is how the London-based celebrity hairstylist Sam McKnight describes his Warholian wig selfies, which were born of periods of downtime (read: boredom) on set. "It has to be quick, or the moment is gone," he explains of his informal process. "I do try to keep the same expressionless face for continuity." McKnight's creations aren't limited to what he has in his kit. "It's all stuff that's close at hand—old wigs from the bottom of a bag, hairpieces I've just used on a show, somebody's dog or rabbit, or this morning, some fresh dahlias from my garden."
Photographed by Sam McKnight.
ISAMAYA FFRENCH
"I'm not interested in creating characters that look hot or beautiful or sexy," says the London-based makeup artist (and Burberry Global Beauty Director) Isamaya Ffrench. "I need a sense of irony and humor." Inspiredby a favorite 1980s book on theatrical makeup, Ffrench used wax, putty, spirit gum, latex, adhesive, and an airbrush to sculpt, contour, and color her face for the portraits shown here. As looks go, these aren't even the artist's most extreme. Once, she transformed herself into a gargoyle and wrapped herself around Marilyn Manson for a photo shoot. Ffrench's real-life routine is minimal by comparison: light concealer, mascara, and a dash of eye, cheek, or lip color from her new makeup collection for the fragrance brand Byredo.
Photographed by Hugo Yangüela.
HIROMI UEDA
Hiromi Ueda used the work of favorite artists like Loie Hollowell, Victor Vasarely, and Andy Warhol as a springboard for her series of self-portraits. "I love the way they combine colors and patterns," explains the London-based makeup artist, who had fun playing with intense hues and unusual materials (pearls, tinted foam) she might not try as readily on a model. "As much as I love makeup, I draw much of my inspiration from textures and colors you find in daily life," she says. "I don't necessarily want my mediums to be obvious at first glance, so I'm always experimenting."
Photograph by Hiromi Ueda.
LUCIA PICA
Brownish-red eye shadow, perfect winged liner, crimson lips—Chanel Global Creative Makeup and Colour Designer Lucia Pica referenced some of her favorite runway and campaign looks in her pics. She also revisited the '90s, when she says she "loaded on makeup to go to school—taupe shadow, black lashes, a brown lip. They were glamorous mornings!" Pica still wears makeup every day, even during the pandemic. "I definitely put on more eye makeup, as we are all using our eyes to express our emotions these days," she says. "But I must admit, I also wear lipstick under the mask. I just use longer-lasting and less transferable textures."
Photographed by Shono Inoue.
Makeup assistant: Kanako Yoshida; postproduction: Granon Digital; special thanks to Marie-Valentine Girbal.