Shu Uemura's $72 Hair Mask Is the Perfect Antidote to Dry Locks
If your hair has turned dull and brittle after a summer spent in the sun, this product should be your go-to treatment.
---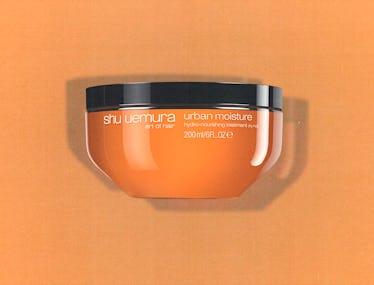 Courtesy of Shu Uemura. Image treatment by Ashley Peña.
We may receive a portion of sales if you purchase a product through a link in this article.
These days, it takes a considerable amount of effort to look "effortless"—especially when it comes to your hair. Unless your daily routine consists of hopping in and out of the shower, air drying your locks, and somehow arriving at work with shiny and overflowing waves (congratulations, you've won the hair lottery) beautifying your mane can be a time-consuming feat. Expensive hair tools, scheduling monthly visits to the colorist, and purchasing high-quality products are just a few of the necessities if your aim is to achieve a flawless style.
As a beauty editor, I test out every shampoo, scalp detoxifier, hair conditioner, and mask that comes my way. During one of these rounds of product testing at the end of last year, I noticed my once-soft hair was coarse, almost brittle. I realized, thanks to my hairdresser, that I was adding too much protein via tester products to my hair. He suggested I give these tired strands a break and start using Shu Uemura products to refortify my hair with what he said it needed the most: hydration. I've known about this brand for years, its namesake being the globally renowned Japanese makeup artist (who, in fact, created the stellar, cult-favorite cleansing oil that made the label a household name). I had nothing to lose—plus, my hairdresser is smart. He wouldn't recommend something that would damage my locks and therefore leave me complaining for hours on end in his chair.
I started out with Shu Uemura's Urban Moisture Shampoo, then the Urban Moisture Mask—both of which fall under Shu's lauded Hydro-Nourishing collection. Within the first use of these two products, I saw a significant change in my hair: even after the hottest, driest days of summer, my locks were softer than ever. Thanks to this wonder of a hair mask—which I paired with the shampoo to achieve better overall results—my hair has been completely transformed. It's soft to the touch, well-hydrated, and has a shiny bounce to it that I've never seen before. The Urban Moisture Mask includes two hydrating factors, moringa oil and red algae, both of which protect against environmental pollutants. Shu Uemura recommends you leave this mask on for 5-10 minutes, but I can get by with just a three-minute treatment and I'm still thoroughly pleased. At this point, it's safe to say I can't live without the Urban Moisture Mask—so much so that I even take it with me to my regular hair salon and throw it in my carry-on when I'm traveling.
Aside from the material components involved in haircare, certain rules of thumb in your regimen should never waiver: rotate your products every few months, give your hair a break every now and then from flat irons and blow dryers, and eat a sensible diet that delivers nutrients to keep your strands strong. But if you need an extra boost of hydration and softness as summer comes to a close, this product is without question the way to go.