Will UZ's Self-Moisturizing Lip Treatment Actually Replace Lip Balm?
The product is purported to supersede your current favorite lip balm through a scientific process called "self-moisturization." Does it work?
---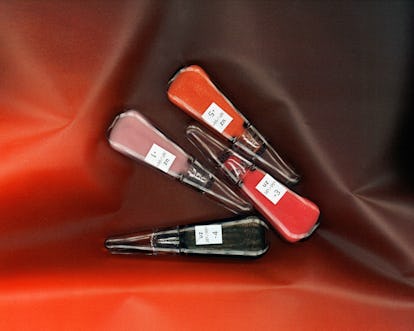 Photographed by Maridelis Morales
The quest for a go-to, MVP lip balm is unending. Like Frodo and Samwise searching for the ring, like Rebel Alliance pilots looking to destroy the Death Star, finding your favorite lip balm is a nearly lifelong odyssey. The new Japanese beauty brand UZ purports to replace whatever your current fave is with a totally new formulation that teaches lips to moisturize themselves over time. The 38°C/99°F Lip Treatment consists of what's called Multi Flora, a prebiotic and form of lactic acid bacteria, and EndMineral, a natural mineral sourced from Central Africa which functions as a color enhancer.
Will UZ's product, which currently stands as the number one lip treatment in Japan, be the holy grail—the one ring to rule them all? Four W editors—each with different lip balm habits and needs—tried the product and gave their honest opinions.
Oona Wally, Senior Visuals EditorShade: Sheer Pink +1
Do you have a go-to lip product? Shiseido Water in Lip, ChapStick Lip Balm Moisturizer SPF 15 (the blue one, which smells like vanilla—it's the only one that'll do), and Awake Lip Therapy Lip Mask.
First impressions? I love the clear and shiny plastic case. The variety of colors are cool and uncommon, and I've never seen an applicator brush like this—it's angled and sort of bent. The entire look of the product draws me in: from the label (what does 38 degrees celsius even mean?!) to the shape of the packaging, it's all very futuristic. The formula is between a balm and a gloss that coats your lips and sticks to them without feeling necessarily sticky.
What are your impressions after a few days of use? Would you keep using this product? After a week of using this product almost exclusively, I love it. It has staying power—I actually end up forgetting how long an application has been on for (it's that long). One odd and very specific critique is that it's a bit intense first thing in the morning. It's glossy, and I'm used to applying a lighter balm after I brush my teeth.
Andrea Whittle, Features EditorShade: Pink +3
Do you have a go-to lip product? Weleda Everon balm by my bed, Drunk Elephant Lippe Balm in my desk drawer, and Love + Sage beach rose tinted balm in my bag.
First impressions? The packaging is very early 2000s—it reminds me of blow-up furniture and the candy-colored plastic iBook Elle Woods brought to Harvard Law School. I ended up with a sparkly coral pink shade that seemed like it would be way too bright for me, but on my lips it left a subtle, glossy wash of color. Shiny but not sticky, slick but not gloopy.
What are your impressions after a few days of use? Would you keep using this product? I'm not sure about the moisturization element. It's too glossy for me to wear all the time, and I like to have a thick layer of balm on when I go to sleep, so I still alternated with my other products. I'll keep it in my bag for when I want a little extra shine.
Tilden Bissell, Digital DesignerShade: Orange +5Do you have a go-to lip product? Biossance Rose Vegan Lip Balm, Vertley Lip Butter in Rose, and Gucci Baume à Lèvres Lip Balm.
First impressions? UZ's Lip Treatment appears as a poppy orange in the tube that goes on as a sheer coral, plus the clear packaging feels right at home in the coterie of lip products littering my desk, so let's give it a plus for aesthetics. Texturally, it falls somewhere between balm and gloss but with no sticky residue or general goopiness reminiscent of your Juicy Tubes from middle school. Not to mention it's long-lasting enough to stand up to my office's overzealous HVAC system.
What are your impressions after a few days of use? Would you keep using this product? After my third or fourth use, I picked up on a slightly medicinal smell/taste; as soon as I noticed it, it became harder to ignore, but at least it quickly dissipated upon application. I'm not sure this balm would replace my daily go-tos, but the fun color selection and hint of glitter will make it welcome addition to my going out routine.
Maxine Wally, Senior Digital EditorShade: Black -4
Do you have a go-to lip product? This winter has left my lips in a chapped, suffering state. So in efforts to combat the dryness, I've been trying a bunch of different lipstuffs. Lately, I'm feeling Glossier's Balm Dotcom, no scent. I also typically keep an EOS Lip Balm Sphere at my desk in the office.
First impressions? Although UZ is based in New York City, my sources (Google) tell me it's a Japanese brand. Let me tell you something: I recently got back from a trip to Japan for the first time, and everything is better in Japan. The food, the clothing, the architecture and interior design, the customer service, the toilets—everything. So I'm expecting these lip glosses to knock my socks off.
What are your impressions after a few days of use? Would you keep using this product? My lips do not feel significantly more moisturized, leading me to believe the "self-moisturization" billing is yet another beauty industry marketing ploy I've fallen for. But in some ways, the UZ lip treatment does act as a stand-in for lip balm—it's just thicker and more pigmented. I love the consistency, the packaging, the unique brush and the offbeat colors. Green and black lip tints are a pretty sick move.